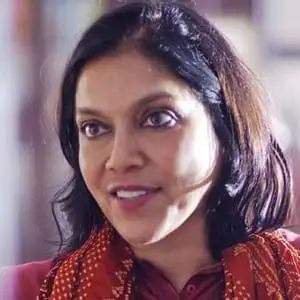 Mira Nair was born and raised in Rourkela, India, and went on to study at Delhi and Harvard Universities. She began as an actress before segueing into documentary filmmaking. Her narrative feature debut, Salaam Bombay! (1988), won the Caméra d'Or and was nominated for an Academy Award for Best Foreign Language Film. A resourceful and determined independent filmmaker who casts unknowns alongside Hollywood stars, Nair went on to direct Mississippi Masala (1991), The Perez Family (1995), Kama Sutra: A Tale of Love (1996), Hysterical Blindness (2002), Vanity Fair (2004), The Namesake (2006), Amelia (2009), and The Reluctant Fundamentalist (2012). Her most recent film, Queen of Katwe (2016), starring Lupita Nyong'o and David Oyelowo, is based on the true story of the Ugandan chess prodigy, Phiona Mutesi. Nair's acclaimed film Monsoon Wedding (2001) was recently brought to the Berkeley Repertory Theatre as a musical, where it completed an extended, sold-out run this past summer.
Transcript
[The words "Art Is" appear, followed by scrolling words…Empathy, Political, Hope, Powerful, Action…it stops at Culture. Art Is Culture.]
Mira Nair, film director: Art gives the ability to look at the world anew.
[Mira, on location in India, sitting in the director's chair. A clapperboard closes. In a street scene from her movie The Namesake, two actresses are pulled in a rickshaw. One holds an umbrella to shield them both from the sun.]
Mira: I've always been drawn to stories of those who are considered marginalized. If you're not in the mainstream or if you're not in the stream at all, you're virtually invisible. I'm very much about telling stories of those who are my own. If we don't tell our own stories, no one else will.
[Mira directs a full cast and crew shooting on a crowded train platform.]
We are important, in our skin, in our color, in our poetry, in our language. When we break the isolation of people and when we realize that our frailties and our struggles are as important as the other, that's the point of art for me. Action!
[The words "Art is" appear, followed by scrolling words…Culture, Expression, Change, Creativity, Healing…it stops at Justice. Hashtag Art Is Justice. Agree? Share this video.]
[Ford Foundation logo: a globe made up of a series of small, varied circles.]
Accessibility Statement
All videos produced by the Ford Foundation since 2020 include captions and downloadable transcripts. For videos where visuals require additional understanding, we offer audio-described versions.
We are continuing to make videos produced prior to 2020 accessible.
Videos from third-party sources (those not produced by the Ford Foundation) may not have captions, accessible transcripts, or audio descriptions.
A long time activist, in 1998, Nair used the profits from Salaam Bombay! to create Salaam Baalak Trust, which works with street children in India. In 2005, she established Maisha Film Lab in Kampala, Uganda, a nonprofit training initiative for emerging East African filmmakers. Maisha is currently building a school with architect Raul Pantaleo, winner of the Aga Khan Award for Architecture, and his company Studio Tamassociati.
In 2012, Nair was awarded the Padma Bhushan—India's second-highest civilian honor—by the president of India.