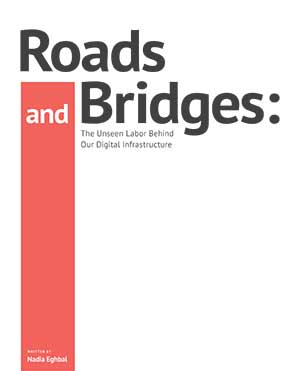 Roads and Bridges: The Unseen Labor Behind Our Digital Infrastructure
A groundbreaking report by Nadia Eghbal framing the public interest issues concerning open source software and its role as digital infrastructure.
Digital Infrastructure Grants
Learn about the 13 new digital infrastructure research grants funded by Ford Foundation in collaboration with Sloan Foundation, Open Society Foundations, Omidyar Network and Mozilla.
Building Our Digital World
A webinar exploring the field of open source code as digital infrastructure and how we can better maintain, sustain and fund it. It features Q&A with digital infrastructure researchers supported by Ford Foundation and Sloan Foundation starting in 2019, and provided more details on the 2020 call for proposals to further this research and field.
Equity & Sustainability in Open Source
A webinar focused on equity and sustainability featuring conversations and Q&A with digital infrastructure researchers.