Despite significant progress, structural inequality based on gender, race, class, disability, and ethnicity persists in the United States and is compounded and complicated by today's challenges. The rollback of abortion rights threatens the strength of our democracy and the health, safety, and economic opportunity of pregnant people and their families. People of color are disproportionately policed and incarcerated. Immigrants and LGBTQ+ people are targeted simply because of who they are.
But today's realities have helped fuel vibrant new leaders and movements engaging in innovative advocacy and forging powerful alliances. In the United States, young people are leading new movements for immigrant rights and for racial justice that are challenging xenophobia, standing up for Black lives, and interrogating the equation of police and prisons with public safety. Our work is to support the courageous people and organizations at the center of this fight to achieve lasting political and social change.
We recognize that race, gender, class, disability, and ethnic identity are deeply connected—often inextricably so—and make sure our efforts are rooted in this understanding. It's an understanding that informs our commitment to shifting repressive power dynamics and strengthening the rights and influence of those most affected by violence, oppression and injustice across the globe.
Immigration enriches and deepens America's democracy by making it more culturally, socially, and politically diverse, but current laws and policies make it challenging for immigrant communities to thrive and live healthy, fulfilling lives free of fear. Our work on immigrant rights supports efforts to advance more just and humane policies. We focus on addressing how immigration laws are enforced and curbing the use of criminal justice measures so immigrant communities are no longer regular targets of punitive practices. We work to deepen existing alliances and build bridges with new partners to influence decision-makers more effectively.
---
The United States immigration system is broken, relying on harsh and punitive enforcement as its singular policy response. Under the Obama administration, immigration enforcement was severe, with more than 2.5 million people deported. The current administration has exacerbated and intensified the machinery of enforcement even further: deporting longtime legal permanent residents for minor, nonviolent infractions; enlisting local authorities to participate in immigration enforcement; effectively ending international obligations to asylum seekers; and separating families at America's southern border as a particularly cruel means of deterrence.
Throughout most of history, immigration irregularities have been treated as civil matters. Today, however, unauthorized entry is America's most prosecuted federal crime, accounting for more than half of all federal cases. Despite unauthorized entry from Mexico reaching its lowest levels since 1969, narratives about an out-of-control border have fueled a 1,450 percent increase in border patrol funding over the past two decades. Federal spending on immigration enforcement outstrips all other federal criminal law enforcement agencies combined—more than $19 billion per year.
In the face of these challenges, we've witnessed the rise of a well-coordinated, innovative, and fearless immigrant rights movement that effectively engages in mass mobilizations and cutting-edge legal and legislative advocacy. This movement has secured policies that limit local law enforcement collaboration with federal immigration authorities in more than 600 cities and counties and helped especially vulnerable communities from countries experiencing unsafe or difficult situations maintain Temporary Protected Status. While many of these gains remain threatened at the federal level, the movement has driven deep, narrative-changing efforts that have gone from niche to national, leading to a countervailing wave of support for immigrants.
By bolstering long-standing immigrant rights grantees in key states, we believe we can create significant change at the state and local levels. In this era of heightened enforcement, litigation is a powerful backstop against excessive, unconstitutional attempts to target immigrants, and we believe we can be instrumental in having an impact with our long history and expertise in funding litigation.
Our Aim and Approach
To establish more just and humane immigration policies, we focus on deepening alliances between advocacy organizations and other players, ranging from business leaders to local government, curbing the use of criminal justice measures for immigration purposes, and supporting groups that demand increased transparency and accountability from government agencies such as Customs and Border Protection. We focus on four key areas:
Ensuring policies uphold immigrant rights
We support advocacy at local, state and federal levels to ensure that enforcement-related policies and practices respect the rights of immigrants.
Strengthening positive narratives and public support
We build public will for immigration policies that respect the inherent rights and dignity of immigrant communities.
Litigation to protect immigrant rights
We support coordinated and high-impact strategic litigation for immigrants to prevent or overturn harsh measures and expand protections.
Fostering a broad set of allies
We cultivate advocates across issues, regions, and the political spectrum, enhancing the capacity and responsiveness of local and state immigrant rights groups.
Our Impact
By advancing reformed immigration policies and reduced reliance on criminal law enforcement systems, our aim is to ensure that immigrant communities are no longer regular targets of arbitrary and punitive enforcement and that their voices are heard and their rights are protected throughout the immigration process. We work toward four critical outcomes:
Fair and just policies for immigrants
At the federal level, advocates will promote fair and just policies for immigrants, such as due process protections, judicial review, eliminating mandatory detention, and providing universal access to counsel in deportation proceedings.
Increased transparency and accountability at the border
Border communities will secure increased transparency and accountability from Customs and Border Protection.
Immigrant communities will have a greater voice
In select states and localities, we will support immigrant communities and their allies to influence government and decision-makers to create policies that affirmatively protect immigrants, and overturn and prevent excessively punitive policies and practices.
Support for immigrants will grow
Organizations working on immigration enforcement reform will leverage a broad range of supporters and strengthen their capacities to communicate and create a deeper base to influence decision-makers effectively.
Portfolio Snapshot
Annual Budget$7.5 million
Build Budget$37.4 million
where we work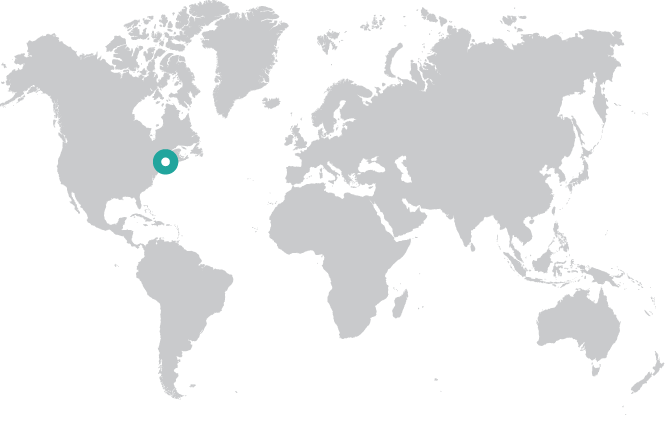 U.S. Immigrant Rights Grantee Snapshot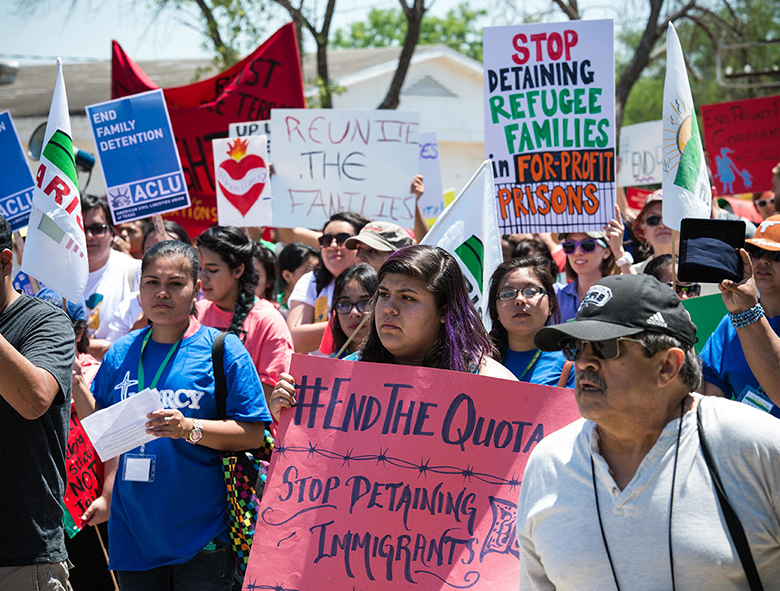 Building a coalition of crusaders
Detention Watch Network (DWN) is a coalition that builds power through collective advocacy, grassroots organizing, and strategic communications. Its membership is diverse in terms of sector, age, geography, sexual orientation, ethnicity, and immigrant/refugee background. DWN has members in 22 states with a goal of investing more heavily in California, Florida, and Texas. The network has taken part in the #DefundHate campaign to stop federal funding of aggressive immigration enforcement and deadly immigration jails.
Our work on criminal justice focuses on ending a racially discriminatory era of mass incarceration that has become a defining feature of American life for too many communities. We support a myriad of criminal justice reforms, particularly at the state and local level, that reduce prison populations and redirect savings from prison budgets to investments that will reduce crime and improve the well-being of communities across the United States.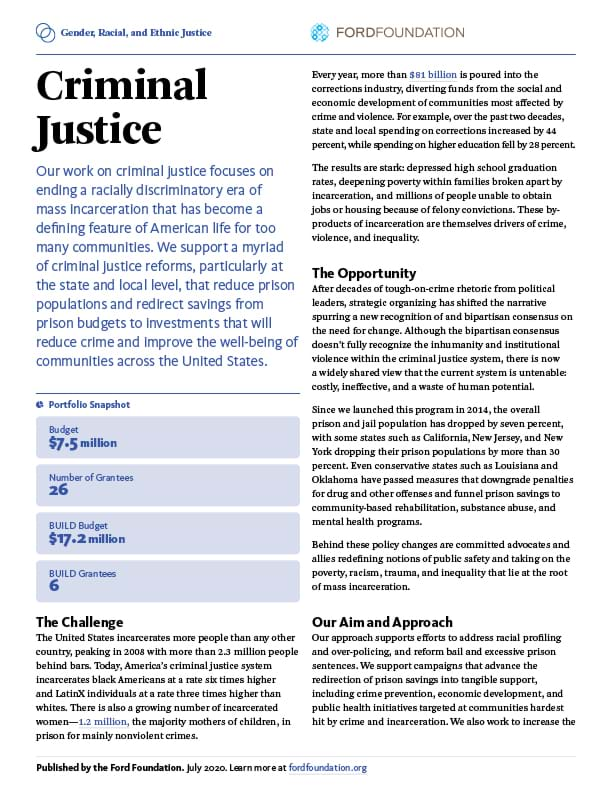 The United States incarcerates more people than any other country, peaking in 2008 with more than 2.3 million people behind bars. Today, America's criminal justice system incarcerates black Americans at a rate six times higher and LatinX individuals at a rate three times higher than whites. There is also a growing number of incarcerated women—1.2 million, the majority mothers of children, in prison for mainly nonviolent crimes.
Every year, more than $81 billion is poured into the corrections industry, diverting funds from the social and economic development of communities most affected by crime and violence. For example, over the past two decades, state and local spending on corrections increased by 44 percent, while spending on higher education fell by 28 percent.
The results are stark: depressed high school graduation rates, deepening poverty within families broken apart by incarceration, and millions of people unable to obtain jobs or housing because of felony convictions. These by-products of incarceration are themselves drivers of crime, violence, and inequality.
After decades of tough-on-crime rhetoric from political leaders, strategic organizing has shifted the narrative spurring a new recognition of and bipartisan consensus on the need for change. Although the bipartisan consensus doesn't fully recognize the inhumanity and institutional violence within the criminal justice system, there is now a widely shared view that the current system is untenable: costly, ineffective, and a waste of human potential.
Since we launched this program in 2014, the overall prison and jail population has dropped by seven percent, with some states such as California, New Jersey, and New York dropping their prison populations by more than 30 percent. Even conservative states such as Louisiana and Oklahoma have passed measures that downgrade penalties for drug and other offenses and funnel prison savings to community-based rehabilitation, substance abuse, and mental health programs.
Behind these policy changes are committed advocates and allies redefining notions of public safety and taking on the poverty, racism, trauma, and inequality that lie at the root of mass incarceration.
Our Aim and Approach
Our approach supports efforts to address racial profiling and over-policing, and reform bail and excessive prison sentences. We support campaigns that advance the redirection of prison savings into tangible support, including crime prevention, economic development, and public health initiatives targeted at communities hardest hit by crime and incarceration. We also work to increase the voice and influence of those directly affected by the justice system. We take four integrated approaches:
Demanding more just policies
We advocate for sentencing and parole reforms at the state level, given that 90 percent of incarcerated people reside in state or local custody, and work to end "poverty jailing," in which bail is required as a condition of pretrial release. We also replicate high-value alternatives to incarceration, such as restorative justice and pre-arrest diversion for both violent and nonviolent offenses.
Strengthening organizations and fostering collaboration
We provide key grantees with flexible funding through our BUILD program to strengthen their operational capacity.
Amplifying voices and building coalitions
We support organizations led by formerly incarcerated or convicted people, so those most affected shape advocacy agendas and policies. We invest in grassroots efforts that build broad support for decarceration, including people with convictions, crime survivors, law enforcement, and business leaders. We support initiatives that challenge the public's perception that tough-on-crime policies, such as stiff criminal codes and long prison sentences, are effective, and make the case for community-centered initiatives that support people hardest hit by crime and incarceration.
Increasing philanthropy's role in reform
We work with other donors to increase the collective impact of philanthropy in the sector.
Our Impact
By advancing decarceration reform, our overall objective is to end the era of mass incarceration and replace it with less punitive approaches that foster rehabilitation, accountability and healing for individuals, and greater health and safety for communities. We work toward four outcomes:
Decreased prison populations
Five states—Colorado, Louisiana, Michigan, Ohio and Oklahoma—with high incarceration rates will reduce their prison populations by at least 35 percent by 2030.
Formerly incarcerated people will have a stronger voice
A larger, stronger and more vocal base of constituents, particularly those directly affected by the justice system, will help advance decarceration efforts.
Effective alternatives to incarceration
There will be an increase in government funding for high-quality alternatives to incarceration and other initiatives that address the underlying causes of crime and violence.
Reduced racial disparity
The adoption of new policies and practices will reduce the disproportionate impact of mass incarceration on people of color.
By the Numbers
Since launching this program in 2014, the courageous individuals and organizations we support have been at the forefront of significant impact across the United States.
In California, prison populations decreased by 25% and more than $100 million spent on incarceration was reinvested in community efforts.
In New York City, jail populations decreased by 50% and the city has committed to closing Rikers Island by 2026.
In New York State, jail populations decreased by 25% the first month of 2020.
1000 people released from New York state prisons at start of coronavirus outbreak.
Portfolio Snapshot
Annual Budget$7.5 million
Build Budget$17.5 million
where we work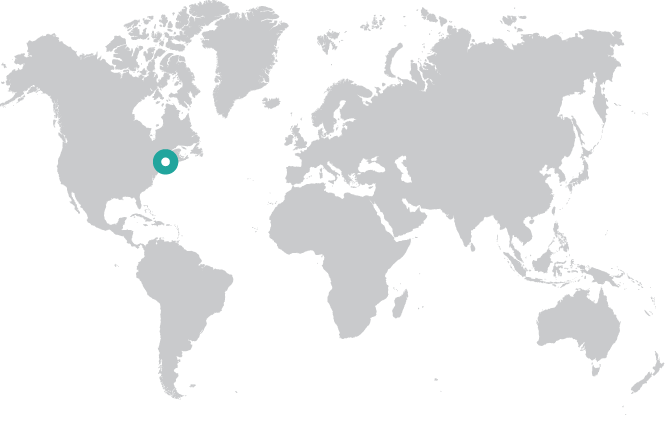 U.S. Criminal Justice Grantee Snapshot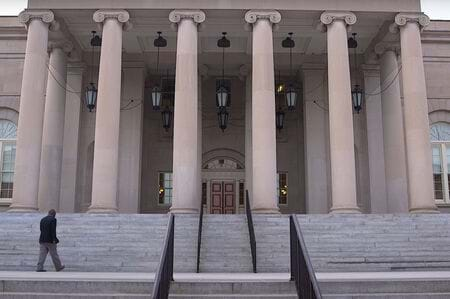 Putting safety first
Alliance for Safety and Justice (ASJ) is a national organization that aims to reduce incarceration and win majority support for a balanced approach to public safety that emphasizes prevention, rehabilitation, and support for crime survivors. Ford supports ASJ to reduce the total number of people incarcerated at the state level, replace mass incarceration with racially just safety priorities that protect and invest in communities most affected by incarceration and concentrated cycles of crime, and build lasting advocacy capacity in states to win and sustain reforms.
Reproductive and Gender Justice
We believe gender justice and reproductive justice are critical to achieving equality for all people. The ability to choose whether to have a child and when; to give birth safely; and to raise children in a healthy, thriving environment is central to the opportunities, freedoms and equality of women and gender nonconforming people. We strengthen equitable access to quality reproductive care to ensure pregnant people are supported regardless of their decision to give birth or seek an abortion. We also work to end gender-based discrimination in health care, the workplace, and communities at large, and support organizations that build the power of women and gender nonconforming people.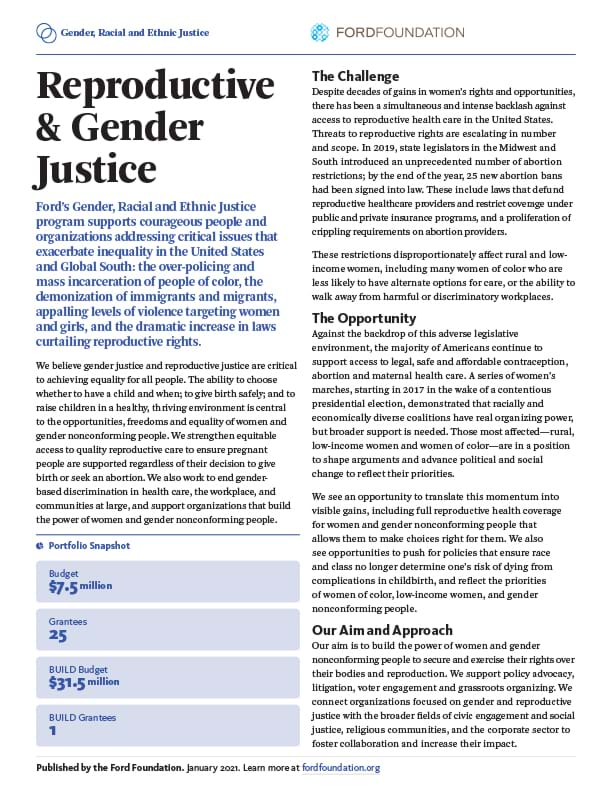 ---
Despite decades of gains in women's rights and opportunities, there has been a simultaneous and intense backlash against access to reproductive health care in the United States. Threats to reproductive rights are escalating in number and scope. In 2019, state legislators in the Midwest and South introduced an unprecedented number of abortion restrictions; by the end of the year, 25 new abortion bans had been signed into law. These include laws that defund reproductive healthcare providers and restrict coverage under public and private insurance programs, and a proliferation of crippling requirements on abortion providers.
These restrictions disproportionately affect rural and low-income women, including many women of color who are less likely to have alternate options for care, or the ability to walk away from harmful or discriminatory workplaces.
Against the backdrop of this adverse legislative environment, the majority of Americans continue to support access to legal, safe and affordable contraception, abortion and maternal health care. A series of women's marches, starting in 2017 in the wake of a contentious presidential election, demonstrated that racially and economically diverse coalitions have real organizing power, but broader support is needed. Those most affected—rural, low-income women and women of color—are in a position to shape arguments and advance political and social change to reflect their priorities.
We see an opportunity to translate this momentum into visible gains, including full reproductive health coverage for women and gender nonconforming people that allows them to make choices right for them. We also see opportunities to push for policies that ensure race and class no longer determine one's risk of dying from complications in childbirth, and reflect the priorities of women of color, low-income women, and gender nonconforming people.
Our Aim and Approach
Our aim is to build the power of women and gender nonconforming people to secure and exercise their rights over their bodies and reproduction. We support policy advocacy, litigation, voter engagement and grassroots organizing. We connect organizations focused on gender and reproductive justice with the broader fields of civic engagement and social justice, religious communities, and the corporate sector to foster collaboration and increase their impact.
We also work to hold the line against restrictive federal policies, supporting work in states where there are opportunities to strengthen reproductive and gender justice and testing new models of advocacy in under-resourced regions of the United States, like the South, where the political climate for reproductive and gender equity has been hostile. We focus on:
National advocacy
We support organizations and coalitions working to combat federal policies that roll back funding and legal protections for reproductive and gender equity.
Building alliances
We bring together advocates for gender and reproductive justice with racial, economic, and other social justice advocates to increase their collective impact.
Strategic litigation and policy advocacy
We build the capacity of organizations to engage in strategic litigation, policy advocacy, and integrated engagement with affected communities.
State-level organizing
We fund organizations centered on reproductive justice that have the ability to work across issues and constituencies to support movements at a state level.
Communications research
We help organizations integrate strategic messaging, communications, and audience research to demonstrate and amplify the broad support for gender and reproductive justice.
Increasing support
We work across the philanthropic sector to help donors focused on gender and reproductive rights see the intersections with other social justice issues to broaden their support.
Our Impact
Our aim is to see women, particularly rural, low-income women and women of color, realize their full rights and achieve reproductive and gender justice as a result of increased, consistent, and diverse support from advocates and policy makers. We work toward four critical outcomes:
Stronger advocacy at the federal level
Key organizations will align to safeguard gender justice and reproductive rights against harmful federal regulations and rollbacks.
A broader base of support
Organizations and networks that have not historically incorporated gender and reproductive justice issues into their work will become allies and bolster movements across the country.
More just state laws and policies
In critical states, strategic alliances will advance laws and policies that strengthen reproductive and sexual rights.
A more representative movement
Women of color, low-income women, and gender nonconforming people will increasingly hold leadership positions at the forefront of gender and reproductive justice to influence the movement's agenda.
Portfolio Snapshot
Annual Budget$7.5 million
Build Budget$31.5 million
where we work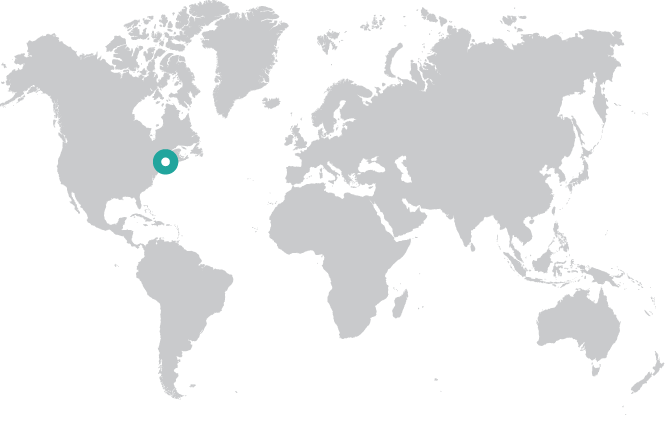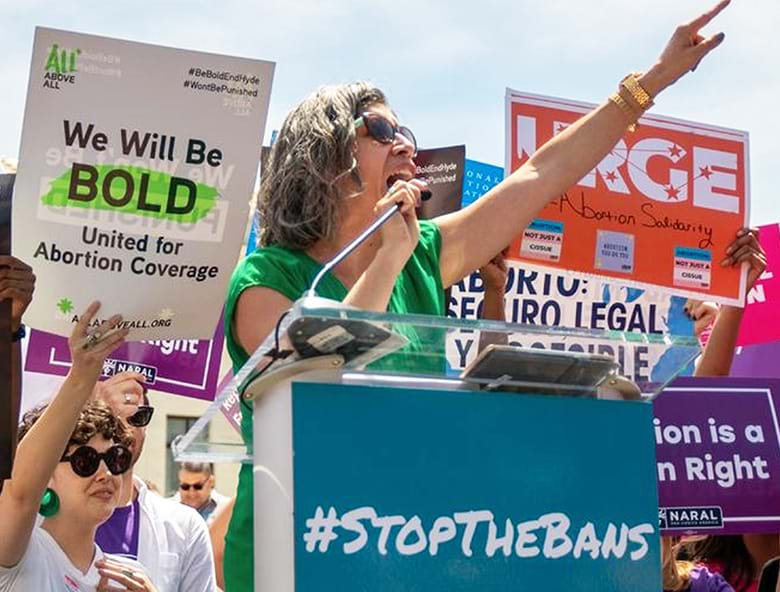 Expanding access to reproductive health
With Ford's support, reproductive justice organizations have advanced the rights of women and gender nonconforming people in California, Oregon, Washington, Hawaii, New York, Vermont, and Connecticut. Organizations like Forward Together and All* Above All have leveraged Reproductive Health Equity Acts in Oregon and Illinois to expand access and broaden the definition of reproductive health to go beyond abortion and also include pregnancy care, breastfeeding support, and reproductive health care. These organizations have made strides in expanding access for more people, including undocumented immigrants and transgender people. By building strong alliances with different players working on immigrant rights, labor and economic justice, these groups have successfully blocked harmful legislation in several states.