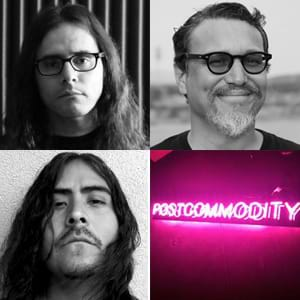 Postcommodity is an interdisciplinary arts collective made up of Cristóbal Martínez, Kade L. Twist, and Raven Chacon. Postcommodity's art functions as a shared Indigenous lens and voice to engage the assaultive manifestations of the global market and its supporting institutions, public perceptions, beliefs, and individual actions. Postcommodity sees the global market as an ever-expanding, multinational, multiracial, and multiethnic colonizing force that is defining the 21st century through ever-increasing velocities and complex forms of violence. Postcommodity works to forge new metaphors capable of rationalizing our shared experiences within this increasingly challenging contemporary environment; promote a constructive discourse that challenges the social, political, and economic processes that are destabilizing communities and geographies; and connect Indigenous narratives of cultural self-determination with the broader public sphere.
Transcript
[The words "Art is" appear, followed by scrolling words…Empathy, Political, Hope, Powerful, Vision…it stops at Dialogue. Art Is Dialogue.]
Kade Twist, Postcommodity: Good art functions as a benchmark for thinking.
[Footage from the film "Through the Repellent Fence" shows community members tether several large balloons to the earth at the US-Mexican border. The balloons are bright yellow and decorated with big open eyes.]
Cristóbal Martínez, Postcommodity: [speaking in Spanish] We are using these balloons to send a message that we are humans, we are cousins, we are brothers.
Raven Chacon, Postcommodity: Postcommodity is an interdisciplinary collective made up of three members and we work with installation, video, sound, performance, and sculpture.
Kade: We create work that tries to break the binary of white versus indigenous, us versus them, because it's far more complicated than that.
Raven: It doesn't have to be didactic. It doesn't have to have a message all of the time.
Cristóbal: This is about dialogue. Communities should have agency through art to be able to communicate their own needs and desires.
[The words "Art is" appear, followed by scrolling words…Dialogue, Expression, Change, Creativity, Healing…it stops at Justice. Hashtag Art Is Justice. Agree? Share this video.]
[Ford Foundation logo: a globe made up of a series of small, varied circles.]
Accessibility Statement
All videos produced by the Ford Foundation since 2020 include captions and downloadable transcripts. For videos where visuals require additional understanding, we offer audio-described versions.
We are continuing to make videos produced prior to 2020 accessible.
Videos from third-party sources (those not produced by the Ford Foundation) may not have captions, accessible transcripts, or audio descriptions.
To improve accessibility beyond our site, we've created a free video accessibility WordPress plug-in.
Postcommodity are the recipients of grants from the Joan Mitchell Foundation (2010), Creative Capital (2012), Art Matters (2013), the Native Arts and Cultures Foundation (2014), and the Mid Atlantic Arts Foundation (2017). The collective has been exhibited nationally and internationally, including at Contour, the 5th Biennial of the Moving Image (Mechelen, Belgium); Nuit Blanche (Toronto); the 18th Biennale of Sydney (Australia); the Scottsdale Museum of Contemporary Art (Arizona); the 2017 Whitney Biennial (New York); Art in General (New York); documenta14 (Athens, Greece, and Kassel, Denmark); and their historic land art installation Repellent Fence at the US-Mexico border near Douglas, Arizona, and Agua Prieta, Sonora.
Postcommodity acknowledges the important contributions of its previous collaborators: Steven Yazzie (2007-10), Nathan Young (2007-15), Adam Ingram-Goble (Game Remains), Andrew McCord (If History Moves at the Speed of Its Weapons, Then the Shape of the Arrow is Changing and Promoting a More Just, Verdant, and Harmonious Resolution), Annabel Wong (Dead River), and Existence AD (Dead River).
The members of Postcommodity live in different locations in the American West.