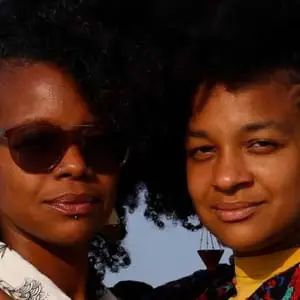 Las Nietas de Nonó are sisters Lydela (1979) and Michel (1982). They live in Barrio San Antón, a half-rural, half-industrial working class neighborhood of Carolina, Puerto Rico. Their autobiographical work is framed within the socioeconomic and geographical context of the exclusion and eviction of black communities in Puerto Rico, which includes racial and class discrimination, mass incarceration, drug trafficking, obstetric violence, and the cycle of poverty. Their practice also highlights circumstances and elements that are present in their neighborhood: the expansion of ancestral knowledge, the exchange of produce grown in the neighborhood, and the reuse of materials found in the area to create artistic projects.
Transcript
[The words "Art Is" appear, followed by scrolling words…Empathy, Political, Hope, Powerful, Social Change…it stops at Opportunity. Art Is Opportunity.]
[Audience members in a makeshift theater are blindfolded during a performance about physiognomy.]
Michel de Nonó: [speaking Spanish] Art gives us the opportunity to create change within our community. When my sister and I started working together, it was a moment of creating a new relationship through art, where we could share our voice.
[Las Nietas de Nonó stand at a table covered in silver recyclable materials. The surrounding walls are a blackboard, with "Ilustraciones de la Mecánica" written in chalk.]
Lydela de Nonó: [speaking Spanish] There was an urgent need to tell the stories of our community, a black and poor community in Puerto Rico.
[Images of Puerto Rican children, posing for a picture and painting a mural.]
Lydela: Within our collective, Las Nietas de Nonó, we are looking to create a theater in alternative spaces.
Michel: We believe that community relationships, where people's voices are heard, are very powerful in creating a genuine and human exchange of knowledge.
[The words "Art is" appear, followed by scrolling words…Opportunity, Expression, Change, Creativity, Healing…it stops at Justice. Hashtag Art is Justice. Agree? Share this video.]
[Ford Foundation logo: a globe made up of a series of small, varied circles.]
[Production credits appear on screen. For a full list of credits, please review the downloadable transcript.]
Accessibility Statement
All videos produced by the Ford Foundation since 2020 include captions and downloadable transcripts. For videos where visuals require additional understanding, we offer audio-described versions.
We are continuing to make videos produced prior to 2020 accessible.
Videos from third-party sources (those not produced by the Ford Foundation) may not have captions, accessible transcripts, or audio descriptions.
Las Nietas de Nonó play within the intersection of theater, performance, dance, art, activism, ecology, emancipatory education, and local food. They created Patio Taller in what used to be their paternal grandparents' home. This space is a house, but it is also a community space, a garden, and a theater, and it is used for public gatherings, performances, international artist residencies, workshops, sustainable agriculture, and cooking. Their work has been presented in Puerto Rico, Haiti, the Dominican Republic, Cuba, the United States, and England. In 2017, Las Nietas de Nonó received a Global Arts Fund grant from Astraea.