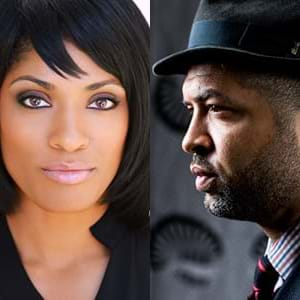 Alicia Hall Moran, mezzo-soprano, is a multi-dimensional artist performing and composing between the genres of opera, art, theater, and jazz. Moran made her Broadway debut in the Tony-winning revival of the Gershwins' Porgy and Bess, starring as Bess on the celebrated 20-city American tour. "Moran finds the truth of the character in her magnificent voice," praised the Los Angeles Times.
A unique vocalist performing across the fine arts and in her own contemporary work, Moran's creativity has been nurtured and tapped by celebrated artists including Carrie Mae Weems, Adam Pendleton, Joan Jonas, Ragnar Kjartansson, Simone Leigh, Liz Magic Laser, curator Okwui Enwezor, and choreographer Bill T. Jones; musicians like Bill Frisell, Charles Lloyd, and the band Harriet Tubman; as well as institutions at the forefront of art and ideas. Moran's artist residencies include Isabella Stewart Gardner Museum, MASSMoCA, and National Sawdust center for original music. She's been commissioned by ArtPublic/Miami Art Basel, Museum of Modern Art, The Kitchen, Histories Remixed/Art Institute Chicago, and Prototype Festival/HERE Performing Arts/Beth Morrison Projects, steadily rewriting a template for the classical-pop hybrid singer with quiet yet critically-acclaimed works such as HEAVY BLUE, The Five Fans, The Ice Project/Battle of the Carmens, and Black Wall Street, a personal-historical take on the Tulsa race riot of 1921. The latter work premiered at the River To River Festival after developing at National Sawdust and The Schomburg Center for Research in Black Culture/Women In Jazz—all institutions dedicated to keeping creativity and risk-taking alive at the critical level Moran inhabits.
In partnership with husband and collaborator Jason Moran, she has generated work for the Venice Biennale, Whitney Biennial, Walker Art Center, and Philadelphia Museum of Art, among others. Moran's transcendent vocal performances travel from the jazz club to solo turns with symphony orchestras—including National Symphony Orchestra Pops, Chicago Philharmonic, Austin Symphony, Roanoke Symphony, and Dayton Philharmonic—to the opera stage, to translations on theatrical stages and film. Her new album will be released in winter 2018.
Transcript
[The words "Art Is" appear, followed by scrolling words…Empathy, Political, Hope, Powerful, Social Change…it stops at Possibility. Art Is Possibility.]
Alicia Hall Moran, musician, composer, educator: Art is a wonderful way to get inside people's hearts, and to invite their ears, invite their eyes, get them breathing with you
[Alicia and Jason in a rehearsal space.]
Alicia: It sounds just like, [singing] daaaah—the other song.
Jason Moran, musician, composer, educator: Over the years through working with each other, we have tried to challenge "repertoire."
[Text on screen: REPERTOIRE, noun, a body of musical work that is regularly performed.]
Jason: Whose repertoire is it and why? And how can you manipulate it?
Alicia: Showing people what is very contemporary about the way they're living now and what is the oldest stuff in the world.
[Alicia sings onstage. Jason plays piano.]
Jason: Once it hits people's ears, eyes, emotions, it starts to come to life. It's possible to make statements through music. We can make another kind of impact, maybe further than what we've imagined before.
[The words "Art is" appear, followed by scrolling words…Possibility, Expression, Change, Creativity, Healing…it stops at Justice. Hashtag Art Is Justice.
Agree? Share this video.]
[Ford Foundation logo: a globe made up of a series of small, varied circles.]
Accessibility Statement
All videos produced by the Ford Foundation since 2020 include captions and downloadable transcripts. For videos where visuals require additional understanding, we offer audio-described versions.
We are continuing to make videos produced prior to 2020 accessible.
Videos from third-party sources (those not produced by the Ford Foundation) may not have captions, accessible transcripts, or audio descriptions.
To improve accessibility beyond our site, we've created a free video accessibility WordPress plug-in.
Jason Moran, a pianist, composer, and educator, grew up in Houston, Texas. He began studying piano when he was six, but early on developed a strong interest in both hip hop and jazz and graduated from Houston's High School for the Performing and Visual Arts. He moved to New York and graduated from the Manhattan School of Music. He began his professional career playing with Greg Osby, and his debut recording on Blue Note Records, Soundtrack to Human Motion, was released in 1999 to great critical praise. The following year, Facing Left established his trio The Bandwagon, with bassist Tarus Mateen and drummer Nasheet Waits. JazzTimes Magazine declared the album "an instant classic," and Rolling Stone wrote, "Jason Moran is shaping up to be the most provocative thinker in current jazz."
Since his first album, Moran he has produced ten additional albums and six film soundtracks, including scores for Ava DuVernay's films Selma and 13th. In 2007, Moran was commissioned to create In My Mind: Monk at Town Hall, 1959, producing a critically-acclaimed multi-media performance investigating Thelonious Monk's famous recording, Monk at Town Hall. Recent releases include The Armory Concert (2016), Thanksgiving at the Vanguard (2017) and BANGS (2017), under Moran's own label Yes Records.
Moran was awarded a MacArthur Fellowship in 2010, and in 2011 he was appointed artistic advisor for jazz at The John F. Kennedy Center for the Performing Arts. By 2014, he was made artistic director for jazz. Music education plays a central role in Moran's life. He teamed up with Chicago high school students and artist Theater Gates to create Looks of a Lot, an evening-length concert exploring the relationship between the blues and healing. He has been on the faculty of the New England Conservatory of Music since 2010, and also teaches in Copenhagen at The Rhythm Conservatory. He lives with his wife, Alicia Hall Moran, in Harlem.