Why the Olympics and other major sporting events usually increase inequality in the host city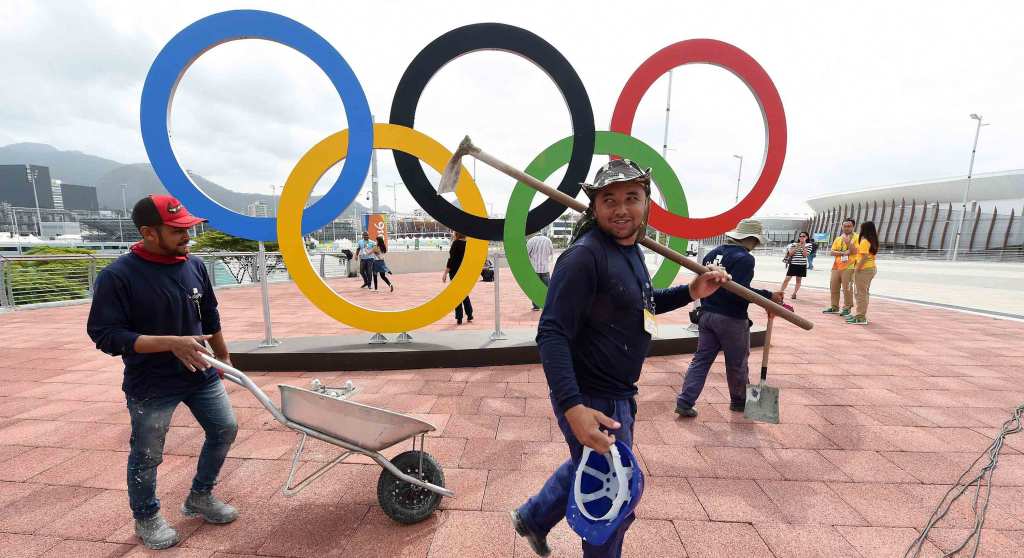 This Friday, all eyes will be on Rio de Janeiro as it hosts the 2016 Summer Olympic Games. While everyone will be watching and rooting for the athletes from their countries to win gold, few will realize that the ones really losing out are residents of Rio from low-income and working class communities.
This is because the development model for major international sporting events—like the Olympics and the World Cup as well as countless national sporting leagues like the NFL—rarely benefits all residents of the cities where the games are held. For example, even though the city of Rio promoted the Olympics to residents by arguing that hosting the games would increase tourism and lead to major urban infrastructure improvements, the likely result will be billons in losses. In fact, thousands of low-income Brazilians have already been displaced in order to build infrastructure for the games that will largely only benefit wealthy communities. In addition, several contracting companies for the Olympics now face corruption allegations. What was seen as an opportunity to democratize development in Rio has instead become an opportunity for city officials to justify actions that would otherwise never be tolerated—like human rights abuses, forced evictions, and hiding poor people and neighborhoods away from view.
Sporting events and inequality
These challenges are not unique to Rio or the Olympics. During the preparations for the 2010 World Cup in South Africa, FIFA—the governing body for international soccer—discouraged local authorities from upgrading an existing soccer stadium in a working-class neighborhood of Cape Town. The local government had wanted to modernize this stadium and invest in infrastructure in its surrounding neighborhood because it would help reduce inequality in the city. Instead, FIFA forcibly urged and got local authorities to agree to build a new World Cup stadium in a wealthier section of the city. In Cleveland, owners of the Quicken Loans Arena—home of the NBA's Cavaliers—requested a 50/50 public-private funding split for the arena's construction amid critical financing concerns for the healthcare system, justice system, and other government agencies in the country surrounding Cleveland. And across the United States, the Federal Communications Commission's "Nixon Rule" allows NFL franchise owners to black out games from being locally televised if high-priced tickets do not sell out even though the stadiums where these football games are played are often built with taxpayer money. As a result, it can sometimes be nearly impossible for city residents to watch their home teams play in person or on TV.
Public spending for large sporting events is often justified through an economic development model that says investing in the infrastructure, marketing, and preparations for these events will benefit everyone. But time and time again we see that with large sporting events, only a select few—usually wealthier and more privileged members of the community—benefit at the expense of everyone else.
An equitable development model for sporting events
Cities and communities do not have to displace their working class residents to build sports stadiums and venues. They don't have to funnel public funding away from public goods or only build infrastructure in wealthy areas in the name of economic development. Instead, cities can adopt an equitable development model for urban planning, which ensures that all city residents have a chance to benefit from major sporting events.
What would such an approach look like? For starters, there should be a push for the Olympics and other major sporting event bids to more centrally take into consideration the impact of these events on low-income communities and the general public. These international bodies should allow and empower civil society groups to comment on Olympic development plans at an early stage. It is important to note that major sporting event planning and the Olympic bidding process often start years before construction even occurs. So in theory there should be plenty of opportunities to engage with civil society and broader communities on proposed development plans. However, the Olympics has a compressed and frenzied bidding process that prevents broad citizen involvement and long-term planning. And once a bid is awarded to a host city, planners rarely want any input that would derail their already-approved plans.
While the Olympic host cities have generally not had a strong track record of creating long-term social and economic benefits for everyone, there are some instances where host cities have intended to do good for the broader community. For example, the 2012 London Olympic Games included a proposal to turn the Olympic Village into 6,000 units of affordable housing. Unfortunately, development for the games also led to widespread evictions. Urban regeneration schemes for Canary Wharf and elsewhere in East London—where the games were mostly centered—have led to intense gentrification post-Olympics. And while the London Olympic Planning Committee had good intentions, the results have been quite uneven. In hosting the 1992 Olympic Games, the city of Barcelona leveraged the opportunity to develop a comprehensive urban renewal plan that helped create new jobs and transform the city's deteriorating infrastructure by building a new airport and telecommunications network and improving the sewage system.
Philanthropy's role in promoting equitable development
What can philanthropy do to ensure to equitable development models for major large sporting events and arenas benefit everyone? Here are some possible courses of action:
Lift up untold stories of injustice. For example, Ford's investigative journalism grantees, such as Agencia Publica, are working to find cases of injustice related to the Rio Olympics and tell them to a broader public. They recently launched a project on the recent militarization of the Rio police in advance of the games.
Convene organizations and make civil society connections. What is happening in Brazil is far from unique and philanthropy can connect grassroots and civil society organizations in Rio with organizations in Cape Town, Athens, Qatar, the United States, and elsewhere. Groups can share common stories, brainstorm potential solutions, and consider new global development models for the Olympics, World Cup, other major sporting events, and domestic sporting leagues.
Build community capacity to engage in urban development policies and debates. Community organizations such as the Observatório de Favelas in Brazil and the Sports Fan Coalition in the United States need critical capacity to build local power and to counter prevailing assertions that major sporting events always leave lasting social and economic benefits for everyone. The Ford Foundation's commitment to building institutions and networks seeks to support and grow social justice institutions—which often outlive any one battle or campaign—to do just this.
Major sporting events can ignite a city's spirit and civic capacity, can lead to a sense of citywide pride, and can certainly help to increase tourism and economic stimulus. But major sporting events and projects only benefit everyone when they are deliberately designed to do so. If we change the approach to development, large sporting events like the Olympics can reduce, rather than drive, inequality.