What to expect at the Habitat III conference on urban development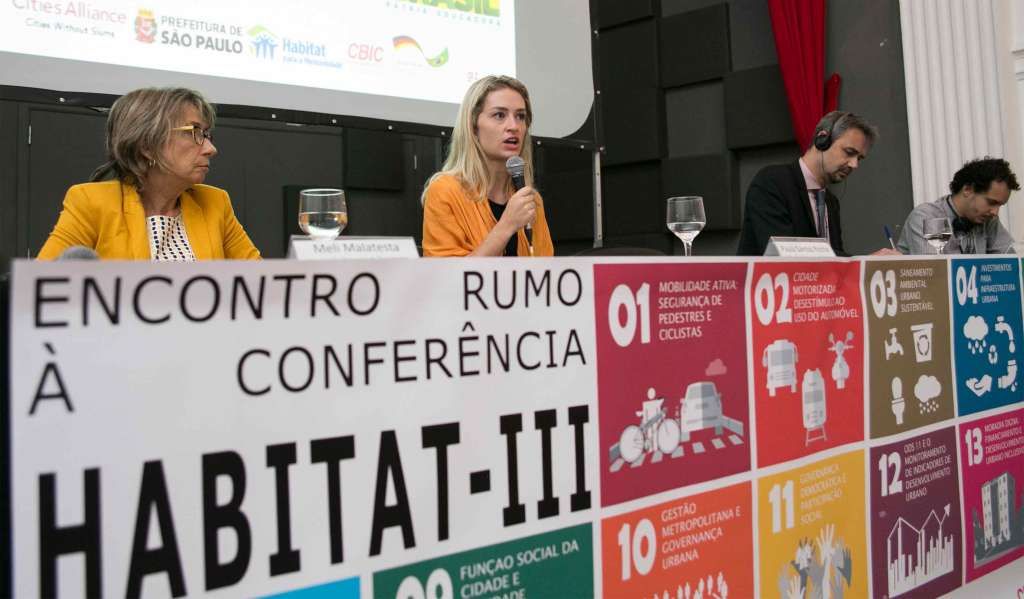 Next week, government leaders, local officials, and civil society will gather in Quito, Ecuador, for the Habitat III conference. It will be the first time in 20 years that the international community has come together to collectively decide on how to manage today's rapid urbanization. And with urbanization affecting everything from the environment to global development to civic participation, Habitat III will provide cities, towns, and rural areas with an opportunity to deliver on the United Nations Sustainable Development Goals and the Paris climate agreement.
The Ford Foundation and its grantees have weighed in on the upcoming Habitat III conference and the opportunities for and challenges to ensuring that the Quito conference and its final agreement, called the New Urban Agenda, are successful.
---
Connecting urban and rural areas must be central to the New Urban Agenda
Julio A. Berdegué and Felicity J. Proctor, Rimisp-Latin American Center for Rural Development
The biggest opportunity at the upcoming Habitat III meeting in Quito is to address issues that affect both small cities and the rural areas they rely on. Cities are not isolated ecosystems; they depend on interactions with their surrounding rural areas. This is particularly true in the thousands of towns and small cities in developing countries that are home to 1.7 billion people—half of the world's urban population. These towns and cities interact with an estimated 2.5 billion people living in nearby rural areas.
Together, these 4.2 billion people are neither "rural" nor "urban"—they are both. A city's markets, banks, and businesses depend heavily on their rural clients, and a large proportion of the livelihoods of both rural women and rural men depends on the city. The economies of these small cities are dependent on natural-resource-based rural activities, such as agriculture. Many urban dwellers are farmers and farmworkers. For example, in the highly urbanized, high-income country of Chile, around 20 percent of the population of small cities is employed in agriculture. If you include transportation, trade, food processing, and a wide array of business services, this percentage is even greater.
It is not only economic flows that link rural and urban areas; social networks, local culture, health and education services, and conflicts and tensions over the use of resources such as land for urban expansion also tie together towns and small cities with their surrounding rural areas. Build an impenetrable wall around the city, and the city dies along with its adjacent rural area.
The New Urban Agenda, the global agreement that will come out of the Habitat III conference, recognizes these rural-urban interdependencies and calls for the support of an integrated development approach between rural and urban areas to achieve the agenda's goals.
These interdependencies offer some of the best opportunities for sustainable and inclusive development and for achieving the United Nations Sustainable Development Goals (SDGs). For example, rural areas generally lack access to good schools. Yet it is often the case that a majority of the population in rural areas lives within 60 minutes of a small city (as is the case in Mexico). Therefore, improving roads and transportation infrastructure so that rural students can travel to good schools in urban areas is critical to achieving SDG 4: to "ensure inclusive and quality education for all." With many young women in developing countries in Latin America, Africa, and Asia working in nonfarm jobs, realizing SDG 5, to "achieve gender equality and empower all women and girls," will require supporting small city industries to create jobs and hire women. Finally, fulfilling SDG 2, to "end hunger, achieve food security and improved nutrition and promote sustainable agriculture," will require collaboration between cities and their surrounding rural areas to grow, harvest, store, process, and transport food in more sustainable ways.
While negotiators at Quito must ensure that the connections between urban and rural areas are central to the New Urban Agenda, it is up to local governments, businesses, and civil society to ensure that countries deliver on their commitments for a more just and equitable development approach in both cities and their surrounding rural areas.
---
Habitat III and the Andean Region: Challenges persist but so does hope
Javier Ciurlizza and Mia Deschamps, Ford Foundation Andean Region Office
A lot has changed in the Andean Region in the two decades between the last Habitat conference and the upcoming one next week. When world leaders attended the last gathering in Istanbul in 1996, the Andean Region was in turmoil. Drug and guerilla-related violence in Colombia had just begun to escalate and Peru was in the midst of a two-decade-long civil war, killing more than 69,000 people.
When global leaders head to Habitat III next week in Quito, Ecuador, they will find a very different Andean Region. For starters, the region has seen tremendous progress. Peru has enjoyed many years of peace and stability, which has given the government the ability and resources to start addressing deeply rooted social problems, such as poverty. And while Colombia's peace agreement with the FARC did not pass the recent referendum vote, there is encouraging commitment from all sides to see the process through and to ensure lasting peace and unity.
For Colombia and Peru, inequality in access to land and territory is central to the discussions at Habitat III next week. Colombian leaders head to Quito following the peace agreement referendum, which lost by only 0.2 percent. What the referendum vote uncovered is that many issues dividing the country are related to access to and the use of land, and how citizens' perceptions of their experiences—and their ability to voice those perceptions—are deeply divided between urban and rural populations. As Colombia continues to move toward peace, land rights will still be a major issue, as over 6 million individuals have been forcibly displaced. And after Peru's former president Ollanta Humala promoted a policy platform that promised the broad sharing of benefits from the nation's natural resource wealth, the issue of land rights became central to the country's economic and political discussions.
Another important issue for Andean Region governments to consider in Quito next week is how urban and rural areas can learn from and collaborate with each other to implement more sustainable and inclusive development policies. From our work in the Pacific Region of Colombia, we have learned that exclusion and discrimination not only are a manifestation of social patterns and culture but also are at the core of the unequal development model for urban centers.
Finally at Quito, South American leaders must focus on the tenuous relationship between governments and indigenous communities. Nine years after the United Nations Declaration on the Rights of Indigenous Peoples [pdf]—an international framework endorsed by many of the governments we work with—indigenous rights still remain elusive in many places. Raising the voice and power of these populations should start with a clear commitment from local authorities to develop and build more inclusive and just places.
Next week's Habitat III conference is well timed to influence the Andean Region's path toward more sustainable and inclusive development. In a region that is still facing challenges, there is plenty of hope for a future that is more just and equitable for all.
---
Habitat III's success will require defining indicators and monitoring progress
Michael Cohen and Lena Simet, The Global Urban Futures Project at The New School
When the final draft of the New Urban Agenda (NUA) was agreed upon in New York last month, expectations about the impact of the upcoming Habitat III conference were significantly changed. Many key stakeholders were hoping the NUA would focus on high-priority actions, include time-bound and rigorously defined commitments, and acknowledge the diversity of local conditions within a broader universal declaration. Unfortunately, only the last item exists in the final draft, which is up for approval in Quito next week.
With this background, the biggest challenge but also the biggest opportunity for the upcoming Habitat III conference is the development of clear indicators and targets to monitor progress after the conference is over. As it currently stands, many of the goals in the NUA are catchphrases rather than measureable targets. A set of specific indicators could become the "real" objectives of the NUA because they would be monitored by local and national governments, international agencies, nonprofits, and academic institutions—ensuring their implementation.
Making sure that the NUA does not become irrelevant and forgotten—and that Habitat III will have a lasting impact for decades to come—requires shifting the upcoming negotiations at Quito from establishing a laundry list of preferences of all interested groups to a more technical discussion about which smaller set of objectives can actually be measured in terms of progress toward achievement.
A prioritized list of objectives from Habitat III should also reference the United Nations Sustainable Development Goals (SDGs), particularly Goal 11: to "make cities inclusive, safe, resilient and sustainable." This would help engage countries and stakeholders deeply committed to the SDGs to work together and achieve these shared goals.