Desmond Meade: A Warrior for Voting Rights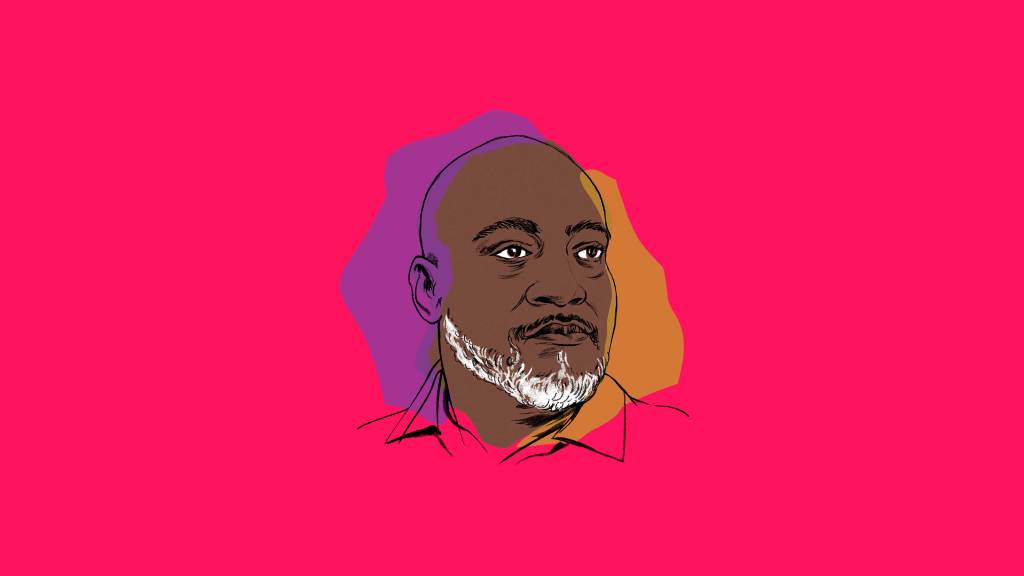 In October, Global Fellow Desmond Meade cast his first-ever ballot in a presidential election. He was 53. Because of his felony record, he—along with 1.4 million Floridians in his situation—had been banned from voting for life. To Meade, who had served in the army, this was an injustice in every sense of the word. He had paid his debt to society. He believed people who made mistakes deserved a second chance. To have a vote is to have a voice. To be a full citizen. So he set out to right that wrong.
Born on the Caribbean island of Saint Croix, Meade moved to Florida with his parents at age six, and joined the army after high school. It was there when he was introduced to cocaine and began to struggle with addiction. His life went dramatically downhill following his service. He couldn't keep a job, wound up homeless and racked up convictions for shoplifting and drug possession. Then, while squatting in a home, he was arrested for possession of a firearm that didn't belong to him and was sentenced to 15 years. His life changed in an instant.
While incarcerated, he studied at the prison law library and successfully drafted his own petition for appeal and began dispensing legal advice to fellow inmates. After serving three years, Meade was released and vowed to stay clean. With no money, job, or family to turn to, he ended up sleeping on bus station benches and eating Popeye's out of dumpsters. At his lowest, he planned to step into the path of an oncoming train to end his life. But the train never came. He made his way to a nearby rehabilitation center and never looked back.
Sober and living in a shelter, Meade started to take classes at Miami Dade Community College and rebuild his life. He eventually graduated summa cum laude and earned his J.D. at Florida International University College of Law and married his wife, Sheena, with whom he raised her five children.
As he earned his degrees, he worked at an advocacy organization that was part of the Florida Rights Restoration Coalition, a nonpartisan grassroots organization devoted to ending disenfranchisement of people with convictions. In four years, Meade rose to become its president and executive director. Frustratingly, his own rights hadn't been restored. Due to Florida law, he wasn't allowed to take the bar or vote, not even for when his wife ran for state legislature. One remedy was clemency, a process Meade criticizes as arbitrary and painstakingly slow (the backlog numbers almost 25,000), but he was denied. The other was to fight.
Meade resolved to change the law, written in the state's constitution, during the 2018 midterm elections. First he had to amass more than 750,000 signatures on a petition. He did, boosted by an appearance on Full Frontal with Samantha Bee. (The TBS show set up a website where people could download the petition.) Then the ballot initiative, called Amendment 4, had to win 60 percent of the vote. It got 65 percent. More than a million returning citizens had their rights restored in the most sweeping expansion of voting rights in 50 years, marking the end of a 150-year-old Jim Crow law. About 80,000 returning citizens registered, some for the first time in their lives and others who had last voted for President John F. Kennedy.
But in 2019, Republican governor Ron DeSantis set another obstacle in their path: they had to settle unpaid court-related fees and fines, leaving 774,000 who couldn't pay ineligible. Undaunted, Meade raised funds—$27 million from donors including LeBron James, John Legend, Michael Jordan, Ariana Grande, and Steven Spielberg—to erase some of those debts. And in the 2020 general election, the coalition estimates 50,000 with past felony convictions did what they never believed they could: cast a vote.
When the train didn't arrive that day and Meade stood in front of the tracks, he got his second chance—and is using it to give countless others theirs.
More Social Justice Leaders