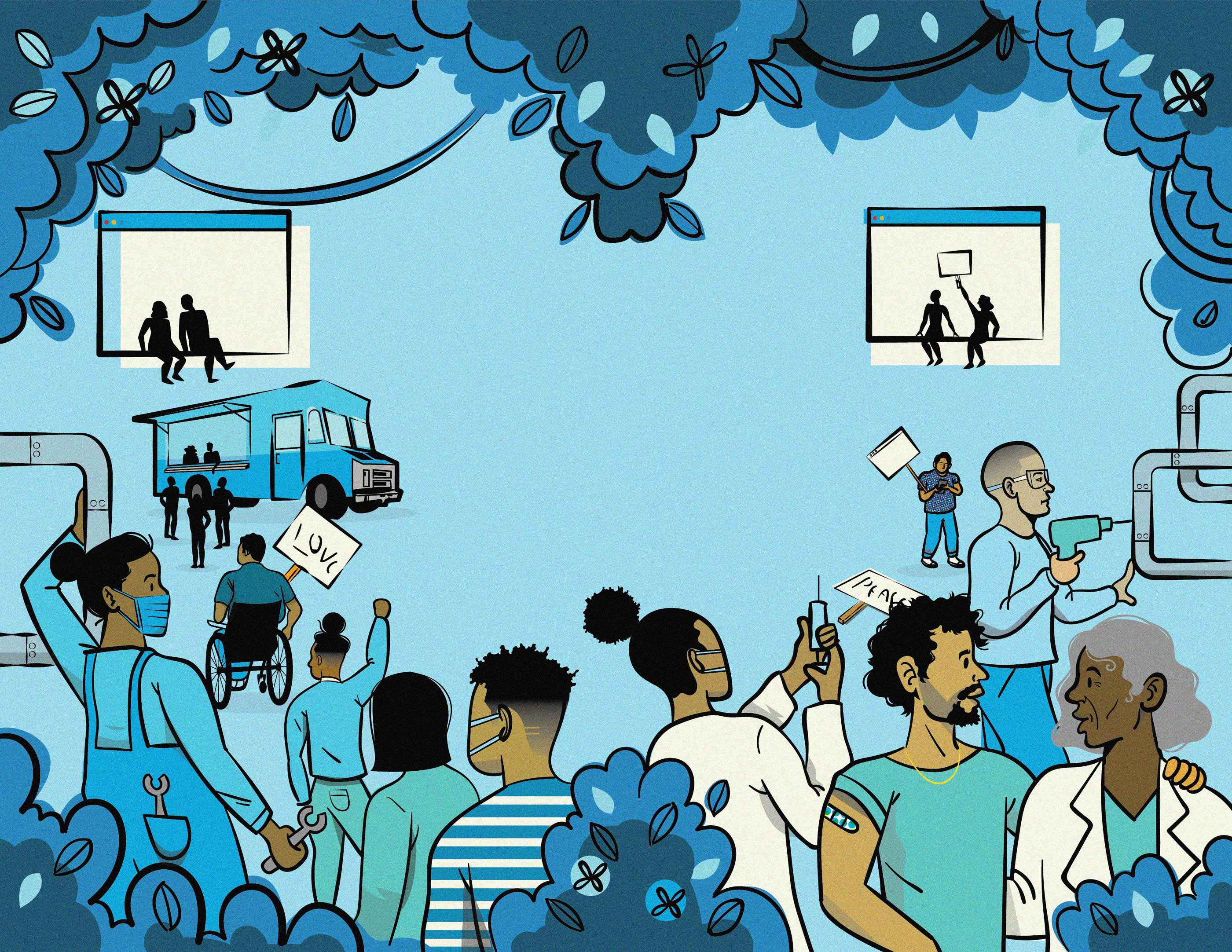 Reimagine
Recovery
Two years ago, our world changed forever. COVID-19 overwhelmed every facet of our societies, taking more than 6 million lives—and exacerbating crises of inequality, injustice, and intolerance for countless millions more.
In the wake of these intersecting crises, some global leaders were quick to simplify the idea of recovery to "relief"—and rightly so. How could we relieve our overworked, underfunded healthcare professionals? How could we relieve the suffering of everyday people as they lost jobs, loved ones, and faith in institutions? We wished fervently for a "post-COVID" future, a world relieved of grief and strife.
Today, we know that true recovery, let alone renewal, is far more complicated. Despite our hopes, COVID-19 is not a finite moment in our global past, but an urgent reality of our present—and, undoubtedly, our future. Moving from momentary relief to sustainable recovery and reform requires more than reckoning with the enduring nature of this crisis, its rippling variants, and its indeterminate end. Too much has been permanently upended, too many long-held beliefs disproved. COVID has stripped away old ideas and expectations and revealed the starkness of inequality around the world.
We cannot allow ourselves to resume what was; we must reimagine what can be. True recovery requires us to acknowledge the unjust structures and policies that, in many ways, led to and compounded the devastation of the pandemic. It calls for us to examine our obsession with the idea of rapid growth at all costs and establish a shared understanding of inclusive, sustainable growth that results in equal opportunity—and equitable outcomes. It demands us to recognize our global web of mutuality and come together to collectively address the problems ahead with humility and reciprocity. And it challenges us to realize a bold, hopeful reimagination of our social, economic, political and governance systems, with equity and interdependence at their core.
Reimagine Recovery: A Playbook for an Equitable Future offers a detailed vision of such recovery, beginning in the places we work and live and extending to our largest global stages. Like much of our work at the Ford Foundation, the playbook asks: What's possible when everyone can fully participate in society and has the opportunity to shape their lives? What's possible when we follow the lead of leaders and organizations building solutions for—and with—historically excluded communities? What's possible when we shift our old ways of operating and include equity in our execution of every policy and cultivation of every movement?
What is possible, it turns out, is a fundamental reimagination of the way we work and live, and balance the two as a society—a restructuring that widens the path to active participation in a just economy, levels the playing field, and shores up the foundation of our global order, so that recovery begins with prioritizing our full, shared humanity and mutuality.
Taken together, the ideas and initiatives that follow call us to envision a new world, a world where all stakeholders are working in partnership toward sustainable development, where power and privilege are kept in check and social, economic and political opportunities are more evenly distributed, and where unnecessary conflict and oppression are a matter of the past so everyone can live a life of dignity.
Let this vision inspire us to work together to design responses that not only weather the worst, but allow us all to flourish and thrive, and define a new age of solidarity, connection and justice. It is my hope that this playbook—an exercise in imagination—contributes to a future of shared prosperity, guiding us along that path from relief, to recovery, renewal, and a reimagined world.
Darren Walker, President
---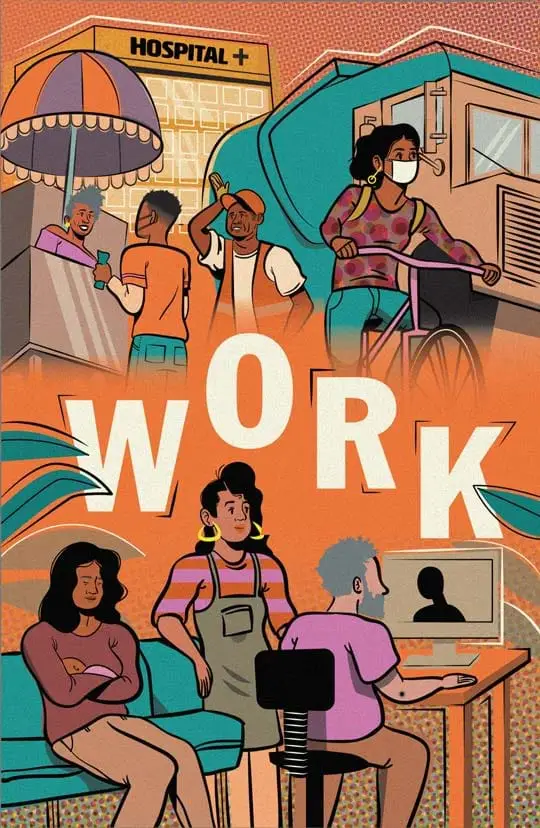 Reimagine Work
The scale of the economic challenge wrought by COVID-19 is catastrophic—and one the world hasn't faced in a century. As the pandemic magnifies the cracks in our broken economic systems, it's accelerating a long overdue reckoning about the future of work and our economy at large. For far too long, we, as a global society, have relied on an unsustainable way of working and business norms that maximize the wealth of the powerful and privileged, enabling an unbridled form of capitalism that has deepened inequality and reduced the power of working people.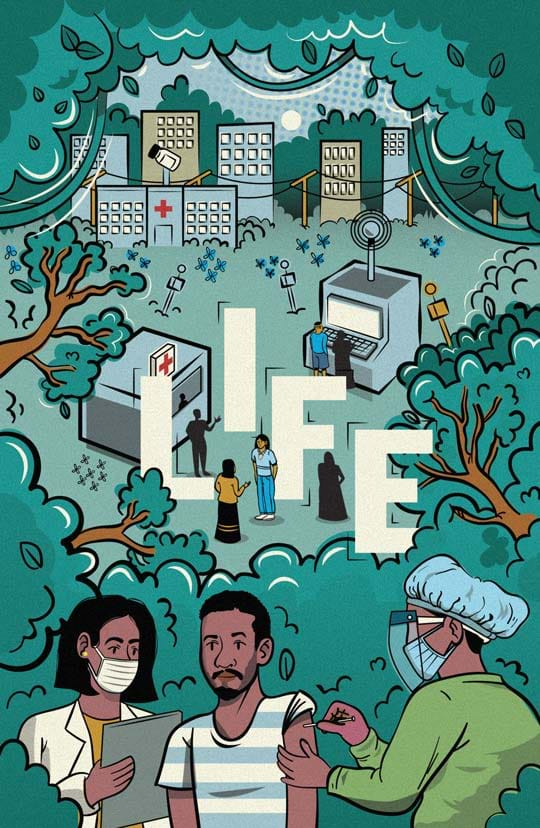 Reimagine Life
Social, economic and political systems and how they operate have a substantial effect on our personal welfare and happiness. Our rights and freedoms, our ability to access an education and quality health care, find economic success, and contribute to our community all impact life outcomes. Equality is only realized when everyone has the opportunity to make the most of their lives.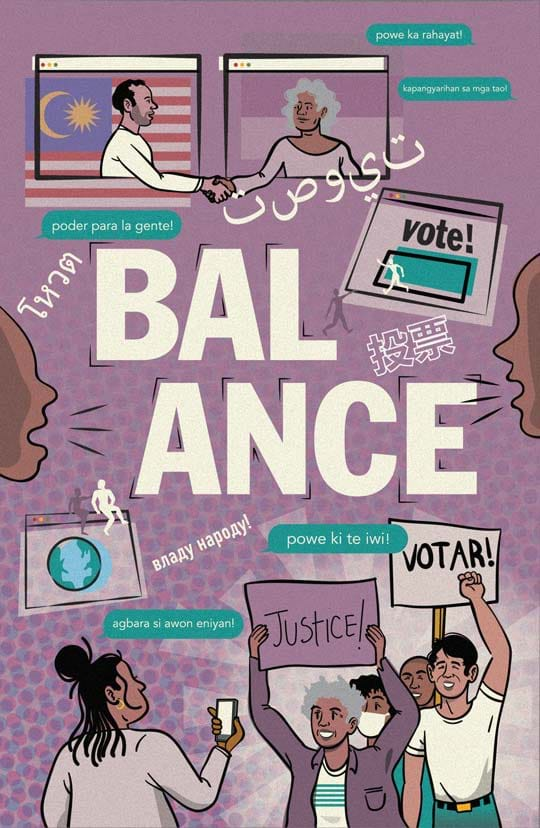 Reimagine Balance
COVID-19, in many ways, marks the first global health emergency, moving faster and farther to touch every corner of the world than any pandemic of the past. As we faced this universal threat, it showed us how interconnected the world is and opened up an opportunity for international cooperation and solidarity.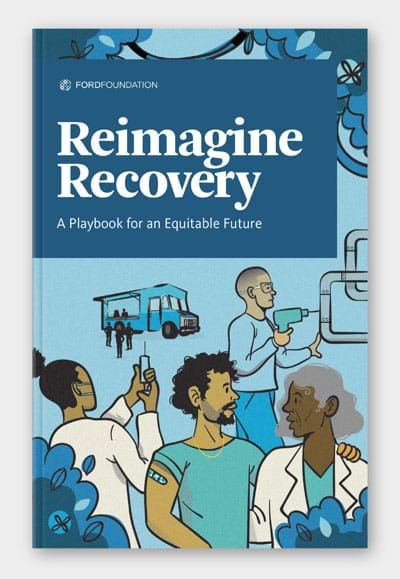 Get the playbook
Initially presented at a conference, Reimagine Recovery: A Playbook for an Equitable Future offers a detailed vision of recovery, beginning in the places we work and live and extending to our largest global stages.