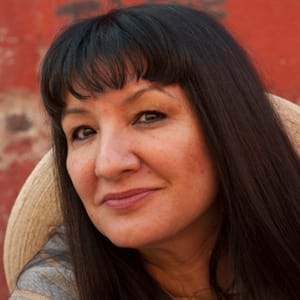 Sandra Cisneros is a poet, short story writer, novelist, and essayist, whose work explores the lives of the working class. Her books include two full-length poetry books, My Wicked Wicked Ways and Loose Woman; a children's book, Hairs/Pelitos; and the novels The House on Mango Street and Caramelo. Vintage Cisneros, published in 2003, is a compilation of selections from her works.
Transcript
[The words "Art is" appear, followed by scrolling words…Empathy, Political, Hope, Powerful, Social Change…it stops at Representation. Art Is Representation.]
Sandra Cisneros, writer: "Can art save lives?" That was a question I asked myself in my 20s. I was working in a school where I had to bring my own chalk. And I thought, "Why am I teaching my students poetry and fiction, and how's that going to save my students from the beatings that life gives them?" So I wrote about the things they told me, and that was my first novel.
[Photos of the novel "The House on Mango Street."]
And it certainly has allowed many, many young people to finally see themselves in a book where they're loved, where they're not despised or criminalized.
[Students and fans holding Sandra's novels "Caramelo" and "The House on Mango Street."]
If you don't see yourself reflected in the story, you can't imagine you can make any difference in the world. Art does change us for the better.
[The words "Art is" appear, followed by scrolling words…Representation, Expression, Change, Creativity, Healing…it stops at Justice. Hashtag Art Is Justice. Agree? Share this video.]
[Ford Foundation logo: a globe made up of a series of small, varied circles.]
Accessibility Statement
All videos produced by the Ford Foundation since 2020 include captions and downloadable transcripts. For videos where visuals require additional understanding, we offer audio-described versions.
We are continuing to make videos produced prior to 2020 accessible.
Videos from third-party sources (those not produced by the Ford Foundation) may not have captions, accessible transcripts, or audio descriptions.
The House on Mango Street, first published in 1984, has sold over six million copies, been translated into over 20 languages, and is required reading in middle schools, high schools, and universities across the nation. Cisneros's story collection Woman Hollering Creek and Other Stories was the winner of the PEN Center West Award for Best Fiction in l99l, the Quality Paperback Book Club New Voices Award, the Anisfield-Wolf Book Award, and was selected as a noteworthy book of the year by the New York Times and the American Library Journal, among numerous other honors. Her most recent book, A House of My Own: Stories From My Life, earned Chicago's Fifth Star Award in 2015 and the PEN Center's Award in Nonfiction in 2016. Cisneros has also received NEA fellowships in both poetry and fiction, the Texas Medal of the Arts, a MacArthur Fellowship, several honorary doctorates, and national and international book awards, including the National Medal of the Arts, awarded to her by President Obama in 2016.
In addition to her writing, Cisneros has fostered the careers of many aspiring and emerging writers through the two non-profit organizations she founded: the Macondo Foundation and the Alfredo Cisneros del Moral Foundation, a grant-giving institution serving Texas writers. She is also the organizer of Los MacArturos, Latino MacArthur fellows who are community activists. Cisneros has been a visiting writer at a number of universities, including the University of California, Berkeley, and the University of Michigan, Ann Arbor. She holds a BA from Loyola University of Chicago and an MFA in creative writing from the University of Iowa. Her literary papers are preserved in Texas at the Wittliff Collections at Texas State University. Cisneros is a dual citizen of the United States and Mexico, and currently lives in central Mexico.