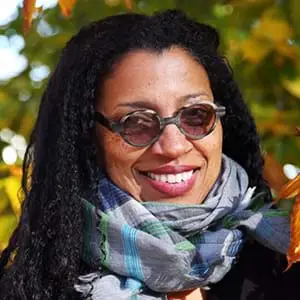 Robin Coste Lewis is the poet laureate for the city of Los Angeles. She was born in Compton, California, and her family is from New Orleans. Lewis is the author of Voyage of the Sable Venus (2015), winner of the National Book Award for Poetry—and the first poetry debut to win the award since 1974. Critics called Lewis's first collection, "stunning…a masterpiece…surpassing imagination, maturity, and aesthetic dazzle…a book that is formally polished, emotionally raw, and wholly exquisite." Lewis is also the author, with Kevin Young, of a series of commissioned poems that accompany Robert Rauschenberg's drawings in Thirty-Four Illustrations for Dante's Inferno (MoMA), as well as Prosthetic (forthcoming from Knopf). Her writing has also appeared in journals and anthologies including The New Yorker, The Harvard Gay and Lesbian Review, Best American Poetry, Callaloo, Transition, and Vida.
Transcript
[The words "Art is" appear, followed by scrolling words…Empathy, Political, Hope, Powerful, Change…it stops at Access. Art Is Access.]
Robin Coste Lewis, poet: When I was a little girl we didn't get to read books by people of color ever in my school. So, my parents supplemented my very skewed curriculum with books by black poets and Latino poets. And when I saw Margaret Walker's poem, "For My People," turning English into a tool of resistance, and beauty, most of all beauty, it changed my whole world.
[Robin reading.]
"For my people walking blindly spreading joy…"
[A close-up view of Robin's book "Voyage of the Sable Venus".]
I began to look at English and my body as an aesthetic tool and a political tool. And I didn't know … we had permission as oppressed peoples to adore our own bodies.
Poetry taught me how to do that.
[The words "Art is" appear, followed by scrolling words…Access, Expression, Change, Creativity, Healing…it stops at Justice. Hashtag Art Is Justice. Agree? Share this video.]
[Ford Foundation logo: a globe made up of a series of small, varied circles.]
Accessibility Statement
All videos produced by the Ford Foundation since 2020 include captions and downloadable transcripts. For videos where visuals require additional understanding, we offer audio-described versions.
We are continuing to make videos produced prior to 2020 accessible.
Videos from third-party sources (those not produced by the Ford Foundation) may not have captions, accessible transcripts, or audio descriptions.
Lewis earned her MFA from New York University's creative writing program, where she was a Goldwater Fellow in poetry. She also earned a MTS degree in Sanskrit and comparative religious literature from Harvard University's divinity school, and a PhD from the creative writing and literature program at the University of Southern California, where she was a provost fellow in poetry and visual studies. There, Lewis researched the intersecting production histories of early African American poetry and photography, for which she received the Anne Friedberg memorial grant from USC's Visual Studies Research Institute. Other fellowships and awards include those from the Cave Canem Foundation, the Los Angeles Institute of the Humanities, the Caldera Foundation, the Ragdale Foundation, the Headlands Center for the Arts, and the Summer Literary Seminars in Kenya. Lewis was also a finalist for the International War Poetry Prize, the National Rita Dove Prize, the California Book Award, the LA Times Book Prize, and the Hurston/Wright Award.
Lewis has taught on the faculty of Wheaton College, Hunter College, and Hampshire College. Currently, she teaches in NYU's low-residency MFA in Paris, and is a writer-in-residence at USC. She lives in Los Angeles.