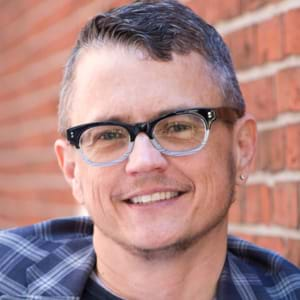 P. Carl is the director and co-founder of HowlRound, a free and open platform for theater-makers worldwide that amplifies progressive ideas about the art form and facilitates connection between diverse practitioners. He is also the co-artistic director of ArtsEmerson at Emerson College where he develops, dramaturgs, and presents a provocative array of contemporary theater from diverse artists around the globe. His most recent projects include commissioning and dramaturgy for the February 2018 world premiere of Claudia Rankine's new play, The White Card, and dramaturgy for Melinda Lopez's Mala (2017 Elliot Norton Award winner for Outstanding New Script), Jessica Blank and Erik Jensen's How to Be a Rock Critic, and Deborah Stein and Suli Holum's The Wholehearted.
Transcript
[The words "Art is" appear, followed by scrolling words…Empathy, Perspective, Hope, Change, Beauty…it stops at Political. Art Is Political.]
[A live theater event shows multiple time lapse videos of Afghanistan War veteran interviews. Live actors perform in front of the video projections of soldiers and civilians in Afghanistan.]
P Carl, theater director and cultural organizer: Art has to be connected to the questions of our everyday life and the politics of the world. I really love programming with the idea that everyone belongs. For me, I didn't start there and when I started curating that way, what I thought mattered really changed. We're living in this incredible moment of discrimination in our country. We're living in terrible misogyny. I'm always trying to think about, like, what kind of stories can we tell that everyone will feel the invitation that they can come? And how do we create platforms where everyone's invited into the conversation? That, for me, is the really nuanced and difficult work of being a good curator, being a good artist.
[A performer stands behind a laptop on stage and plays the trumpet as dancers with disabilities perform. A man in a wheelchair performs a choreographed dance with a woman. A woman with an arm amputation at her elbow dances with other performers.]
We're at a time when we have to find language and objects and beauty to connect us to each other. That's what art has the power to do in a way that politics in and of itself can't do.
[The words "Art is" appear, followed by scrolling words…Political, Expression, Change, Creativity, Healing…it stops at Justice. Hashtag Art Is Justice. Agree? Share this video.]
[Ford Foundation logo: a globe made up of a series of small, varied circles.]
Accessibility Statement
All videos produced by the Ford Foundation since 2020 include captions and downloadable transcripts. For videos where visuals require additional understanding, we offer audio-described versions.
We are continuing to make videos produced prior to 2020 accessible.
Videos from third-party sources (those not produced by the Ford Foundation) may not have captions, accessible transcripts, or audio descriptions.
Operating from the core belief that theater is for everyone, Carl seeks to use the power of live performance in concert with opportunities for international dialogue and activism to foster personal and political transformation through the shared experience of art. He is a distinguished artist-in-residence on the Emerson faculty and a frequent writer and speaker on the evolution of theater practice and theory. Carl was named Theater Person of the Year in 2015 (National Theater Conference) as well as Alumni of Notable Distinction (University of Minnesota). He is the former producing artistic director of the Playwrights' Center in Minneapolis, the former director of artistic development at Steppenwolf Theatre in Chicago, and holds a PhD in comparative studies in discourse and society from the University of Minnesota. Carl was born in Elkhart, Indiana, and now lives in Boston.