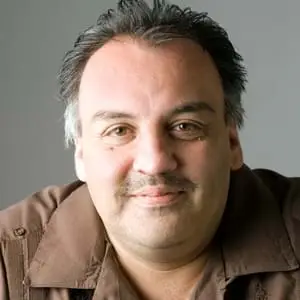 Luis Alfaro is a Chicano playwright known for his work in theater, performance, poetry, and journalism. Born and raised in the Pico-Union district of downtown Los Angeles, he also works as a director, curator, producer, educator, and community organizer. He is the first playwright-in-residence in the 83-year history of the Oregon Shakespeare Festival, the largest repertory company in the United States, serving for six seasons (2013-19) through the generous support of the Andrew S. Mellon Foundation. He was mentored by the founding artistic director of the Mark Taper Forum in Los Angeles, Gordon Davidson, where he spent 10 years as associate producer, director of New Play Development, and co-director of the Latino Theatre Initiative. Alfaro studied playwriting under the influential Latina playwright, María Irene Fornés, and he is a professor at the University of Southern California.
Transcript
[The words "Art Is" appear, followed by scrolling words…Empathy, Perspective, Hope, Change, Beauty…it stops at Powerful. Art Is Powerful.
Luis Alfaro, writer, performer, and educator: Art is powerful. When we tell our stories, we are empowering ourselves. Art can be as simple as inspiring somebody, like a gang member, to imagine themselves living beyond their 20s. Sometimes it's helping someone who has just gotten out of prison imagine how they might live the rest of their life. And then sometimes it's helping a community imagine how it might have a better health or a better way of organizing itself. I write a lot about working class people, people who are trapped in systems, so I write a lot about incarceration, the violence of poverty.
[Actors on stage perform "Mojada: A Medea in Los Angeles." A woman sits at a sewing machine, working; a man stands behind her with his hands on her shoulders.]
ACTOR 1: What you do is special, Madea, no matter how they treat us here.
ACTOR 2: In this country, special pays the same.
Luis: I am always trying to create a narrative that allows people to think about themselves free and in the world. And so there's always a push-pull toward wanting to make change.
[The words "Art Is" appear, followed by scrolling words…Powerful, Expression, Change, Creativity, Healing…it stops at Justice. Hashtag Art Is Justice. Agree? Share this video.]
[Ford Foundation logo: a globe made up of a series of small, varied circles.]
Accessibility Statement
All videos produced by the Ford Foundation since 2020 include captions and downloadable transcripts. For videos where visuals require additional understanding, we offer audio-described versions.
We are continuing to make videos produced prior to 2020 accessible.
Videos from third-party sources (those not produced by the Ford Foundation) may not have captions, accessible transcripts, or audio descriptions.
His plays and performances have been seen throughout the Americas and Europe. Recent productions include a trio of Greek-to-Chicano adaptations: Oedipus El Rey, winner of the Glickman Prize and part of the current 50th anniversary season at the Public Theater in New York City, with a sold-out run, extended three times; Mojada: A Medea in Los Angeles, developed and presented at the Getty Villa in Malibu, currently seen at Portland Center Stage in a co-production with the Oregon Shakespeare Festival, and winner of the Los Angeles Drama Critics Circle Award, Ovation Award, and Jefferson Award for best new play; and Electricidad, produced at the Goodman Theatre, Mark Taper Forum, Borderlands Theatre, with 32 productions nationwide. Other productions include Bruja (Magic Theatre in San Francisco), Breakfast, Lunch & Dinner (Hartford Stage), Black Butterfly (Kennedy Center and Smithsonian Museum), and Body of Faith (Cornerstone Theater Company), winner of the PEN Center Award for Drama. His solo performance work has been seen at the Institute of Contemporary Art in London, the Getty Center, the Boston Center for the Arts, the Goodman Theatre, the Hirshhorn Museum at the Smithsonian, and Ex Teresa performance space in Mexico City, among others, and it includes the recent St. Jude, premiered as part of Under the Radar West at Center Theatre Group and Victory Gardens Theater in Chicago.
Alfaro is the recipient of a John D. and Catherine T. MacArthur Foundation "genius grant." He is a recent Joyce Foundation Fellow and the only artist to have won two awards in the same year from the Kennedy Center's Fund for New American Plays. He is featured in over 25 anthologies, has an award-winning spoken word CD, down town, and an Emmy-nominated PBS short film, Chicanismo. He is a member of New Dramatists in New York and an associate artist with Victory Gardens Theatre in Chicago and Playwrights Arena in Los Angeles.