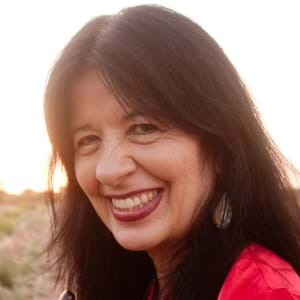 Joy Harjo has published eight books of poetry. Her most recent collection, Conflict Resolution for Holy Beings, was short-listed for the Griffin International Prize and named the American Library Association's Notable Book of the Year. Her writing awards include the Ruth Lilly Prize from the Poetry Foundation for lifetime achievement; the Wallace Stevens Award from the Academy of American Poets, also for lifetime achievement; a Guggenheim Fellowship; the New Mexico Governor's Award for Excellence in the Arts; the Rasmuson United States Artist Fellowship; and the William Carlos Williams Award from the Poetry Society of America. Her memoir Crazy Brave won several awards, including the PEN Center USA Literary Award for Creative Nonfiction and the American Book Award. She has published two award-winning children's books, The Good Luck Cat and For a Girl Becoming.
Transcript
[The words "Art is" appear, followed by scrolling words…Empathy, Perspective, Hope, Change, Beauty…it stops at Vision. Art Is Vision.]
Joy Harjo, poet and musician: I started writing poetry because I looked around and I saw that we weren't hearing women's voices.
[Joy, in a red, long-sleeve shirt with white trim and crystal embellishments and blue jeans, stands behind a wooden table on a small stage. Accompanied by a guitarist, Joy plays saxophone, then smacks the table with a tattoo-covered hand and recites a line.]
"This is what I think about your music," he shouted.
Joy: The first poetry I did came directly out of that call for justice.
[Joy continues to perform.]
"She always joked she was raised by wolves, so howling came natural. She fit tight into black leather pants and jacket. She was no Pocahontas."
Joy: I feel as an artist that I have a responsibility towards growing vision, compassion. One artist in a community can make quite a bit of change. Artists can give voice or vision to a community.
[The words "Art is" appear, followed by scrolling words…Vision, Expression, Change, Creativity, Hope…it stops at Justice. Hashtag Art Is Justice. Agree? Share this video.]
[Ford Foundation logo: a globe made up of a series of small, varied circles.]
Accessibility Statement
All videos produced by the Ford Foundation since 2020 include captions and downloadable transcripts. For videos where visuals require additional understanding, we offer audio-described versions.
We are continuing to make videos produced prior to 2020 accessible.
Videos from third-party sources (those not produced by the Ford Foundation) may not have captions, accessible transcripts, or audio descriptions.
To improve accessibility beyond our site, we've created a free video accessibility WordPress plug-in.
Performing on saxophone and flute, Harjo has toured nationally and internationally, both solo and with her bands: Joy Harjo and Poetic Justice, and the Arrow Dynamics Band. She has collaborated with many dancers, including Bharatanatyam dancer Anita Ratnam and modern dancer Molissa Fenley. She has also toured a one-woman show with music, Wings of Night Sky, Wings of Morning Light, which will be published by Wesleyan University in 2018. She has recorded five CDs of music and poetry, including the most recent award-winning Red Dreams, A Trail Beyond Tears. The Native American Music Awards named her Best Female Artist in 2009. She was recently commissioned by the Public Theater of New York to write We Were There When Jazz Was Invented, a musical play that will restore southeastern natives to the American story of blues and jazz. Harjo is also working on a new CD, An American Sunrise, which will follow a songline that links her Mvskoke tribal music with blues and jazz.
She has begun research and writing on an historical memoir linking her generation of native rights activists and workers with the seventh generation, a generation that includes her grandfather Monahwee (or, Menawa), who with the Red Stick Warriors fought Andrew Jackson against the unlawful move to Indian Territory, and her great-uncle Osceola, the Seminole warrior. She is a co-founder with tribal members Kenneth Johnson and Sandy Wilson of the Mvskoke Arts Association, an organization to support and encourage Mvskoke arts and culture. She holds the John C. Hodges Chair of Excellence at the University of Tennessee in Knoxville.