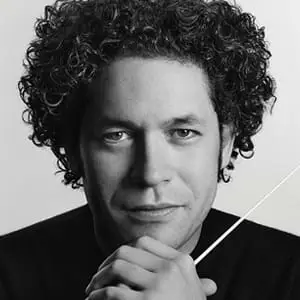 Gustavo Dudamel is an internationally renowned symphonic and operatic conductor, motivated by a profound belief in music's power to unite and inspire. He serves as music director of the Simón Bolívar Symphony Orchestra of Venezuela and music and artistic director of the Los Angeles Philharmonic, the impact of his leadership extending from the greatest concert stages to classrooms, cinemas, and innovative digital platforms around the world. He also appears as guest conductor with some of the world's most famous musical institutions. This year, he leads the Bavarian Radio Symphony Orchestra in Munich, is touring Europe with the Berlin Philharmonic, and takes the Vienna Philharmonic on a tour of the Americas, with concerts in New York's Carnegie Hall, Mexico City's Bellas Artes, Bogota's Teatro Mayor, as well as the famed Teatro Colón in Buenos Aires.
Now entering his ninth season as music and artistic director of the Los Angeles Philharmonic, Dudamel has dramatically expanded the scope of the symphony's community outreach programs through initiatives that include, most notably, the creation of Youth Orchestra Los Angeles (YOLA), influenced by the philosophy of Venezuela's admired El Sistema, which encourages social development through music. With YOLA and diverse local educational initiatives, he brings music to children in underserved communities across Los Angeles.
Dudamel is one of the most decorated conductors of his generation. Among other awards, he received the Americas Society Cultural Achievement Award in 2016 and the Leonard Bernstein Lifetime Achievement Award for the Elevation of Music in Society from the Longy School of Music in 2014. He was named Musical America's 2013 Musician of the Year, one of the highest honors in the classical music industry, and was voted into the Gramophone Hall of Fame. He was inducted into l'Ordre des Arts et des Lettres as a Chevalier in Paris in 2009, and received an honorary doctorate from the Universidad Centroccidental Lisandro Alvarado in his hometown of Barquisimeto, Venezuela. He also received an honorary doctorate from the University of Gothenburg in 2012.
Dudamel has been featured three times on CBS's 60 Minutes and was the subject of the PBS special Dudamel: Conducting a Life. He also appeared on Sesame Street with Elmo, and on Charlie Rose, Conan, and The Late Show with Stephen Colbert. Most recently, he had a cameo in Amazon Studio's award-winning series Mozart in the Jungle, and he guest-conducted on the soundtrack for Star Wars: The Force Awakens.