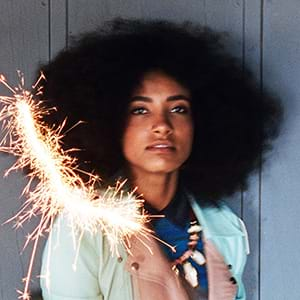 Esperanza Spalding is a bassist, singer, and multilingual songwriter. With seven collaborative and five solo albums thus far in her career, at 31 she is known for her unique blend of jazz, rock, funk, soul, and R&B, along with influences from Brazilian music.
After graduating from the Berklee College of Music in 2005, Spalding was hired as one of the school's youngest-ever instructors at age 20. Her numerous prizes include an NAACP Image Award for Outstanding Jazz Artist, a Smithsonian American Ingenuity Award for the Performing Arts, and a Jazz Vanguard Award from the American Society of Composers, Authors, and Publishers (ASCAP) Foundation. She has also performed at the Oscars, the Nobel Prize Ceremony, the White House, and with Prince and Herbie Hancock.
Transcript
[The words "Art Is" appear, followed by scrolling words…Empathy, Political, Hope, Powerful, Perspective…it stops at a Practice. Art Is a Practice.]
[Esperanza Spalding, bassist, singer, songwriter]
Esperanza Spalding: Art is a practice. Artists today have to figure out how our work is actually going to help people, help heal people, and we're constantly having to experiment…
[Wearing purple glasses and a wired electric crown, Esperanza sings and plays bass on a large stage with her band.]
"Talking Founding Fathers with a free philosophy—Don't mention me."
Esperanza: … repositioning our work with the hopes that we'll achieve maximum impact.
[Esperanza performs.]
"I wanna break the rules with you and see the dreams come true. All I need you to do is funk the fear, live your life."
We can encourage fellow humans to face challenges with the belief that we can transform any toxic situation into a vibrant, thriving situation.
[Esperanza continues to perform.]
"You gotta funk the fear, just live your life! That's what you're here to do! Come on! Live your life!"
[The words "Art is" appear, followed by scrolling words…a Practice, Expression, Change, Creativity, Healing…it stops at Justice. Hashtag Art Is Justice. Agree? Share this video.]
[Ford Foundation logo: a globe made up of a series of small, varied circles.]
[Production credits appear on screen. For a full list of credits, please review the downloadable transcript.]
Accessibility Statement
All videos produced by the Ford Foundation since 2020 include captions and downloadable transcripts. For videos where visuals require additional understanding, we offer audio-described versions.
We are continuing to make videos produced prior to 2020 accessible.
Videos from third-party sources (those not produced by the Ford Foundation) may not have captions, accessible transcripts, or audio descriptions.
To improve accessibility beyond our site, we've created a free video accessibility WordPress plug-in.
Spalding's voice has carried beyond music. She made a video in 2013 called "We Are America" about Guantanamo Bay and prison, and performed at the Peace Ball at the National Museum of African American History and Culture in Washington, DC. In her project Emily's D+Evolution (pronounced "d plus evolution"), she channels "Emily"—both her middle name and label for her spirit-muse—creating a multidimensional, theatrical performance artwork with six tracks co-produced by Tony Visconti (David Bowie).
On September 12, 2017, Spalding began her new work entitled Exposure, creating an album of music in just three days, every second of the process broadcast live for a global audience. She will join the faculty of Harvard in fall 2017.