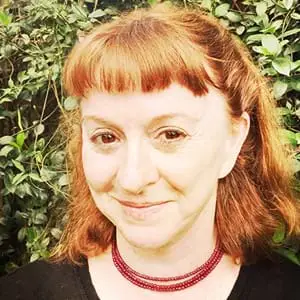 Deborah Luster is a visual artist engaged in an ongoing exploration of violence and its consequences. She is best known for her long-term documentary/archive series.
One Big Self: Prisoners of Louisiana, (with poet, C.D. Wright) was begun a decade after the contract killing of Luster's mother. For this project she set out to create an authentic document of Louisiana's prison population through image and text. From 1998 to 2003, she photographed more than 1,500 inmates at three Louisiana prisons, including the infamous Louisiana State Penitentiary at Angola. The resulting collection of 5" x 4" amber-toned portraits printed on aluminum plates and placed loosely in the drawers of a black steel cabinet for viewers to examine, is a composite of universal and particular realities that reflects upon private loss, individual lives, language, public policy and institutions, and violence.
Transcript
[The words "Art Is" appear, followed by scrolling words…Empathy, Perspective, Hope, Change, Beauty…it stops at Healing. Art Is Healing.]
Deborah Luster, visual artist: An artist of change is an artist that wants to make a difference—not just put out a painting or a sculpture but really make a difference in society. The prison project … I took over 25,000 photographs of inmates in Louisiana prisons and they were printed on five-by-four pieces of metal and then stored in this cabinet. What led me to this project was the homicide of my mother. When you have a tragedy in your life, you tell the story over and over and over to try to heal from it. And I've realized that that's what I was doing with this project. This very arduous process of preparing the plates, coating the plates, drying the plates—this constant repetition—was telling my story through someone else's story. I hope that people find a connection there—you know, in their bones—that they feel something and the work inhabits them.
[The words "Art is" appear, followed by scrolling words…Healing, Expression, Change, Creativity, Hope…it stops at Justice. Hashtag Art Is Justice. Agree? Share this video.]
[Ford Foundation logo: a globe made up of a series of small, varied circles.]
Accessibility Statement
All videos produced by the Ford Foundation since 2020 include captions and downloadable transcripts. For videos where visuals require additional understanding, we offer audio-described versions.
We are continuing to make videos produced prior to 2020 accessible.
Videos from third-party sources (those not produced by the Ford Foundation) may not have captions, accessible transcripts, or audio descriptions.
In her 2003 monograph (Twin Palms Publishing), she writes, "I chose to photograph each person as they presented their very own selves before my camera on the chance that I might be fortunate enough to contact, as the poet Jack Gilbert writes, 'their hearts in their marvelous cases.'"
Tooth for an Eye: A Chorography of Violence in Orleans Parish (Twin Palms Publishing, 2011) is a photographic archive documenting contemporary and historical homicide sites in New Orleans. The result is an exploratory mapping of the dizzyingly empty space at the core of violence. In exhibition, the tondo images comprising Tooth for an Eye are presented as framed photographs as well as an archive of image and text, bound in six large ledgers which are displayed on a sweet gum, hickory, and steel viewing table which viewers are invited to browse and handle.
Luster's awards include a 2016 Robert Gardner Fellowship from the Peabody Museum, Harvard University; a 2013 Guggenheim Fellowship; residencies at the Rauschenberg Residency and the Irish Museum of Modern Art; a Dorothea Lange—Paul Taylor Prize for documentary photography from the Center for Documentary Studies at Duke University (with C.D. Wright); an Anonymous Was a Woman Award; The John Guttman Award; the Bucksbaum Family Award for American Photography; and a Peter S. Reed Foundation Award.
Her work is included in the permanent collections of the San Francisco Museum of Modern Art; the National Gallery of Art; the Whitney Museum of American Art; the Los Angeles County Museum of Art; The Smithsonian American Art Museum; New Orleans Museum of Art; Museum of Fine Arts, Houston; Pier 24, San Francisco; the Margulies Collection, Miami; and other notable public and private collections.
Luster lives in New Orleans, Louisiana, and Galway, Ireland. Her work is represented by Jack Shainman Gallery.