It was early in 2018, and the 62nd session of the Commission for the Status of Women (CSW) was just two months away. We knew that CSW would be a prime opportunity for young women to influence global priorities. In the Ford Foundation's East Africa office, we had a particular interest in using it to help amplify the voices of young women with disabilities, who are so often excluded from all kinds of decision-making and activism.
The planning time was short, and logistics were complicated. But driven by the strong conviction that women with disabilities need more opportunity to join forces with other women across the globe (and after a helpful conversation with Lizzie Kiama, director of gender and disability at This-Ability), we felt our way forward. We reached out to FIDA Kenya, the leading major women's rights organization in the country, and gave them a grant to identify a small group of young women activists with disabilities, and help them get to New York City to participate in the CSW session.
As the largest women's rights organization in Kenya and a grantee of the foundation's BUILD program, FIDA was a logical choice for us to partner with. For our part, the foundation had worked to facilitate advocates' participation in CSW before, and it had been a straightforward process: Once the grant was made, we had only to wait for a report back. But like most organizations in Kenya, FIDA had not in its 33 years dealt directly with women with disabilities. Being a BUILD grantee bolstered their confidence to take on this project, but none of us anticipated the specific challenges it would involve.
Supporting a delegation
In addition to Lizzie Kiama, the women chosen to attend CSW were Janet Marania Teyiaa, an elected member of parliament representing the women's constituency in Kajiado county; Elizabeth Ndirangu, a member of Kenya's paralympic team; Fatuma Mohammed, a coordinator with the Northern Kenya Disabled Organization; and activists Joy Rehema Mawia, of the Kenya Association of the Intellectually Handicapped and Farida Nabbania, of the National Union of Women with Disabilities of Uganda.
All these women had disabilities, but at first we did not know what specific accommodations they would need in order to fully participate. When FIDA first spoke to Fatuma and asked her to apply for her visa online, for example, she calmly explained that she had a visual disability and could not do so without assistance. She also lived in a rural area, and could not simply hop in a taxi to the airport.
Other complications were not strictly related to a participant's disability. Farida was denied a visa by the American Embassy in Uganda on the grounds that she was a young, unmarried, childless woman with no "proper ties" that would compel her to return after the visit. In the end, she was not able to be part of the delegation.
Accessibility matters
Even before we arrived in New York, we began to realize the challenges of accessibility—and how crucial it was to the women's participation.
In working to reserve accommodations and plane tickets for the participants, FIDA Kenya found that most airlines were "uncomfortable" with idea that five of the women would be traveling with their own wheelchairs, even as checked luggage. Lizzie, who has a physical disability, told me she prefers to travel with her wheelchair because it allows her to be more independent. When she has relied on airplane assistance services in the past, they had deposited her in a corner and left her there until it was time for boarding. On one occasion, she was left to wait without access to bathroom facilities or food. But given the difficulties with the airlines, the women ultimately had to use rented wheelchairs when they arrived in New York.
Information about hotel accessibility was often incomplete or unreliable. And then there was transportation. Hiring suitable ground transportation in New York was expensive. But we figured we could rely on UberWAV, which offers rides in wheelchair accessible vehicles—and if push came to shove, find a taxi.
When we finally arrived in New York—having arranged flights and finally secured accommodation—we faced another unwelcome surprise: UberWAV was actually not readily available in New York. Regular Uber vehicles were not accessible to wheelchair users, and taxis were impatient to pick the next customer—they could hardly wait long enough for us to take the wheelchair out, left alone provide the receipt we needed. Our movement from venue to venue became so complicated that we decided to choose between them carefully, and ultimately cut down on engagements.
It turned out that even UN Women, the body responsible for CSW, did not have a strategy for including people with disabilities. And not all UN facilities are accessible for people with disabilities. So it was not a surprise that very few discussions at CSW focused on disability issues. Clearly, these issues are not under regular consideration, and without the presence of people with disabilities (made much more difficult by a lack of accommodations), organizations and companies of all kinds feel less urgency to address them.
Opportunities for action and engagement
But through this process, the Ford team learned a lot, and the women influenced the conversation. Through a partnership with the Kenyan consulate in New York and contacts at the ministry of public service, we met Kenya's cabinet secretary for gender, and our governors—who, ironically, it is more difficult for us to meet back in Kenya.
After our meeting, the cabinet secretary committed to push for including people with disabilities in government employment and education polices, to improve access to the Women's Enterprise Fund, and to help put in place a database of people with disabilities for planning purposes, using disaggregated data. The secretary also pledged to help connect people with disabilities to opportunities for advancement, to push for anti-discrimination laws and policies, and to raise the profile of people with disabilities through participation in sports.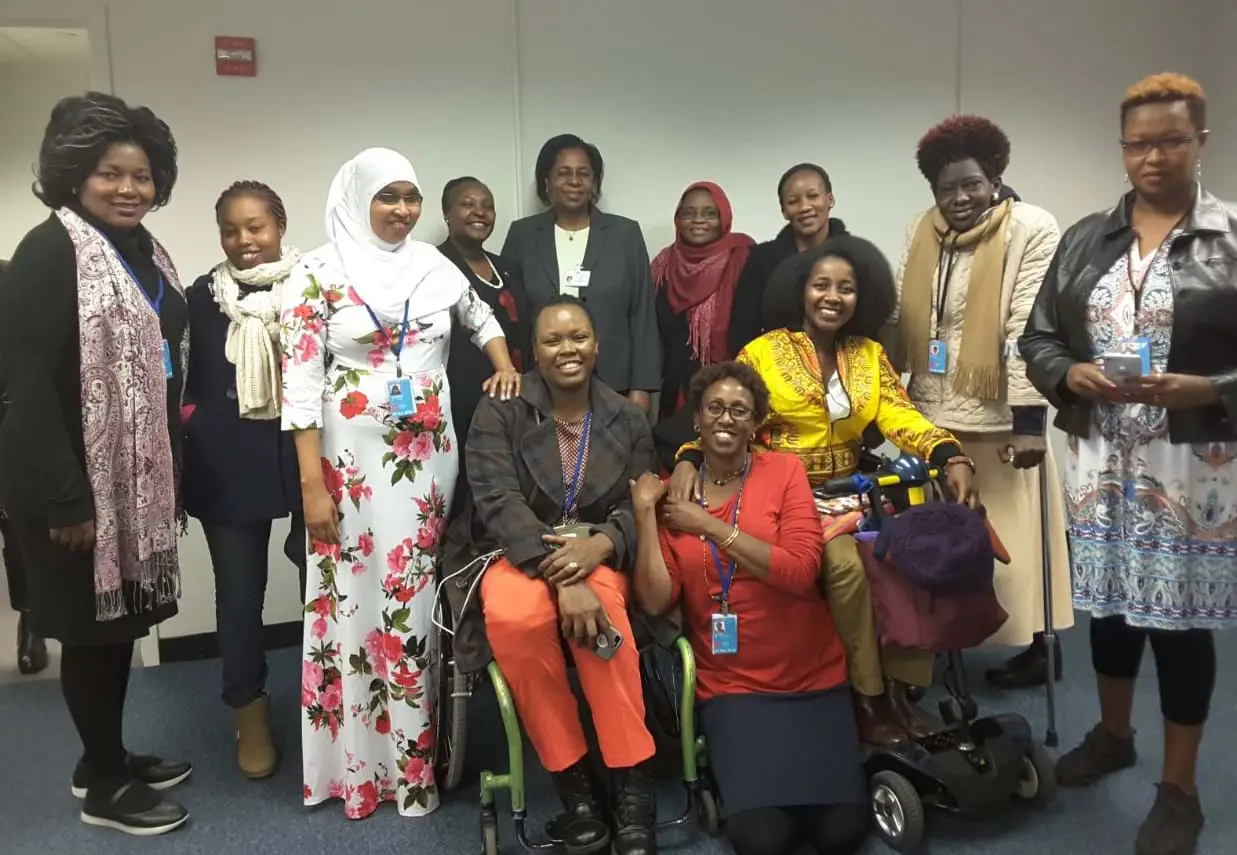 ---
Leveraging Ford's connections, we pushed our way into UN Women, where we offered concrete proposals on how to include young women with disabilities in the CSW agenda. We even shared Ford's disability grantmaking criteria, to help inform UN Women's disability strategy. We also met with key women's rights donors, including Frida, Open Society Foundations, and the Urgent Action Fund, which pledged technical assistance to support the group's fundraising efforts.
We networked and learned with other women's rights leaders from around the world, and developed stronger relationships with other women with disabilities. We attended events focused on women with disabilities, and connected with women with disabilities who discuss CSW well beyond the dates of the event. Being at CSW gave us a better understanding of how to engage with its policy mechanisms and UN agencies, and motivated us to learn about new fundraising approaches and opportunities.
What we learned
To start with, we learned that it's important to understand the scope of an effort like this, to plan well and be realistic about what is possible. It's important to have proper training to help understand and better meet the needs of people with disabilities. People often feel uncomfortable talking about disabilities, but to be able to provide appropriate accommodations, its crucial to know exactly what people need.
We also know now that we can't assume that an organization that deals with women's issues has experience in dealing women with disabilities. And we need to be conscious of the intersecting discriminations women with disabilities experience, and focus on ensuring that they are equipped to navigate challenging experiences independently and with dignity. For this to be possible, we need to plan for accommodating disability as an integral part of any grant, not as an add-on.
I certainly learned a lot about patience and perseverance. But what stuck with me the most was something Fatuma said. "My needs aren't special," she told me. "How my needs are met may be different, but they are the same as everyone else's." Individually and collectively, these women are challenging norms and pushing to expand inclusion. To support them in achieving such important change, it is clear we will need to challenge some of our own ways of operating and thinking as well.