Putting Ford Forward into action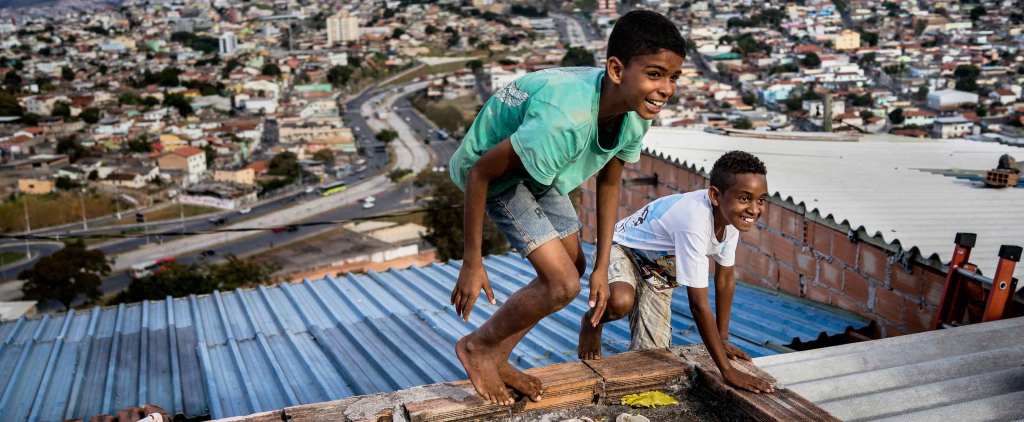 It's hard to believe that just one year ago my Ford Foundation colleagues and I announced we would address inequality as the centerpiece of our new organizational strategy, FordForward.
Who could have predicted all the ways inequality and injustice would be felt in the months since: in the growing disparity of wealth; in anti-migration movements around the world; in the mass shooting at a gay nightclub in Orlando, Florida; in a political discourse that, in so many places, divides people along racial, ethnic, and religious lines.
Injustices of this kind are why we recognized inequality as the central challenge of our era, and as the essential issue we must address across all our work. So, a year in, I wanted to offer you an update on our efforts to combat inequality in its many forms and give you a sense of what FordForward looks like in practice.
As I've said in earlier letters, we're not just looking at one piece of the inequality puzzle. We're working to see the whole picture, and understand how the pieces fit together. Whether it's tackling cultural narratives that breed prejudice and exclusion or addressing the structures that create unequal access to natural resources, our aim is to disrupt the underlying drivers of inequality. Those drivers take many forms, and so must our strategy.
So here's what FordForward looks like now.
Taking an integrated approach
Inequality is not an independent concept, though it is often talked about that way. The divide we call inequality is really a set of business and cultural practices, government policies and laws, established systems and received wisdom that have the effect of generating very different opportunities and outcomes for different people. Put simply, inequality is driven by a variety of interdependent forces, and these must be understood and addressed in combination. At its core, therefore, FordForward reflects an integrated approach to addressing inequality in all its forms.
This means our support to organizations fighting inequality must look across issues, borders, and populations to find and address common root causes. Here are three examples of how we're doing that under FordForward.
Our team in Mexico and Central America is focusing its efforts around the overwhelming issue of impunity across the region, where profound violence and an underlying state of lawlessness drives inequality and threatens the lives and opportunities of all people, especially youth and the poor. Young people under the age of 25, for instance, make up 70 percent of disappearances in Mexico and El Salvador. Perpetrators are rarely prosecuted, much less stopped, and their continued impunity has become one of the central social justice challenges facing the region.
That's why we're supporting a range of organizations and leaders as they sharpen their shared analysis of impunity and tackle entrenched threats like extrajudicial killings, torture, and forced disappearances. Quite intentionally, we're working with partners who integrate distinct and diverse approaches to the issue: from pressing for greater government accountability to creating powerful works of journalism and art, to amplifying the voices of victims and their families and strengthening their rights.
Of course, dismantling this culture of impunity will not happen quickly. But with a shared vision, and shared action, we are helping organizations in the region lay the groundwork for lasting change.
Globally, you can also see this integrated approach at work in the ways we are addressing inequalities that arise from extractive industries such as mining, oil, and gas. The foundation has worked on extractives for nearly a decade, supporting a range of efforts to ensure that local people benefit from these resources. Yet the work has been ad hoc. While one of our programs focused on indigenous villagers losing their land, another looked at taxes and accountability in government, and there was little overlap in strategies.
Under FordForward, we are coordinating approaches that connect the global and the local. Today this work involves two programs (Equitable Development and Civic Engagement and Government) and multiple regional offices that work collaboratively, link the organizations they support, and share knowledge across regions. Through this more connected approach, local voices can better shape global priorities, and global platforms can foster ideas, evidence, and solidarity that help empower frontline advocates. This integrated approach helps our partners work more effectively across government, civil society, and business to find lasting solutions to make resources and global tax regimes more fair, open, and well-governed.
If our work on extractives shows the FordForward approach working across two programs and multiple offices, then our investment in public interest technology is taking that premise one step further.
As the foundation did in the 1960s with the nascent field of public interest law, today we are committed to helping establish this emerging field—in part because we know technology increasingly impacts every area of society, and can help us everywhere we work. Through the NetGain partnership, we're making substantial investments in efforts to develop the tech capacities of a new generation, and to connect new technologists with opportunities in the public sector and civil society. We hope these investments are the start of a career path that enables and encourages them to use their valuable skills to advance justice and equity.
We are also supporting new leaders in their fight for social justice, and, through tech fellowship programs, infusing desperately needed tech talent into organizations on the frontlines of that fight. These visionaries will help us understand the technological systems and protections needed to challenge inequality in all its forms—whether that means designing new online security protocols or transforming how civic groups communicate and engage with government leaders. We believe the learning and solutions advanced by these public interest technologists will benefit work across the social sector for years to come.
Investing in organizations
While these three examples touch on just a few of our newly defined strategies, one significant shift across all of our programs and regions is our emphasis on building stronger, more durable institutions. We know that institutions are essential to the fight against inequality. They develop individual leaders and incubate ideas; they outlive any one person, and their impact can be felt far beyond any one grant. A strong organization expands the time horizon of a particular mission or strategy, and establishes an outpost on the frontlines of social change.
Yet these civil society organizations are under threat around the world. With every gain they make, our partners face considerable backlash. We see this clearly, for example, in repeated attempts to limit women's access to sexual and reproductive health services, which persist even in the face of other progress in women's rights. The ongoing struggle of civil society is a necessary reminder about the state of social justice in our world: the struggle never ends and the fight never stops.
We need to build more resilient institutions to ensure their work for justice never stops, either. As part of FordForward, we're prioritizing the core health of the organizations we support in three key ways:
We're increasing general operating support grants across all our programs and regional offices. In fact, we aim to make this our default grant whenever possible.
We're doubling our overhead rate on project grants to 20 percent, to more adequately fund what it costs for an organization to implement a project.
And we're dedicating $1 billion over the next five years to a focused effort on institutional strengthening.
These changes are the culmination of decades of experience at the Ford Foundation, as well as what we've heard repeatedly from our partners over the nearly three years of my tenure. But for all that experiences has taught us about the importance of institutions, there is still much we don't know about how best to support and strengthen them.
Learning about strengthening institutions
We want to add to existing philanthropic knowledge about what it takes to build strong civil society organizations, and we want to do so meaningfully. In particular, we seek to better understand the kinds and levels of support that will make a critical difference to an organization's overall health and resiliency, and at what stages in its life cycle.
We are inviting a diverse mix of partners to join us on this journey of learning, beginning with 130 organizations and networks. As with all of the organizations we support, these groups are doing essential and innovative work to reduce inequality. Some are emerging organizations or networks; others are well-established field leaders. More than half of them are based or work in the Global South, while others work on domestic issues in the United States. More than half are led by women and people of color. As a cohort, they cover a wide range of functions and capabilities—from grassroots mobilizing to policy analysis to legal services.
As part of this relationship, we are asking these organizations to commit to working more closely with us over the coming years—in sometimes unprecedented, and potentially uncomfortable, ways. Right now, we're having conversations with each organization during which we will listen, ask questions, and learn a great deal before any grant is made. We'll ask questions like: What operational issues have gone unaddressed for lack of resources? What finance and fundraising issues have been under-emphasized in our funding relationships? What innovative program shifts, growth, or experiments have been left by the wayside in favor of more urgent needs and priorities?
These conversations will determine the overall look, feel, and funding level of these grants. And just as no two institutions are the same, no two of these relationships will look the same. While we're at it, we're learning to put the organizations we support in the driver's seat, and letting them take the lead in shaping a plan that best meets their organizational needs.
So while I'm sure many of you are eager to learn more and anxious to know what these grants will look like, our best answer right now is: It will depend on the unique needs and aspirations of each organization. As soon as we have a clearer sense of the specifics of each of these grants and relationships, we will make the details available on our website—both within the strategy pages for each program and region, and within the searchable grants database.
A larger objective
Though our grantmaking strategies and institution-building efforts will vary from place to place, responding to local context, custom, and needs, our larger objective remains the same. With every grant we make, we're asking ourselves both how our support can help disrupt inequality and how our support can help make an organization stronger.
As we look at what's happening around us—whether it is the global economic fallout of the Brexit vote, the unpredictable direction of our politics, the continued emergence of extremism, or the real impacts of climate change—the institutions of civil society are a source of abiding hope and inspiration for me. They breathe life into our democratic values, engage citizens in the hard work of holding governments to account, and challenge orthodoxies with fresh thinking and innovation. They also support groundbreaking individual leaders, cultivate new ideas, and create space for creativity and free expression to flourish. In short, institutions do the things that our societies deeply need and desire, and they stand alongside private enterprise and government as an essential component of vibrant, stable, and healthy societies.
I am proud that through FordForward, we are doing everything we can to support these institutions and networks so they can continue to do the remarkable and inspiring work that is so necessary in our world today. We hope to strengthen a flourishing and vibrant civil society, and ensure that the courageous people within it have what they need to fight for a more just and equitable world.