Protecting Turkana's resources for future generations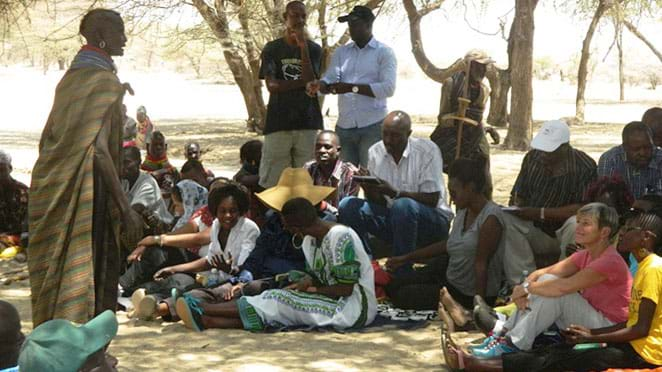 In August, a team from the Ford Foundation—including Hilary Pennington, vice president for Education, Free Expression, and Creativity; members of Ford's East Africa staff; and Ford partners—attended a meeting of the Lokichar Community Parliament in Kenya's Turkana County. Part of a learning trip, the visit allowed the group to experience firsthand how Ford partners are working with local communities, the private sector, and government to help residents secure rights over natural resources in the Turkana Basin.
Turkana County stretches across nearly 28,000 miles of northwestern Kenya—a hot, arid region, rife with conflict and short on infrastructure and social services. Among its largely pastoral population (over 800,000), 94 percent live in poverty and 87 percent are illiterate (with literacy rates for women a dismal 4 percent). In 2012, an exploratory group from British-based Tullow Oil tapped into reserves of gas and oil on Turkana land, leaving the long-isolated region primed for change. Kenya's president hailed the discovery as "a major breakthrough"—and the minister of energy proclaimed, "The resources will be used to transform Turkana County and lift the community from poverty."
Most Kenyans were elated by the news, but many Turkana residents feared an influx of investors and prospectors would disrupt their livelihoods and exacerbate corruption, environmental degradation, and tribal conflict. Tullow failed to engage the community before it got up and running, and was met with resistance and hostility. "We woke up one day and saw fences and guards telling us not to graze our goats and cows near the fence," an elderly man explained at the Lokichar Community Parliament meeting, "yet this land belongs to my forefathers, and we are entitled to protect it for our future generation."
The Kenya Land Alliance (KLA) and Friends of Lake Turkana, both Ford partners, stepped in to educate residents about land rights and protections granted by the constitution, and they helped establish the Community Parliament as a forum for airing grievances, sharing information, and organizing.
Tensions came to a head in late 2013, when locals, arguing that they were being overlooked for employment and contracts, staged demonstrations. Tullow suspended operations to review its policies, and ultimately agreed to double its social investment in the region and offer more advanced training to locals so they might qualify for higher cadre jobs.
At the meeting attended by the Ford group, however, it was clear that much remains to be done. The session was led by the KLA's local convener, Faith Akai Lomuria. Also present were Lokichar's chief, other community leaders, and residents young and old. Raphael Opirito, a member of the county assembly, lamented newly heightened tensions among the Turkana communities. Many others voiced concern about their livestock—and frustration at still not knowing whether they have a right to the natural resources on their land. "We don't even know what kind of agreement Tullow Oil made with the government and our local leaders," a young man said.
"The community has a right to knowledge and information—and also to benefits," the KLA's Lumumba Odenda assured the group. "The KLA has been putting pressure on Tullow to embrace public-private partnerships that bring the community to the table, so they have a say in the decisions that affect their lives."
With such support from Ford partners, local leaders have made numerous inroads over time. Tullow has now instituted systems to address community concerns, build relationships, and understand local needs and challenges, and it has established community centers where local people can engage with the company and register grievances. In addition, Tullow is now involved in social investment projects throughout Turkana related to health, environment, education, and water.
At the same time, the KLA, Friends of Lake Turkana, and other Ford partners continue their efforts to encourage information sharing, genuine community engagement, and transparency—recognizing that open lines of communication are critical to bringing about meaningful social change in the Turkana County.