Our top social justice moments at Sundance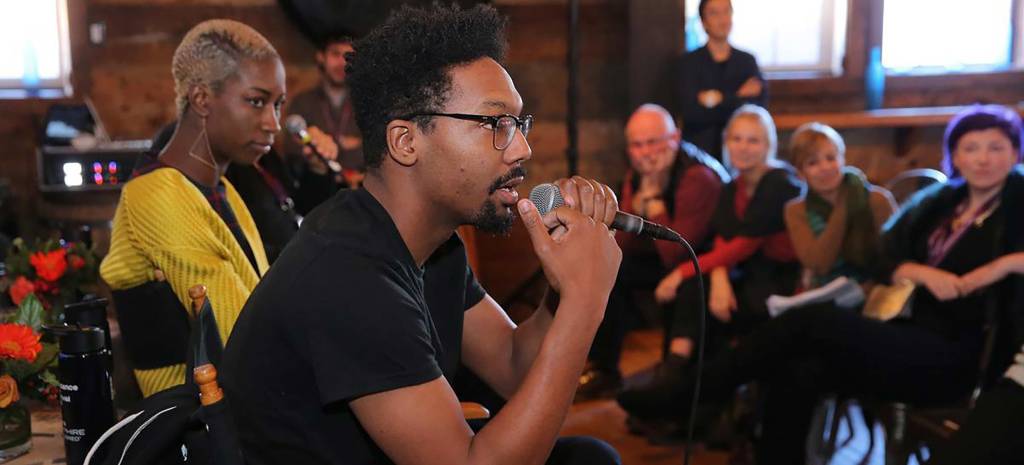 The Ford Foundation is a longtime supporter of the Sundance Institute. This year, Sundance's influential film festival continued to lift up some of the voices that too often go unheard in mainstream culture. At Sundance, artists and visual storytellers are influencing public discussions on critical matters of inequality and injustice. With this in mind, we asked Ford Foundation staff to tell us about their most memorable social justice moments from the 10-day festival.
The power of movements
I need to watch more movies. Specifically, I need to watch more documentary films. That's what I realized after being lucky enough to spend several days at Sundance. I saw more than a dozen documentaries in just a few days. Some of them focused in on a single person: Michael Jackson, Anthony Weiner, Cai Guo-Qiang, Norman Lear. Those films, mostly about driven, charismatic men, were entertaining in different ways, but didn't quite force me to think as hard or as deeply as two films I saw that focused on communities of people working together as part of a movement, in ways that transcend the importance of any one individual.
As the lights came on after the world premiere of The Settlers, it was clear that filmmaker Shimon Dotan would be facing tough questions from the audience. The rigorous documentary traces decades of history of Israeli settlement construction on Palestinian lands. In the film, Dotan respectfully invited the settlers to tell their own stories. He did not attempt to diminish their power or belittle their convictions, even as he did not hide his own strong point of view—one I share—that these settlements pose an existential threat to Israel's identity as both a Jewish state and a democracy. Although several charismatic individuals were profiled in The Settlers, the film illuminates a tightly coordinated and politically sophisticated movement of people who have—at least for now—successfully influenced the political and social trajectory of a nation.
When Two Worlds Collide, supported by JustFilms, documented a very different community movement involving contested land. Filmmakers Heidi Brandenburg and Mathew Orzel devoted almost a decade to tracking down rare footage and crafting a thrilling story of indigenous communities in Peru that are working collectively to resist powerful multinational companies intent on expanding the extraction of oil, minerals, and gas from the Amazon. Indigenous community leader Alberto Pizango was featured in the film, and many reviews frame the story as a struggle between this charismatic leader and Peru's pro-development president. But having just come from The Settlers, I had movements on my mind. I couldn't help but focus on the faces of all the unnamed people in the film as they put themselves at risk to protect their land. The film captured the collective action of these indigenous communities coming together from across the Amazon—and winning at least one important battle. What stayed with me was not the film's final scene, which made clear that the destruction of the Amazon resumed after just a brief pause. Instead, I replayed in my head a scene where indigenous community members came together and chanted: "¡El pueblo unido, jamás será vencido!" The people, united, will never be defeated.

—Lori McGlinchey
Program Officer, Internet Freedom
Confronting inequality
Like Lori, I was also deeply affected by When Two Worlds Collide, which garnered a special jury award for Best Debut Feature in World Cinema for its filmmakers.
This powerful film brings into focus a number of complicated social, political and economic dynamics that inform the contemporary struggles of indigenous peoples in the Amazon basin. For this reason alone, it is important to watch. The story clarifies the stakes of International Labour Organization Convention 169, one of the most important and highly contested international laws guaranteeing the rights of indigenous peoples, specifically the right to "free and prior informed consent" over the extraction of natural resources in their ancestral territories. This includes logging, drilling, and mining in much of the vast rainforests of the Amazon. This hard-won right, established in 1989, is largely dependent on ratification in domestic laws—the Amazon basin inhabits eight countries in South America—and faithful implementation by the governments charged with enforcing them.
Beautifully shot in Peru, the film brings these struggles to life. Following Alberto Pizango, former president of a prominent Indigenous peoples organization AIDESEP and one of the country's most ardent indigenous rights champions, between his ancestral home and the bustling capital of Lima, viewers are transported to the rivers and canopies of the Peruvian Amazon. There, the filmmakers capture firsthand accounts of indigenous peoples, as they reveal how their water and wildlife has been contaminated by oil production, attend organizing meetings, and talk about their aspirations for autonomy and dignity in a country where they are vastly outnumbered and often marginalized.
The film also weaves in footage of former Peruvian President Alan Garcia, his cabinet, and lawmakers as they debate application of the law and the requirements of economic development on the airwaves and in the halls of power. At times, the government and national media pit the demands of indigenous peoples against the demands of modernity itself, echoing age-old justifications of colonialism.
The film takes a dramatic turn after negotiations between indigenous leaders and the government break down, and the national congress stalls efforts to repeal a law that would meet the demands of national protests by indigenous peoples. At that point, the federal government sends in combat troops to disperse the protestors, leading to deadly confrontations. Pizango is forced into exile. The government finally capitulates and repeals the very laws in dispute.
As social movements throughout the world seek to disrupt the status quo of injustice and compel their societies to confront the ways they have accepted inequality, When Two Worlds Collide bears witness to the challenge every democracy faces in living up to its highest ideals.

— Vivek Malhotra
Director, Civil and Human Rights
Leaning in on diversity
The biggest rumor circulating at this year's Sundance Film Festival surrounded a comment attributed to celebrated actor and festival founder, Robert Redford, who was allegedly asked by a reporter about the controversy surrounding the lack of diversity in this year's Oscar nominations for acting. According to the now nearly legendary anecdote, the room went completely silent; Redford looked the reporter dead in the eye and quipped, "This isn't the Oscars. This is Sundance." As one festival attendee was heard saying to colleagues, "#OscarsSoWhite; #SundanceNot."
I, and the vast majority of Americans, appreciate what diversity adds to our culture and society. That's why a blizzard of controversy swirls around this year's Academy Awards. The inability of the Academy to consistently acknowledge the amazingly rich racial and gender representation that exists throughout the film industry is simply too much for the American public to take. Hence, Hollywood heavy hitters like George Clooney, Will Smith, and Reese Witherspoon are speaking out about what most Americans have simply hashtagged: #OscarsSoWhite.
If Academy voters stuck their heads in the sand on diversity, Sundance leaned in and the results were spectacular. Birth of a Nation, the story of an American slave revolt led by Nat Turner, dominated the festival and grabbed the top two prizes. Nate Parker's film sold for a festival record-breaking $17.5 million dollars (the previous record was Little Miss Sunshine for $10.5). But that was the only the tip of the iceberg. Another festival favorite was Equity, starring, Anna Gunn (Breaking Bad), Alysia Reiner (Orange is the New Black) and Sarah Megan Thomas. This female-driven thriller about Wall Street also made headlines when it was purchased by Sony Classic Pictures.
Other films, such as Southside With You, told the story of a black couple in love—too rarely seen onscreen. While Southside is the fictional tale of Barack Obama and Michelle Robinson on their first "date," the phenomenal documentary When Two Worlds Collide looks at the all-too-real struggle of indigenous communities fighting for their sovereignty under the shadow of government suppression. Sundance's New Frontier installation, which brings the future into the present by supporting virtual reality and immersive art projects, also featured groundbreaking work by several artists of color.
Off screen, the Ford Foundation and Sundance Institute joined together to host a series of powerful dialogues about race and ethnicity in the arts. With not a dry eye in the room, one conversation addressed the simultaneous celebration and abuse of "black bodies" by the entertainment industry and society at large; another focused on anti-Muslim bigotry and its impact on art and culture today.
If this year's Oscars represent a monoculture fantasy world that only exists on the silver screen, Sundance is committed to showing worlds that are layered, textured, and complex—just like our humanity.

— Eric Ward
Program Officer, Gender, Racial and Ethnic Justice