How we're neglecting our elders and the workers that care for them: Q&A with the filmmakers of "Care"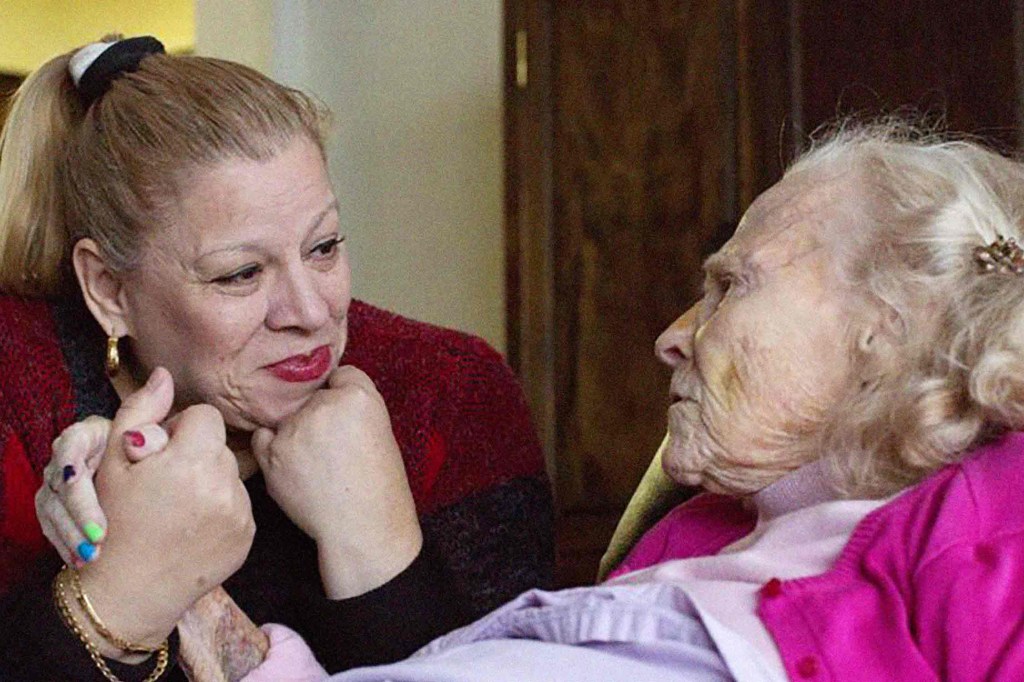 Meet Vilma—she came to the United States six years ago and began caring for 92-year-old Dolores, who suffers from dementia. Dolores's family lives across the country, so Vilma is her lifeline, providing her with 24-hour care. Despite her long hours and dedication to Dolores, Vilma lives on the brink of poverty. On the other hand, after just two years of care, Dolores is running out of her life savings and struggles to find a way to pay for at-home care. With more and more people wanting to age at home, home care is one of the fastest-growing industries, but the current system isn't adequately serving care workers or the families who employ them.
Traditionally, women's uncompensated work in the home included caring for young, elderly, and disabled family members, and historically, when caregivers were employed they were women of color or immigrants receiving little or no pay. When our modern labor laws were written in the 1930s, domestic workers, who were largely black women, were excluded from minimum wage and other protections. Only after decades of organizing, home care workers won the right to minimum wage and overtime just a few years ago. This history of racial and gender inequality means caregiving is inappropriately undervalued: The people responsible for the safety and health of our loved ones are paid less than parking lot attendants, and rarely receive health insurance or other benefits. According to PHI, home care workers in the US, like Vilma, are 89% female and make a median annual income of $13,300.
Both care workers and the families they support stand to benefit from updated policies that address our broken care system. Wages for workers need to be raised, but without further burdening families of all economic backgrounds. Only more public investment in the care industry can create the millions of new jobs needed to meet the United States' care deficit, while making these jobs more dignified for workers and affordable for families. And we can make progress in gaining more public investment only when families and care workers join together to demand better policies.
Director Deirdre Fishel and producer Tony Heriza created the documentary Care, supported by our JustFilms and Inclusive Economies programs, to raise awareness of this often hidden in-home elder care workforce. The film follows four families and care workers, including Vilma and Dolores, examining the bonds formed and hardships faced by workers and their clients. With JustFilms, we recently spoke with Fishel and Heriza about their motivations for making the film.
Anna Wadia and Laine Romero-Alston: How did you come to make this film?
Deirdre Fishel: In 2004, I directed the documentary Still Doing It, an intimate look at the lives of vibrant women over 65. My mother, a 73-year-old therapist at the time, was a character in that film. A decade later, however, she was growing frail. Too proud to use a cane, she would lose her balance and fall. It was scary to think of her living alone, but she was adamant about aging at home. My sister and I are both working mothers. We knew that if she wanted to continue to live by herself, an hour away, at some point we'd have to get her help. But as I began to investigate the world of paid home care I was shocked by what I found: a largely unregulated system, confusing to navigate and totally uncovered by Medicare.
When I found out that care workers—sometimes dealing with clients with major medical issues or dementia—were making poverty wages, I was surprised no one was making a film about it. I started research right away and joined forces with producer Tony Heriza to create Care.
How did your perspective on care workers change as you worked on the film?
DF: When I started filming, I couldn't believe how complex and difficult home care work is. It's also a very intimate experience—evident when one person is bathing another or lifting them up and the way a client and caretaker have to communicate throughout the process. But over time, what really struck me was how hands-on care underscores our shared humanity and interconnectedness. Our culture, with its emphasis on independence, reinforces the myth that we will be able bodied forever. Witnessing care work made me see how that denial has contributed to our society overlooking our elders as they age.
Accessibility Statement
All videos produced by the Ford Foundation since 2020 include captions and downloadable transcripts. For videos where visuals require additional understanding, we offer audio-described versions.
We are continuing to make videos produced prior to 2020 accessible.
Videos from third-party sources (those not produced by the Ford Foundation) may not have captions, accessible transcripts, or audio descriptions.
What was most surprising to you in this experience?
Tony Heriza: I was most surprised by how little most people understand about long-term care, specifically what it costs and how it is paid for. The majority of Americans—60%, specifically—inaccurately believe it is covered by Medicare. Two families featured in the film grapple with this issue and go through their life savings paying for home care. Despite the high costs, more and more middle-class families are turning to this type of care to maintain their loved one's dignity as they age, leaving them with difficult financial decisions.
How have audiences reacted to the film?
TH: We have seen audiences deeply affected by the stories onscreen, afterwards expressing empathy for both workers and those in their care. Many have been moved to tell their own stories. Care workers have said this is the first time they have seen their work depicted and publicly appreciated. And families have shared their stories about the stress of meeting the needs of a frail family member and how little support exists for those searching for quality, affordable care.
DF: Audiences are deeply moved by the film and it brings up a mix of emotions: sadness over a lost loved one, inspiration from the work and the relationships, and fear about one's own future. We were concerned that people would become afraid of their own future, that they wouldn't empathize with the plight of care workers. Luckily, we've found that the workers in the film are such extraordinary people that even as people become concerned about who will care for them, they see the moral and practical need for workers to be protected and to earn a living wage.

How do you hope the film will impact the care industry?
DF: Our goal was to raise awareness of our ill-prepared care system, before our aging nation faces a massive care gap. Though this issue affects nearly everyone, despite race, class, or geographic location, it is still seen as a private matter and the movement around care is just gaining legs.
TH: We hope the film will underscore the need to create a system that ensures all people get appropriate quality care from workers who are fairly compensated and treated with dignity. The film has started to raise awareness, getting us closer to reaching that goal. For example, the film has played a key role in efforts like the NY Caring Majority campaign for long-term care.
For more information and to get involved, please visit the websites of our grantees: Caring Across Generations, National Domestic Workers Alliance, and Paraprofessional Healthcare Institute.