How tech is fueling grassroots organizing in Indonesia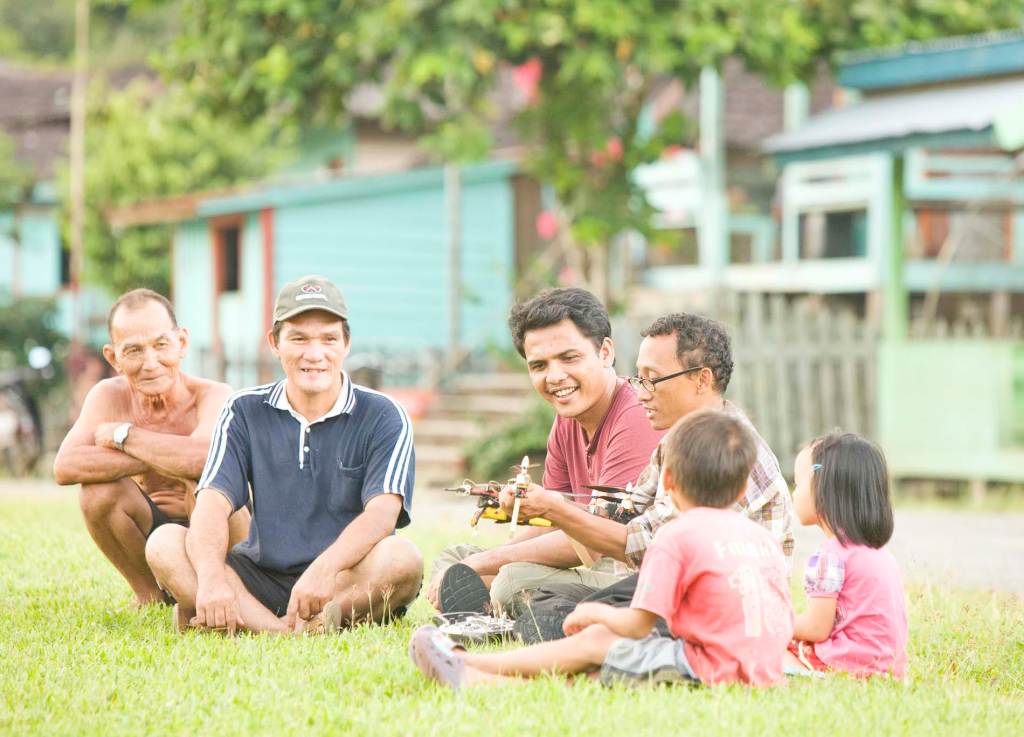 This year, Indonesia celebrates two decades of democracy: 2018 marks just 20 years since Suharto, the country's authoritarian president, resigned. A military man who operated on nepotism and cronyism, he had held the office since 1967. After his departure in 1998, Indonesia built an apparatus designed to foster and support its fledgling democracy. Today elections determine who serves as president, as well as governors and mayors. A legislative branch provides checks and balances. Freedom of expression among the country's indigenous ethnic groups—which number more than 300—is no longer suppressed.
But the regime's policies continue to have an outsized impact. When Suharto was in office, he claimed 70 percent of the country's land as government-controlled "state forest," effectively declaring those lands uninhabited. But millions of people called those lands home; the declaration effectively rendered them illegal squatters. Meanwhile, Suharto's regime sold permits to industrial interests that mined, logged, and cleared acres of woodland without concern for the people living there.
Faced with these challenges, in recent years indigenous groups have begun harnessing technology as a pivotal tool for change.
Using tech to advance change
I've been struck by the eagerness with which Indonesians have adopted and adapted to new technology—early, and avidly. Indonesia has the fourth largest number of Facebook users in the world. On YouTube, vloggers have connected with millions of young people across the country just by telling their own stories. Now, vloggers have gathered enough influence to help shape their audience's perspectives and decisions. Drone mapping and the widespread acquisition of cell phones here have happened in the space of just a few years. All of that is encouraging, and an indication that there are opportunities (and an appetite) to use tech to advance indigenous peoples' fight for full and fair treatment.
Accessibility Statement
All videos produced by the Ford Foundation since 2020 include captions and downloadable transcripts. For videos where visuals require additional understanding, we offer audio-described versions.
We are continuing to make videos produced prior to 2020 accessible.
Videos from third-party sources (those not produced by the Ford Foundation) may not have captions, accessible transcripts, or audio descriptions.
In North Kalimantan, the Dayak people are using inexpensive drone technology to map their villages. Such maps offer incontrovertible proof of communal settlement, empowering the Dayak (and others like them) to challenge narratives that claim the lands where they live are free of people, and are in fact their ancestral territories. Online platforms have also helped lift their voices: platforms like the Ancestral Domain Registration Agency and Out Land enable communities to assert their existence and demand their full rights as citizens.
Other innovative uses of public interest technology are also underway. An Android app is being developed that will enable remote communities of indigenous people to connect and organize more efficiently. Less expensive to maintain and support than radio or broadband-dependent technologies (both of which have been used by communities around the country, with inconsistent results), the app will be an essential organizing tool—a go-to hub platform for a range of issues related to indigenous rights. And the organization developing it is emerging as an important voice for these communities: AMAN (Aliansi Masyarakat Adat Nusantara, or Indigenous Peoples Alliance of Archipelago Indonesia), a constituent-based organization currently representing over 17 million of the approximately 60 million indigenous people across this country of 261 million.
The power of convergence
Of course, public interest technologies like these aren't created in a void, and don't function in a vacuum. NGO observers expect that 2019 will see the passage of the draft law to recognize the rights of indigenous peoples, or customary communities. This law would create a stronger basis for Indonesia's indigenous people to have their rights as citizens—as well as their claims over their territories, including land, forests, rivers, and other natural resources—recognized.
This would represent important progress—progress that technology-centric projects like drone mapping and app development can amplify and build on. Through this convergence of policy and technology, there is potential to improve the lives of millions of Indonesians, by strengthening their rights to vote, access education and health care, manage property, and seize the opportunities of a new era.