A New Disabled South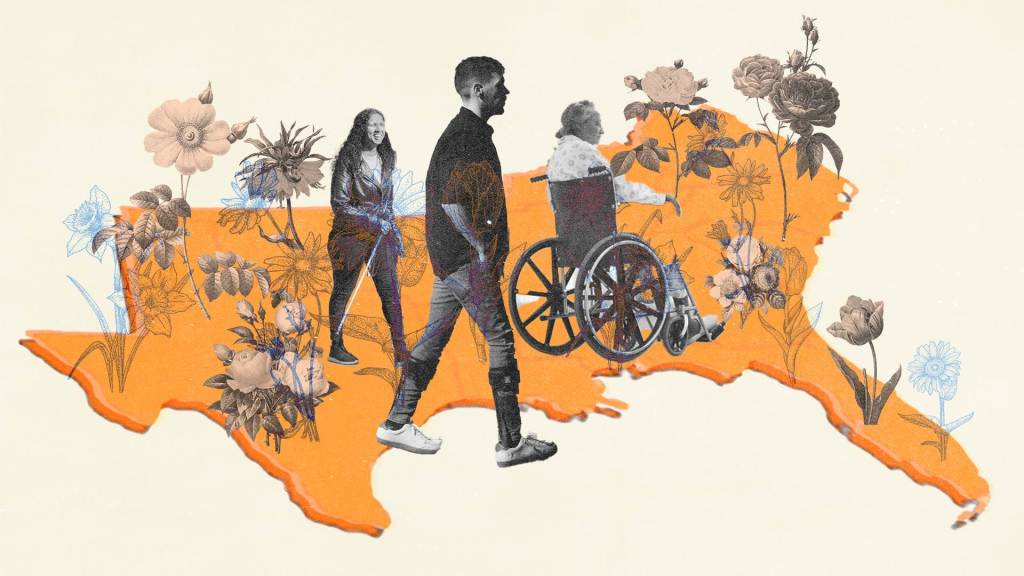 Diagnosed with Cerebral Palsy at a year old, I have lived with a disability my entire life. But that's not what compelled me to become an activist.
What politicized me around disability was watching America's healthcare system fail my mother. She was diagnosed with cancer when I was a teenager. Not only could the progression of her illness have been prevented if not for a sexist and incompetent doctor, but she faced the deadly consequences of our broken system firsthand. She needed a life-saving treatment and took the proper steps to make it happen. And then her insurance denied her coverage because of a pre-existing condition: cancer. To hear the cancer she was attempting to treat was considered a pre-existing condition was outrageous. She ultimately was able to get the care she needed, and if it weren't for the Affordable Care Act, she would have died much sooner.
As I got older and I became more immersed in the larger disability community, I learned that my mother's experience was shared by nearly every person I interacted with in some form or fashion. My mother's experience with the medical-industrial complex—coupled with my own as a disabled person—was the start of my journey as an advocate and eventually what led me to create New Disabled South (NDS).
New Disabled South is a coalition of disability justice activists, advocates and organizations working across the South. The South is home to one third of all disabled people in the United States. Because people with disabilities live at the intersection of all systems of inequality, they are impacted by the problems that plague the South—from high poverty levels to an incredibly harsh criminal justice system—all the more.
Before founding NDS, I had thought I landed my dream job. I was working at an organization where I had the opportunity to build out a portfolio of investments focused on disability. As my work around the intersection of disability and democracy increased, I recognized how so many of the issues our community faces were disproportionately impacting those of us in the South. For example, disabled people live in poverty at more than twice the rate of nondisabled people, and poverty has historically been higher in the South than anywhere else in the U.S.
I recognized that disabled people in the South needed a political home—a progressive organization fighting for disability rights and disability justice in the region. And we needed to take a different approach than our movement had done in the past. For decades, disability rights and disability justice work has been happening both in the public eye and under the radar for decades, starting with the pioneering work of the late, great Judy Heumann along with many others. Today, there are numerous people carrying this work forward and into the future across this country. There has never been a regional focus, however, and in the South, we desperately needed a strategy to approach the work in a different way.
Once the seeds were planted, I reached out to my friend and colleague, Kehsi Iman Wilson, to help me build New Disabled South from the ground up. Based in Tampa, Florida, Kehsi Iman is a Black disabled woman who has lived in the South for over 20 years and deeply understands the dire needs of our community. Now our COO and co-founder, Kehsi Iman comes to this work with a lifetime of experience and a career focus on a range of social justice issues, including Black liberation and racial justice, educational access and equity, LGBTQ+ advocacy and more.
As a Black woman, religious minority and member of the LGBTQ+ community, I've had multiple marginalized identities that have been more salient than my disability throughout my life. While I came into my personal identity as disabled in my late teens and early 20s due to diagnoses of major depression, bipolar depression, and chronic fatigue, I still grappled with it because my disabilities are "invisible." It was not until I was forced to self-identify at work (I had to take so many days off that I no longer received pay for my days out and risked losing my job) that I started to fully understand the impacts of "invisible" disability on daily life.
For me, partnering with Dom to build out this first-of-its-kind organization is the culmination of my life's work. I come to New Disabled South with almost two decades of experience leading human resources, operations, and executive strategy in startups and mission-driven organizations focused on social justice broadly and racial justice, access and equity specifically.
In creating NDS, we are pulling together the strongest and boldest disability justice leaders from across the South. We are pooling our collective energy, resources, knowledge, and power to break the mold of siloed, piecemeal gains to secure wins for disabled people that the country has never seen before. We know our strength lies in our ability to leverage the strength of our interdependence, and NDS is the conduit through which our collective power flows.
Today, New Disabled South is working across 14 states to lift our people out of poverty, remove barriers that disabled people face when voting, end the criminalization of Black disabled people, and more. As the first regional disability rights and disability justice organization in the United States, we are committed to work that advances racial justice, economic justice and democracy—all of which are necessary to achieve true disability justice.
Of the millions of disabled people living in poverty, the majority of the population in the South are BIPOC. We know that 8 out of the 12 states that have yet to expand Medicaid are in the South, and that means that hundreds of thousands if not millions of disabled people are without access to affordable health care. Fifty percent of people killed by law enforcement in the U.S. are disabled, and more than half of disabled Black men have been arrested by the time they turn 28—double the risk in comparison to their white disabled counterparts.
We take a three-pronged approach to solve these problems and many more facing disabled people in Southern states.
The Southern Disability Justice Coalition
Our coalition brings together disabled leaders, advocates, organizations, and activists from across the South on a regular basis to align on organizing strategies. Members are guided by the disability justice principle of interdependence, collectively understanding that we cannot achieve our goals without working together. This enables members to share resources, expand their advocacy to reach wider audiences, effectively and efficiently share information with each other, broaden their cross-movement networks, and more.
Advocacy and Organizing
We are thoughtfully and strategically advocating for impactful state and local disability policy, tracking unjust legislation, working to decrease barriers to voting, and helping educate and inform disabled people across the South about the issues that impact them most. We work with communities to organize in ways that empower the people most impacted by the issues to advocate more effectively for themselves.
Research and Policy
We're investing in research that will help us better understand what disabled people in the South are facing and will work to craft policy solutions at the state and local level by partnering with other organizations, researchers, and community leaders.
With all of this in motion, we're energized for the future and where our work is taking us. We know that every social justice issue is a disability issue since disabled people exist at the intersections of every identity, class, ethnic background, religion, and more. Whether it's anti-trans legislation, unjust economic policies that perpetuate poverty, the continued criminalization, incarceration and institutionalization of Black and brown Americans, lack of access to broadband internet, insufficient attention to our climate crisis or more, disabled people are disproportionately impacted time and again.
This is what we are fighting for at New Disabled South. Our team has lived this work, and lives it every day. We have a vision of justice and liberation for all disabled people in the South, and we are proud to be playing a role in making that a reality. You are going to see us, you are going to feel us, you are going to hear us. And if we do it right and we do it well, the landscape for disabled people in the South will look very different in 10 years, and New Disabled South will be the seed for a New Disabled America where disabled people finally have access to long denied liberty, justice, and peace.