Darren Walker outlines the foundation's new focus on fighting inequality and offers his take on the role of philanthropy in today's world.
---
Published on WNYC | December 1, 2015
There's more to inequality than hard cash
Economic inequality is a big threat in New York City, but Ford Foundation President Darren Walker says it's not the only type of inequality hindering our society. He names a handful of other harmful forces – wealth, gender, and racial inequality.
Walker goes into detail about the foundation's shift to focus on fighting different types of inequality and gives his take on the role of philanthropy in today's world.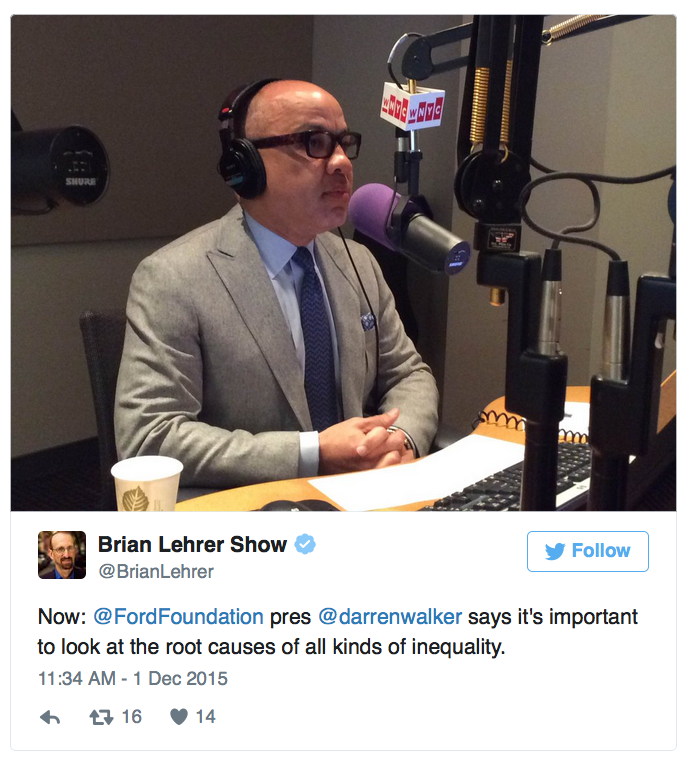 Now: @FordFoundation pres @darrenwalker says it's important to look at the root causes of all kinds of inequality. pic.twitter.com/9BQYYTqtCo
— Brian Lehrer Show (@BrianLehrer) December 1, 2015
The Ford Foundation
The Ford Foundation is an independent organization working to address inequality and build a future grounded in justice. For more than 85 years, it has supported visionaries on the frontlines of social change worldwide, guided by its mission to strengthen democratic values, reduce poverty and injustice, promote international cooperation, and advance human achievement. Today, with an endowment of $16 billion, the foundation has headquarters in New York and 10 regional offices across Africa, Asia, Latin America, and the Middle East.
Media Contacts
Press Line
Tel (+1) 212-573-5128
Fax (+1) 212-351-3643
pressline@fordfoundation.org