No Justice Without Love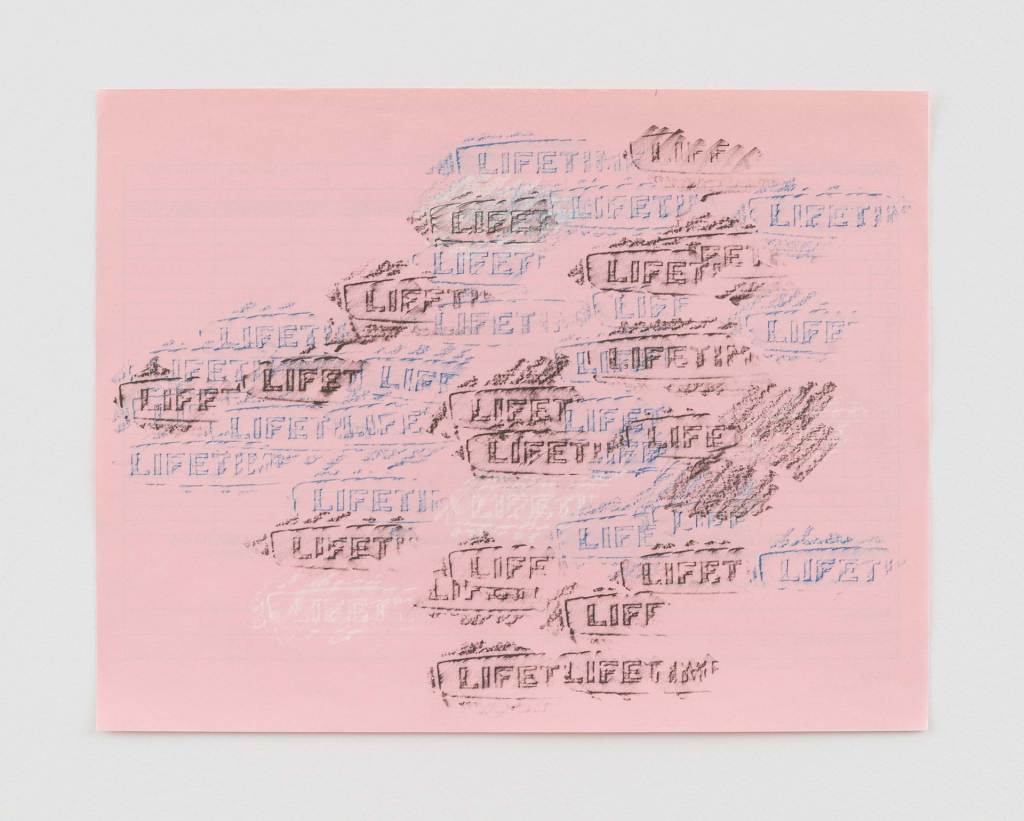 No Justice Without Love brings together the transformational work of artists, activists, and allied donors who make up the Art for Justice Fund (A4J) community. The exhibition is an invitation to engage with the Fund's mission to change the narrative around mass incarceration and disrupt the criminal justice system. Inaugurated in 2017 under the unprecedented philanthropic vision of Agnes Gund, A4J launched with $100M generated from the sale of Agnes' favorite painting, Roy Lichtenstein's Masterpiece. This spurred artists, collectors, and supporters to donate an additional $25M to the Fund, which advances policy reform, shifts public narratives on criminal justice, and promotes the leadership of formerly incarcerated people while centering art as a catalyst to propel change.
The exhibition includes work from formerly incarcerated and allied artists alongside submissions by former and current A4J grantees, who have been invited to a Call and Response to express how A4J—and the remarkable community it supports—has affected their practice. In charting the evolution of artists' practices, No Justice Without Love also presents the ways in which artists and advocates create new aesthetics around humanity, resilience, and self-determination, while elevating themes of redemption, rehabilitation, and transformation.
About the curator
Daisy Desrosiers is an interdisciplinary art historian and the current director and chief curator of Kenyon College's Gund Gallery. Previously, she was a co-curator of the first MOCA Toronto Triennale, GTA21, and also served as the inaugural director of Artist Programs at the Lunder Institute for American Art at the Colby College Museum of Art. Earlier in her career, she was the inaugural Nicholas Fox Weber curatorial fellow with the Glucksman Museum in Cork, Ireland and a curatorial fellow at Brooklyn-based nonprofit, Art in General. This year she is also part of the Center of Curatorial Leadership (CCL) cohort of 2023. She contributed to the 2021 New Museum Triennial publication and As We Rise (Aperture, 2021). Desrosiers is currently working on a monographic publication about artist Tau Lewis with the National Gallery of Canada.
Special thanks to Jimmy Wu for inspiring the exhibition title.
Gallery hours: Monday – Saturday 11am – 6pm
Ford Foundation Gallery 
320 E 43rd St, New York, NY 10017
Visitor info
Curated by Daisy Desrosiers
Benny Andrews
Battery Park City Authority*
Mary Enoch Elizabeth Baxter
Reginald Dwayne Betts
Mark Bradford
Russell Craig
Halim A. Flowers
For Freedoms*
Henry Frank
Faylita Hicks
Szu-Han Ho
James Yaya Hough
Maria Gaspar
Titus Kaphar
Jesse Krimes
Mark Loughney
Marcus Manganni
Julie Mehretu
The New Press & Vox Populi*
Jared Owens
The People's Paper Co-op*
Samora Pinderhughes
Daniel Pfeffer, Lucas Monroe, Michael
Barrett, Carlose Cardona & Peter
Mukuria (aka Pitt Panther)
Faith Ringgold
Gilberto Rivera
Sherrill Roland
Paul Rucker
Sable Elyse Smith
Bayeté Ross Smith
jackie sumell
Stanley Whitney
The Writing on the Wall*
*Artists and contributors representing organizations:
James Yaya Hough for Battery Park City Authority; Dr. KnuckleHead and Jimmy Wu for For Freedoms; Howard Zehr and Barb Toews for The New Press & Vox Populi; Molly Costello, Kill Joy, and Nicole Marroquin for The People's Paper Co-op; The Writing on the Wall is a collaboration between visual artist Hank Willis Thomas, activist Dr. Baz Dreisinger, and Incarceration Nations Network
Call and Response contributors:
Billy Almon
Arts for Healing and Justice Network
California Lawyers for the Arts
Campaign for the Fair Sentencing of Youth
Francisco Cantú
Cleveland Public Library
Designing Justice + Designing Spaces
Die Jim Crow Records
Ella Baker Center for Human Rights
Gwendolyn Garth
Illinois Humanities Council
Asia Johnson
Los Angeles County Department of Arts and Culture
Mural Arts Philadelphia
Michelle Angela Ortiz
Performing Statistics
Marlon Peterson
Pulitzer Center on Crisis Reporting
Recess Art
Rehabilitation Through the Arts
Zealous
More from this exhibition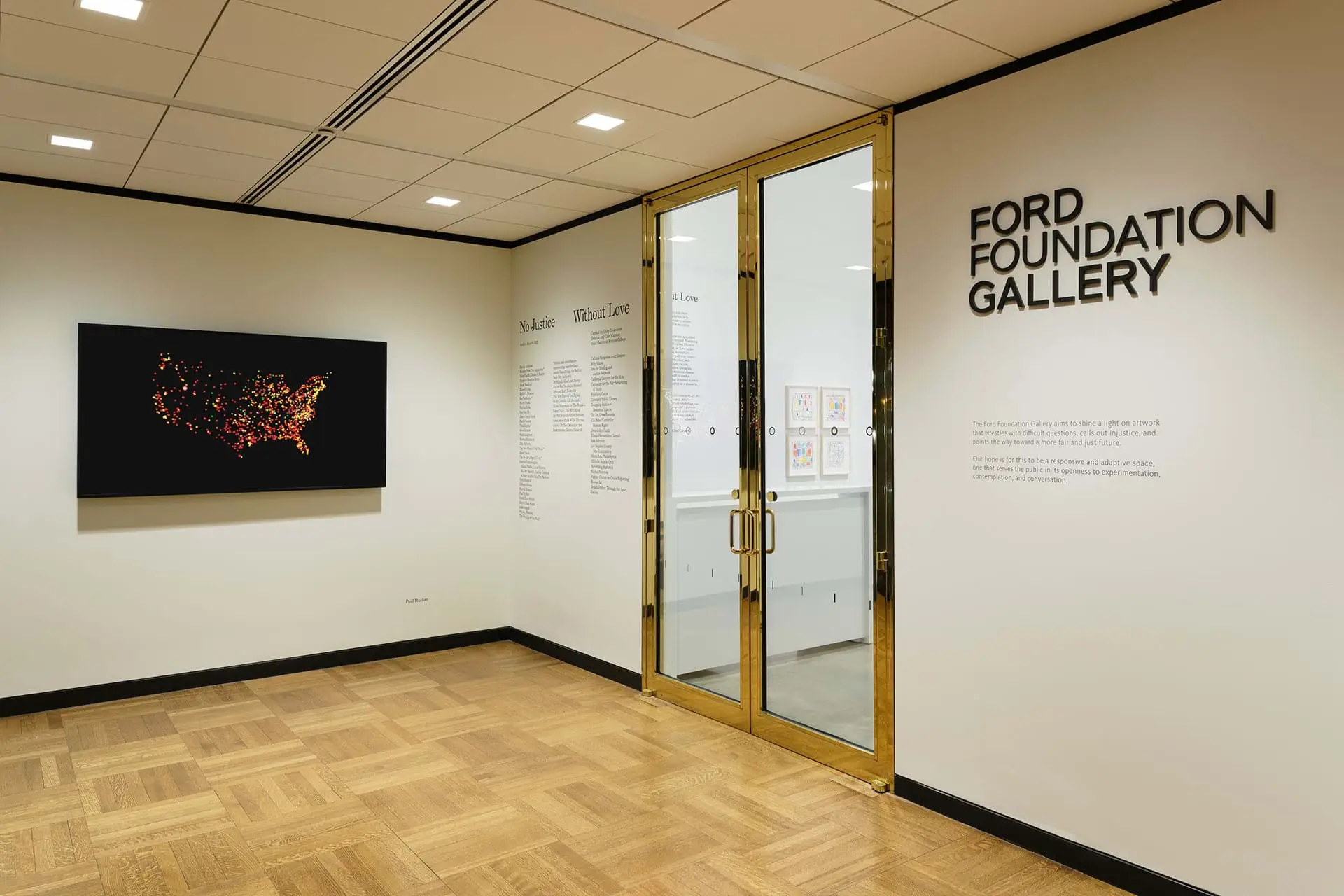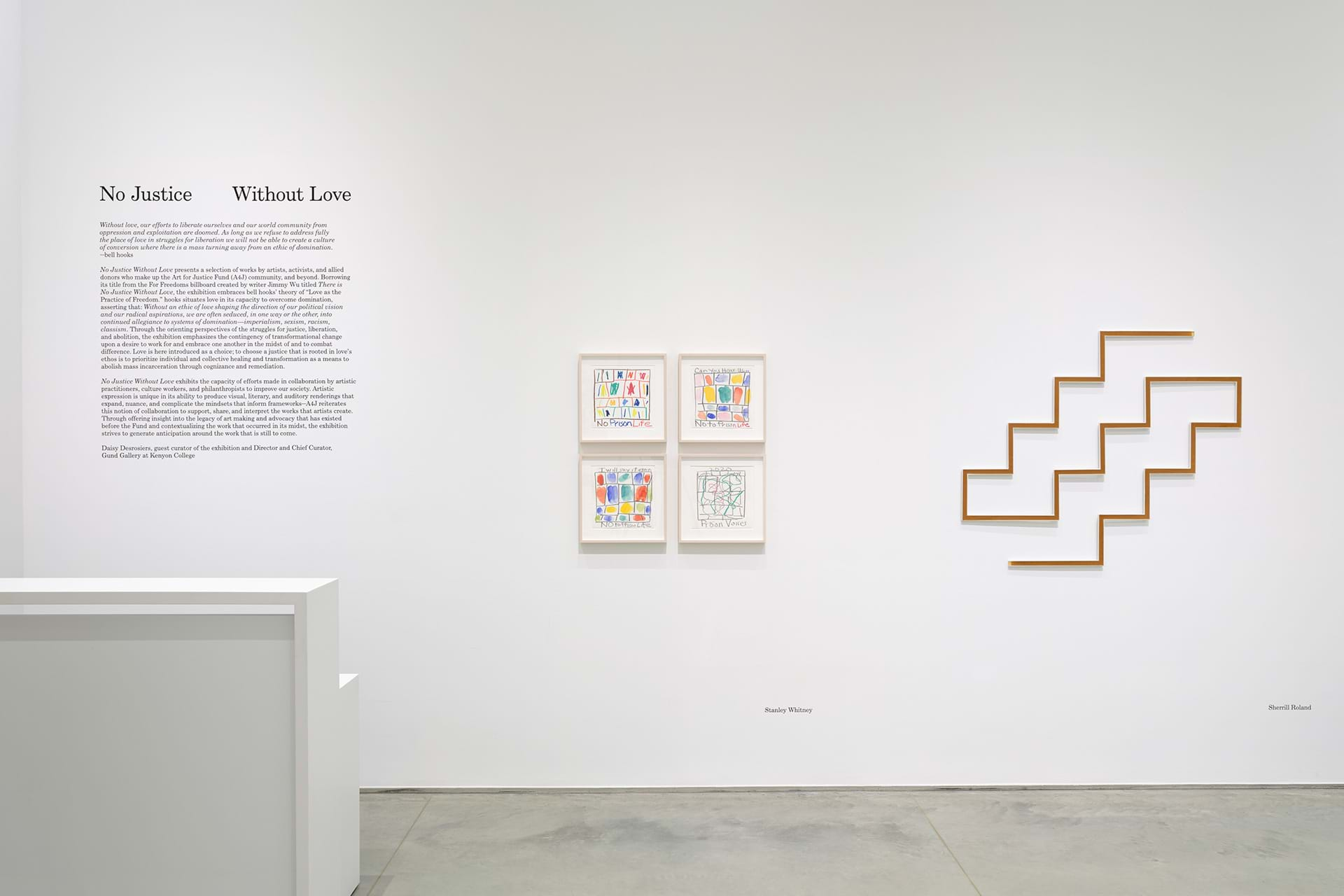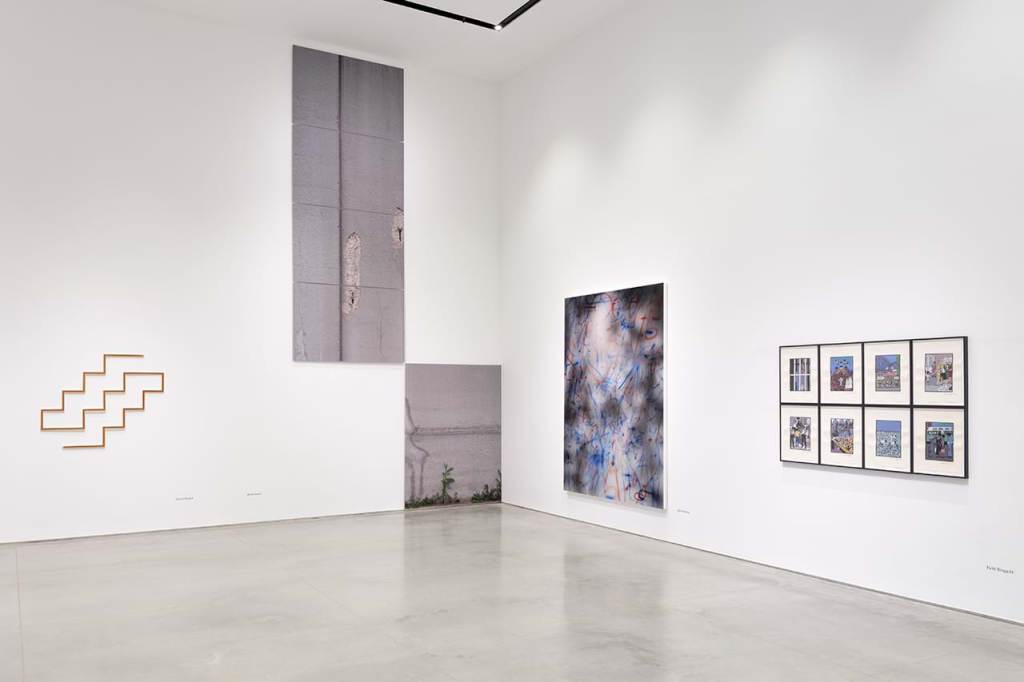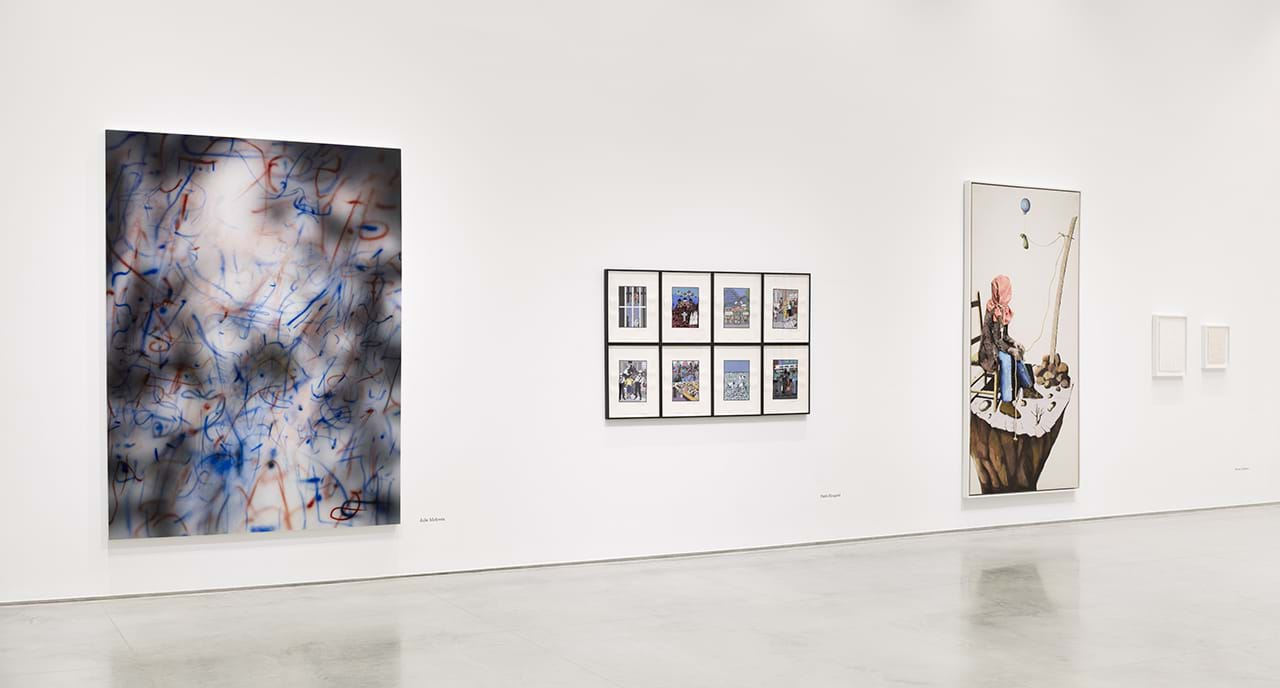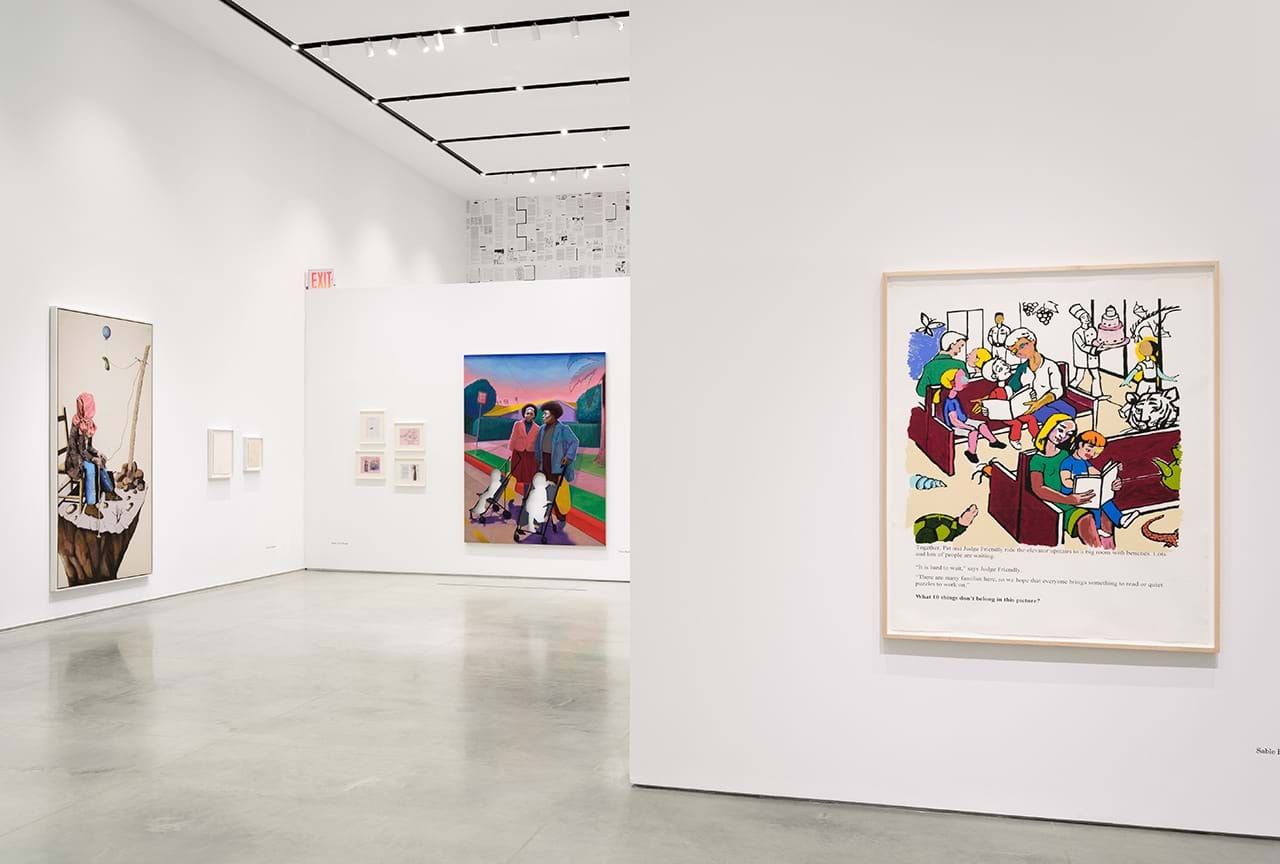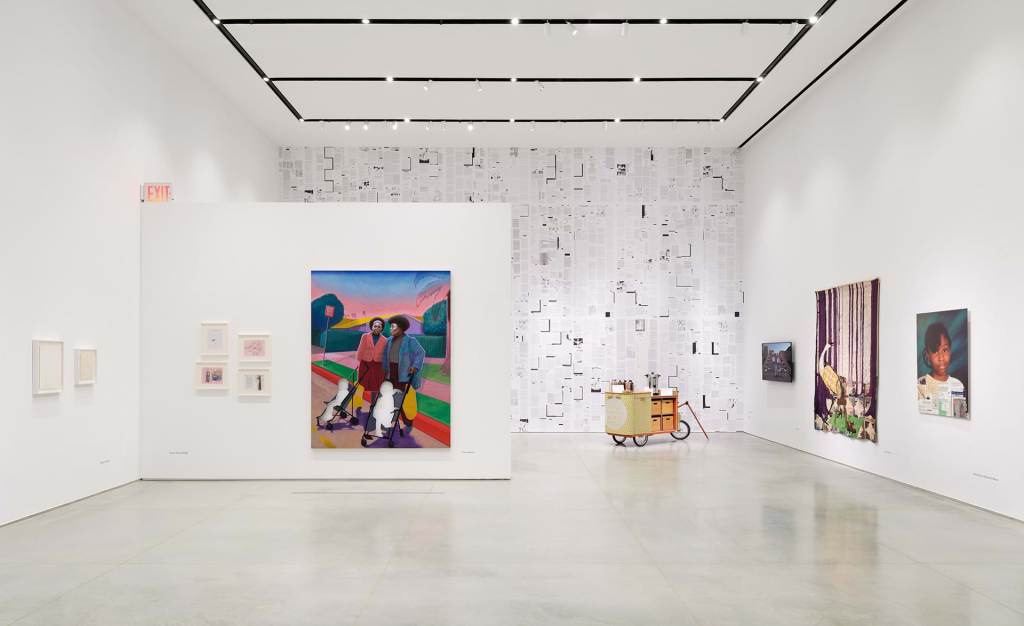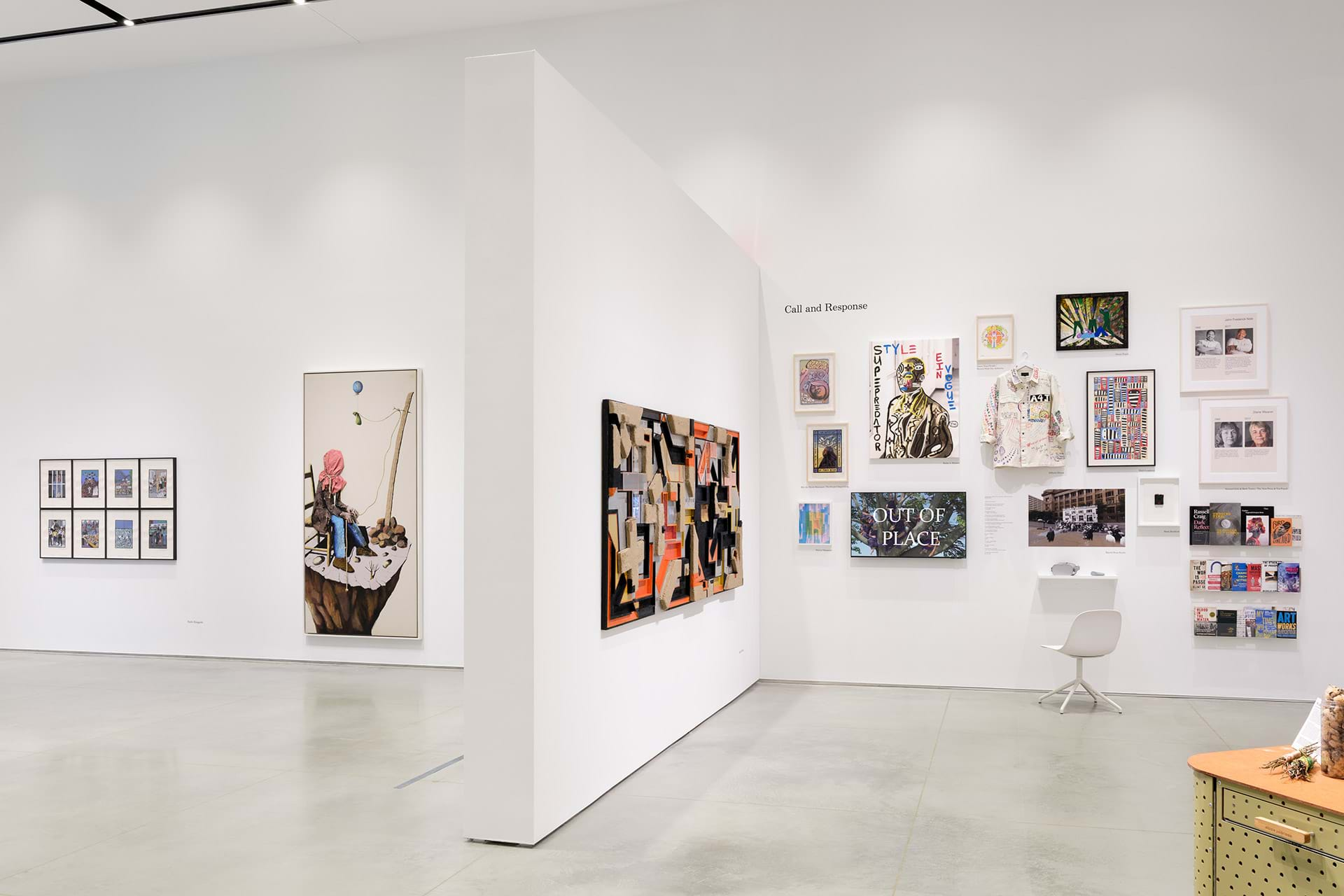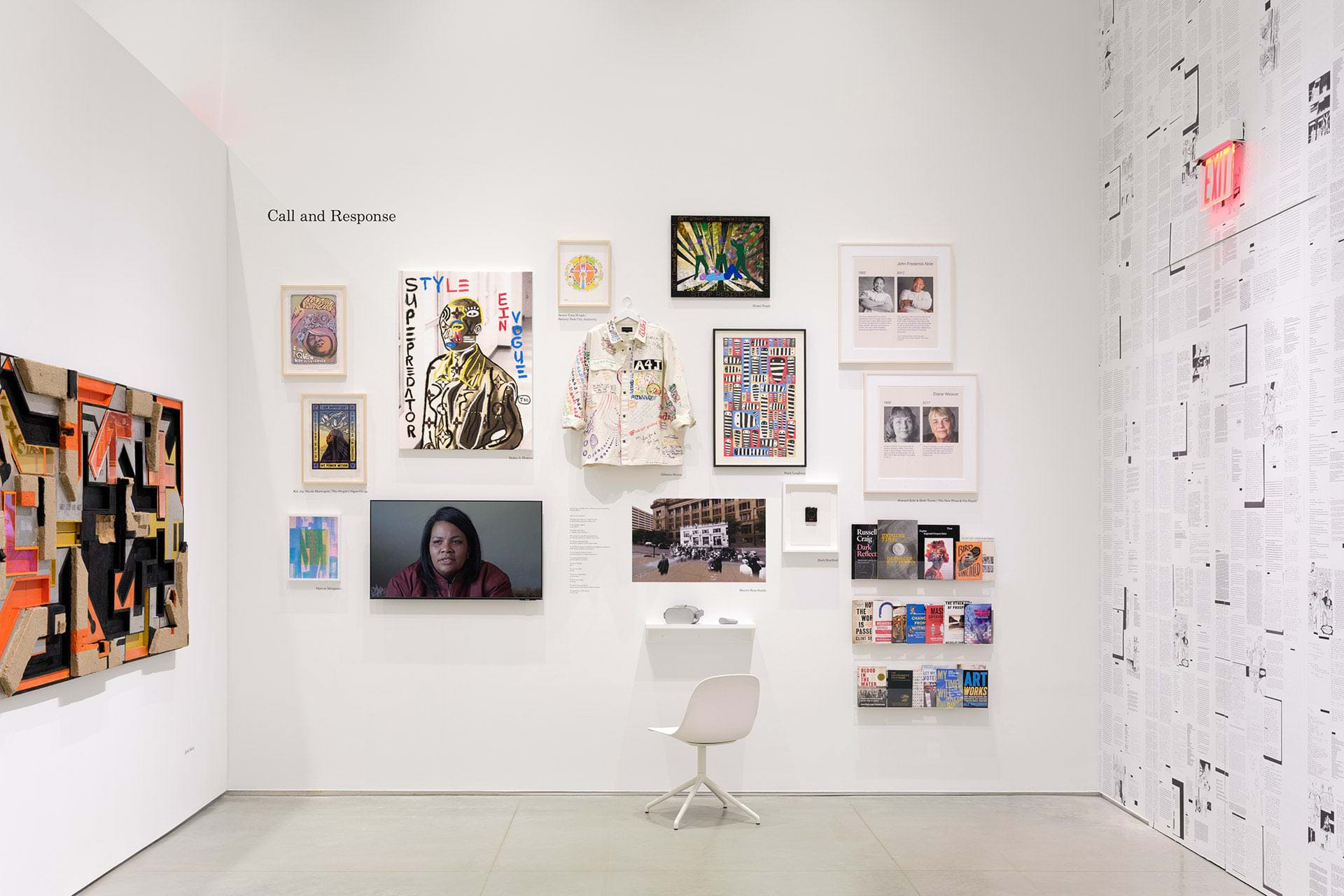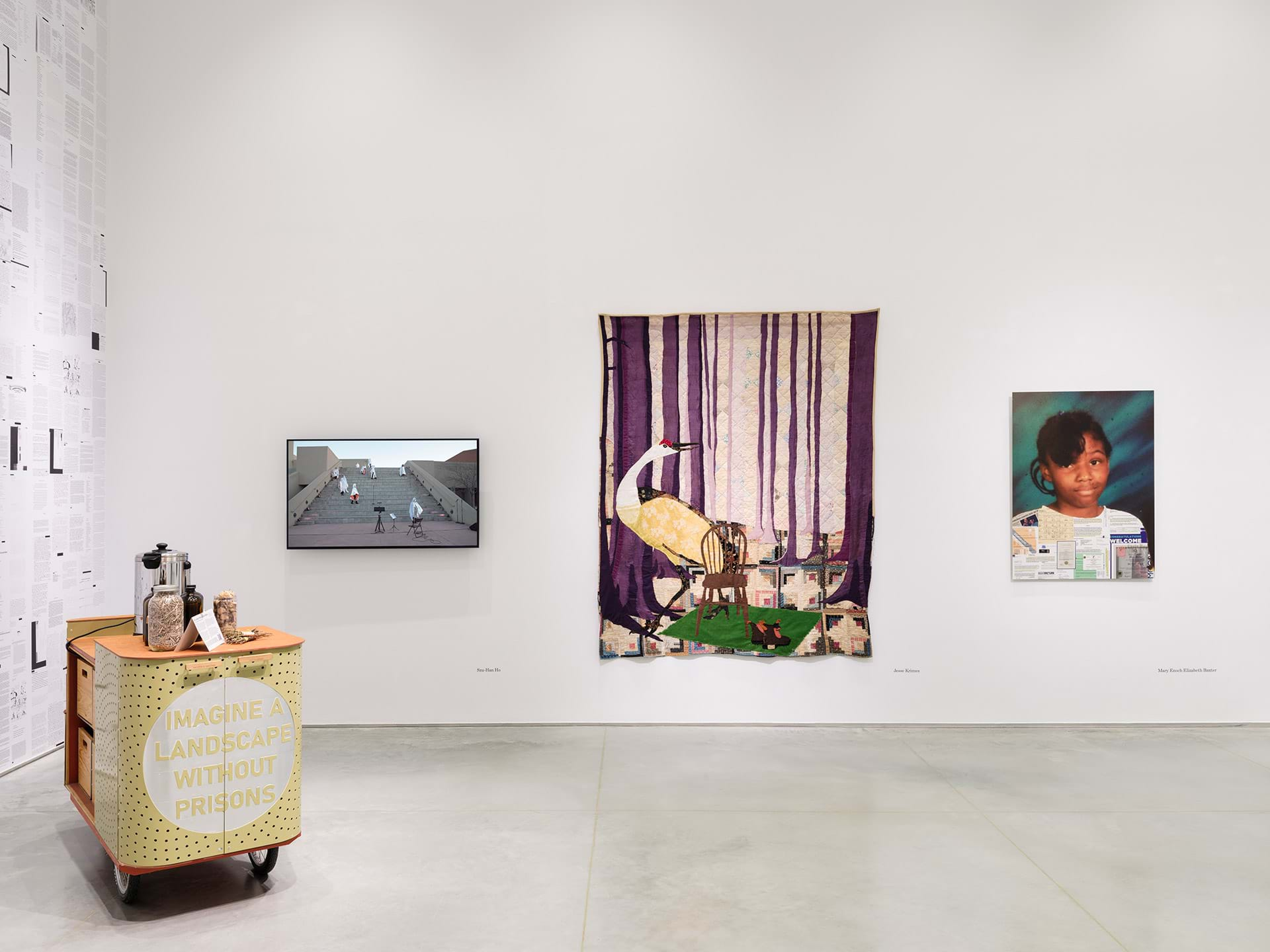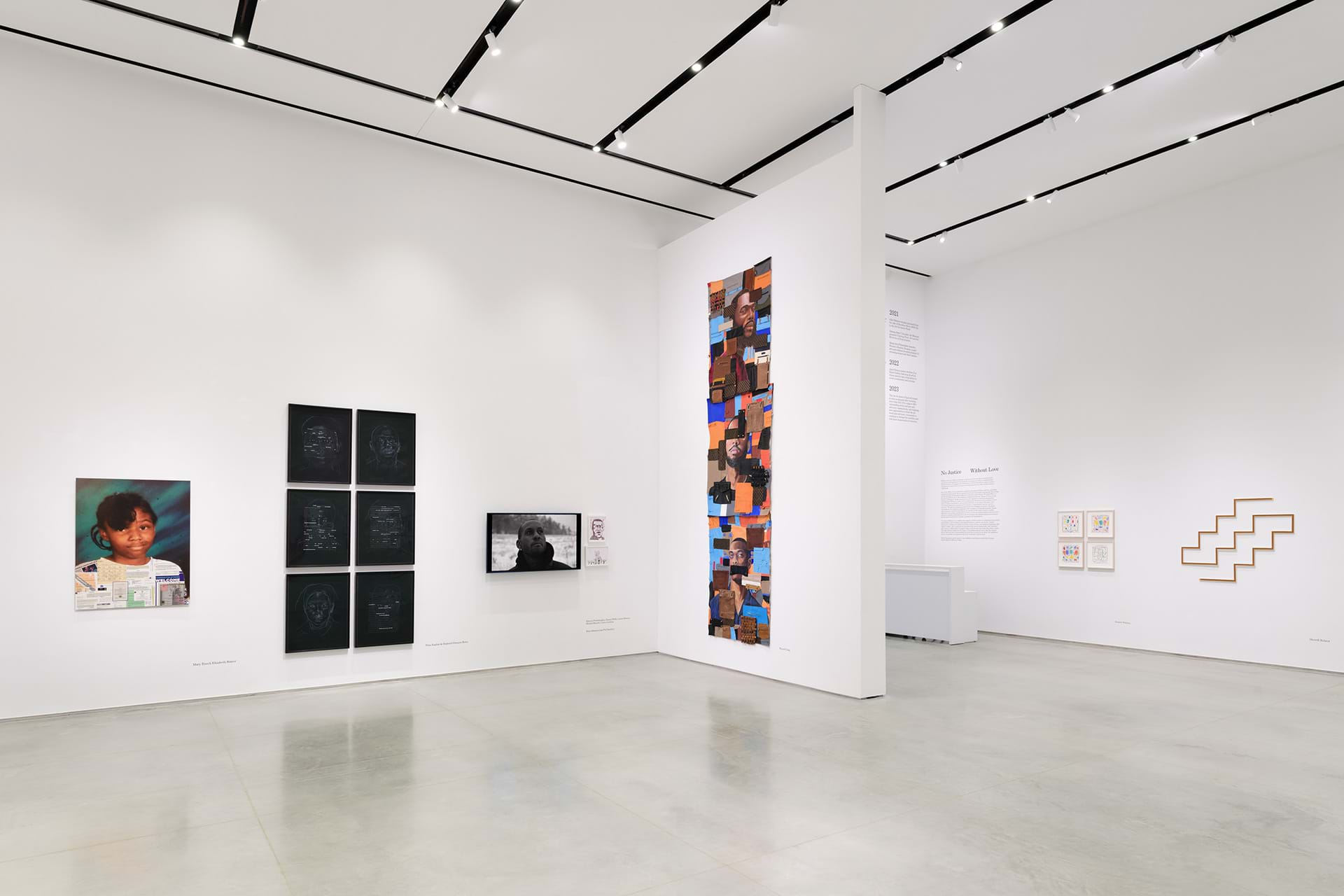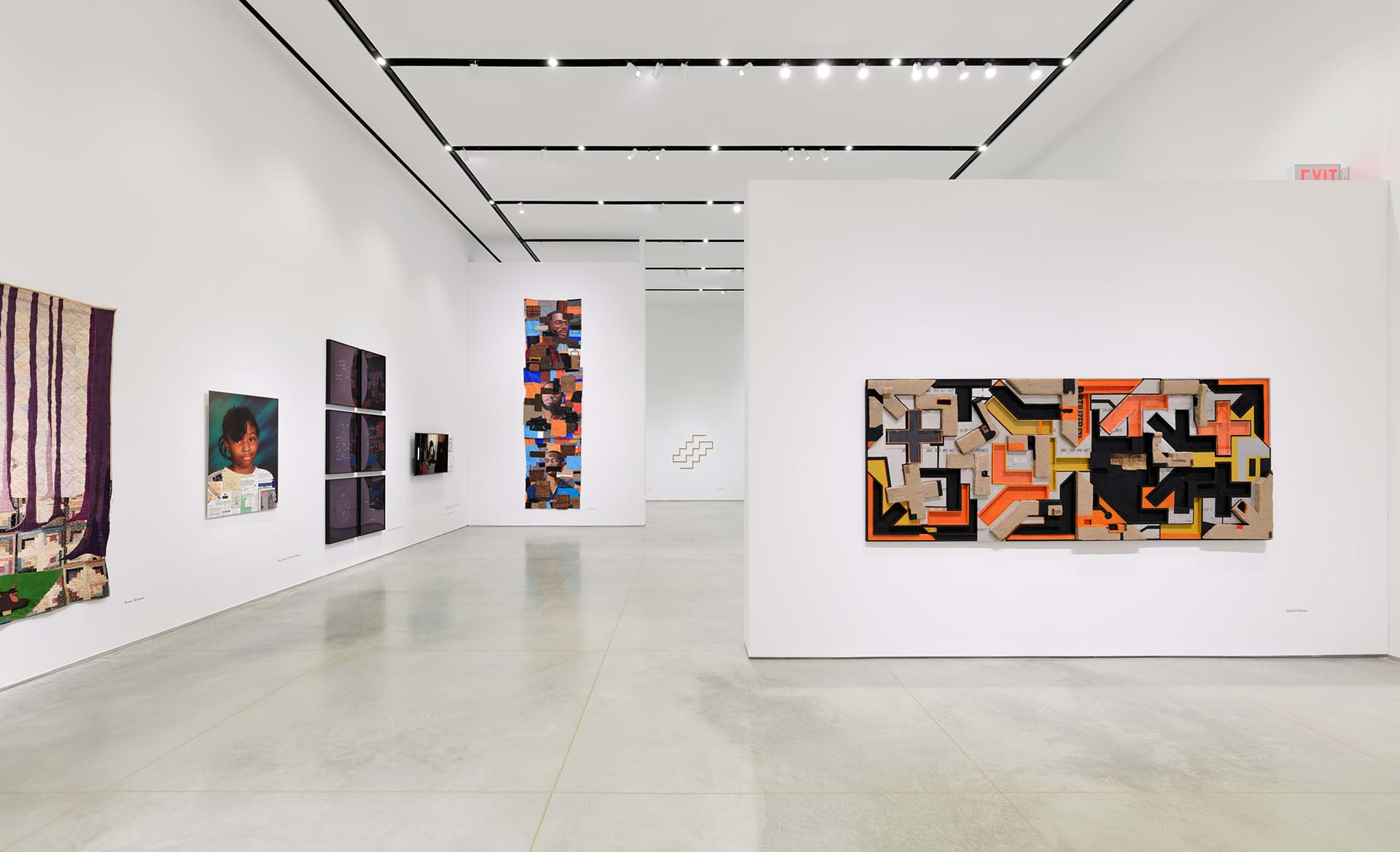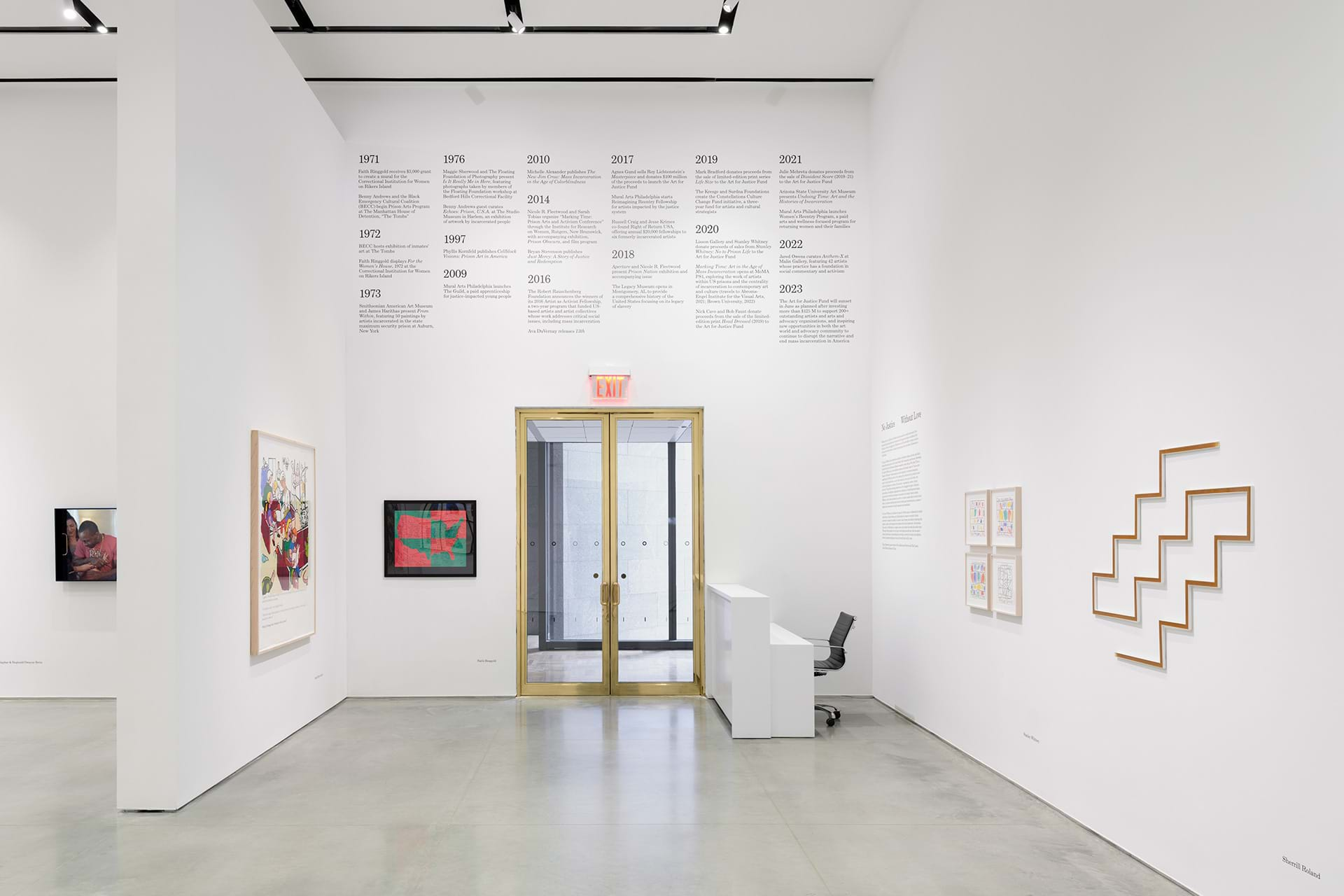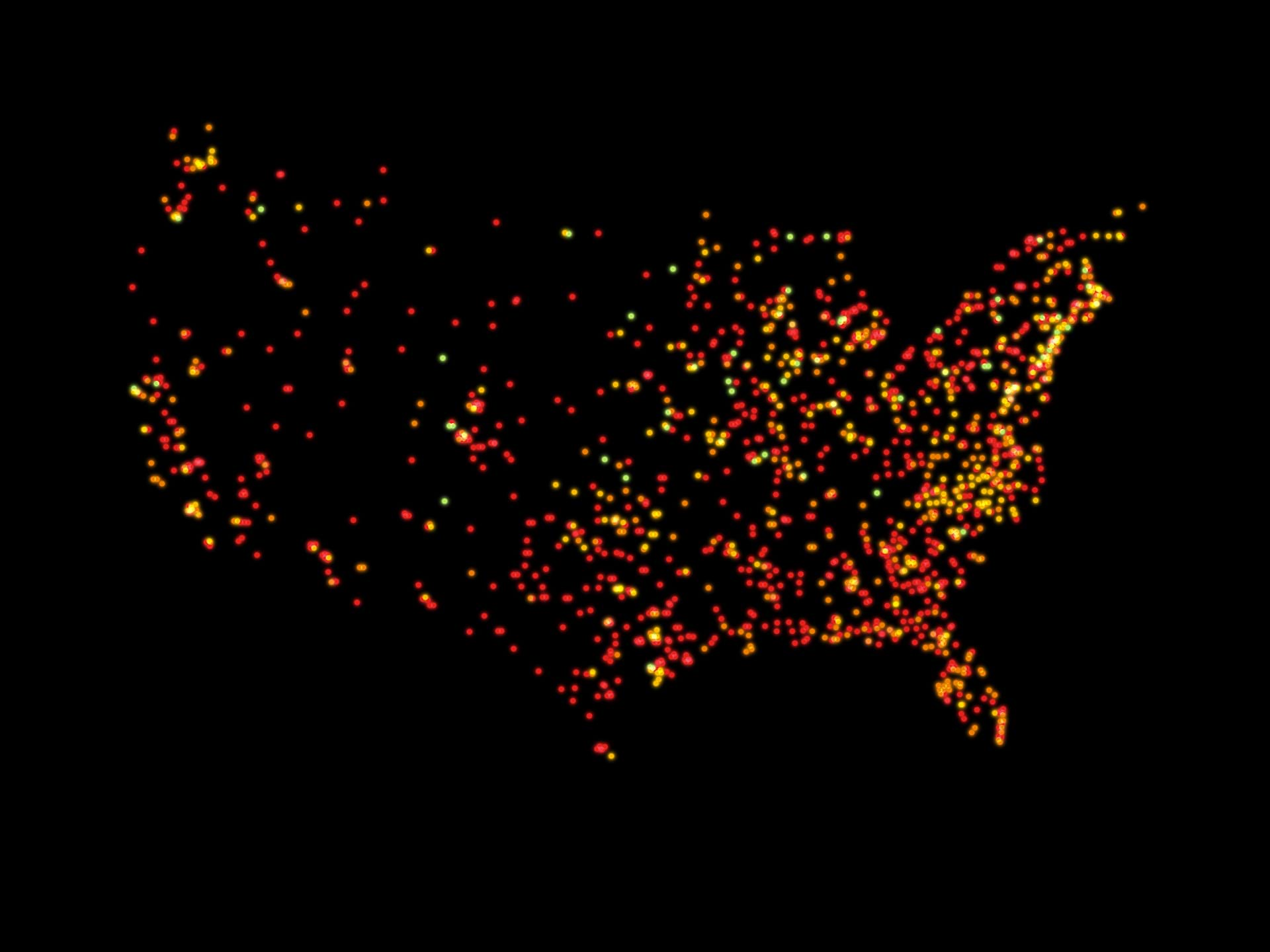 Paul Rucker
Proliferation, 2009
Video, 11:12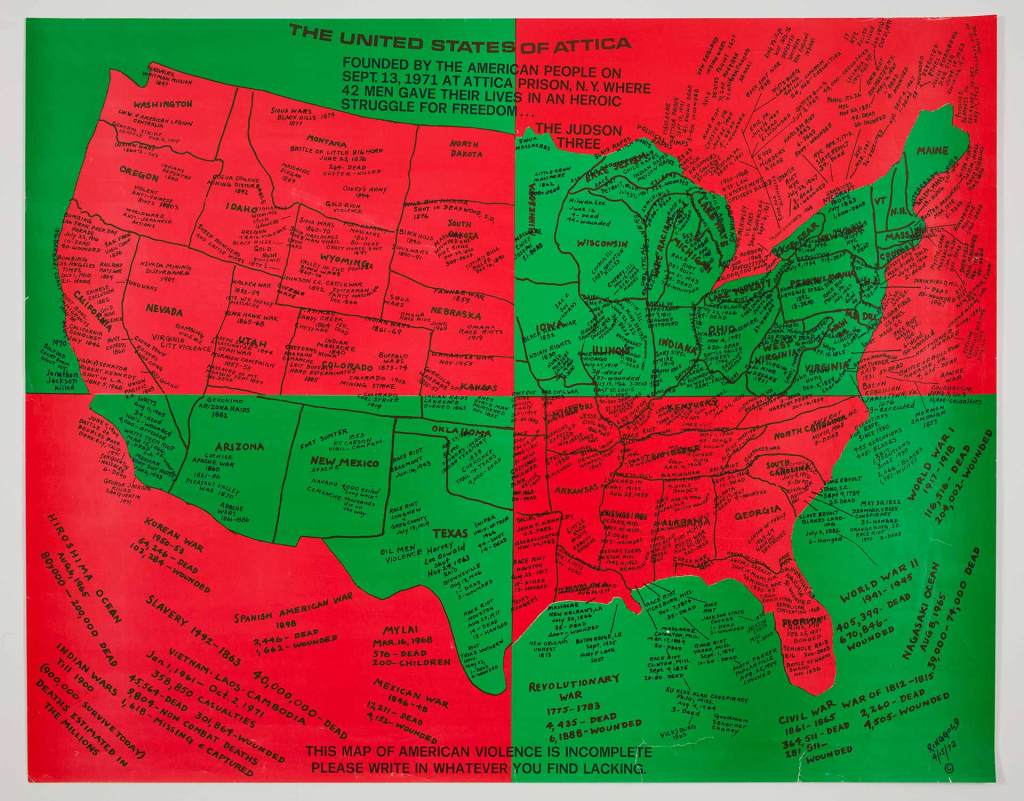 Faith Ringgold
United States of Attica, 1972
Offset poster
21 ¾ x 27 ½ inches
Courtesy of ACA Galleries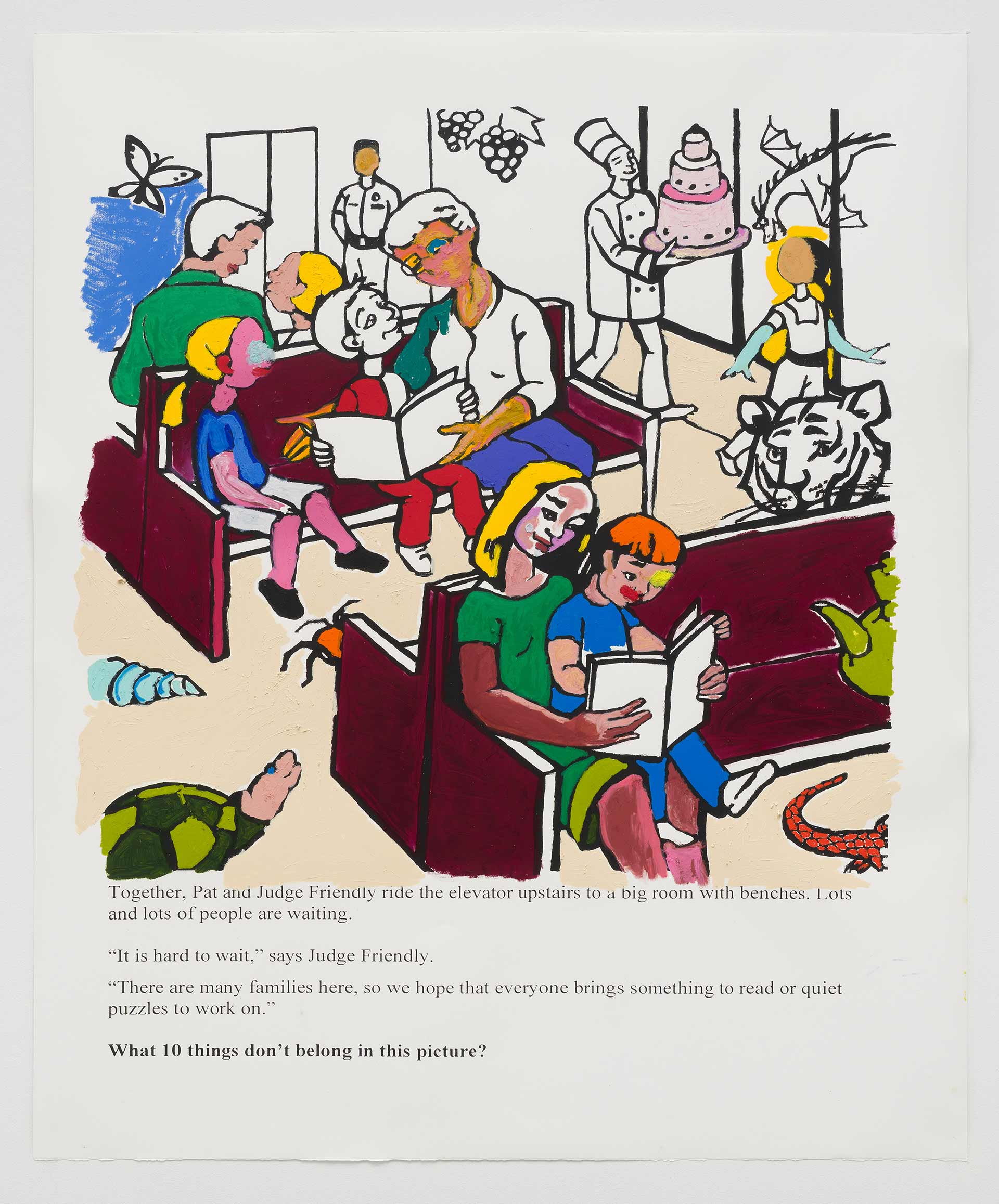 Sable Elyse Smith
Coloring Book 78, 2021
Screen printing ink, oil pastel, and oil stick on paper
60 x 50 inches
Courtesy of Bugeon Lee Collection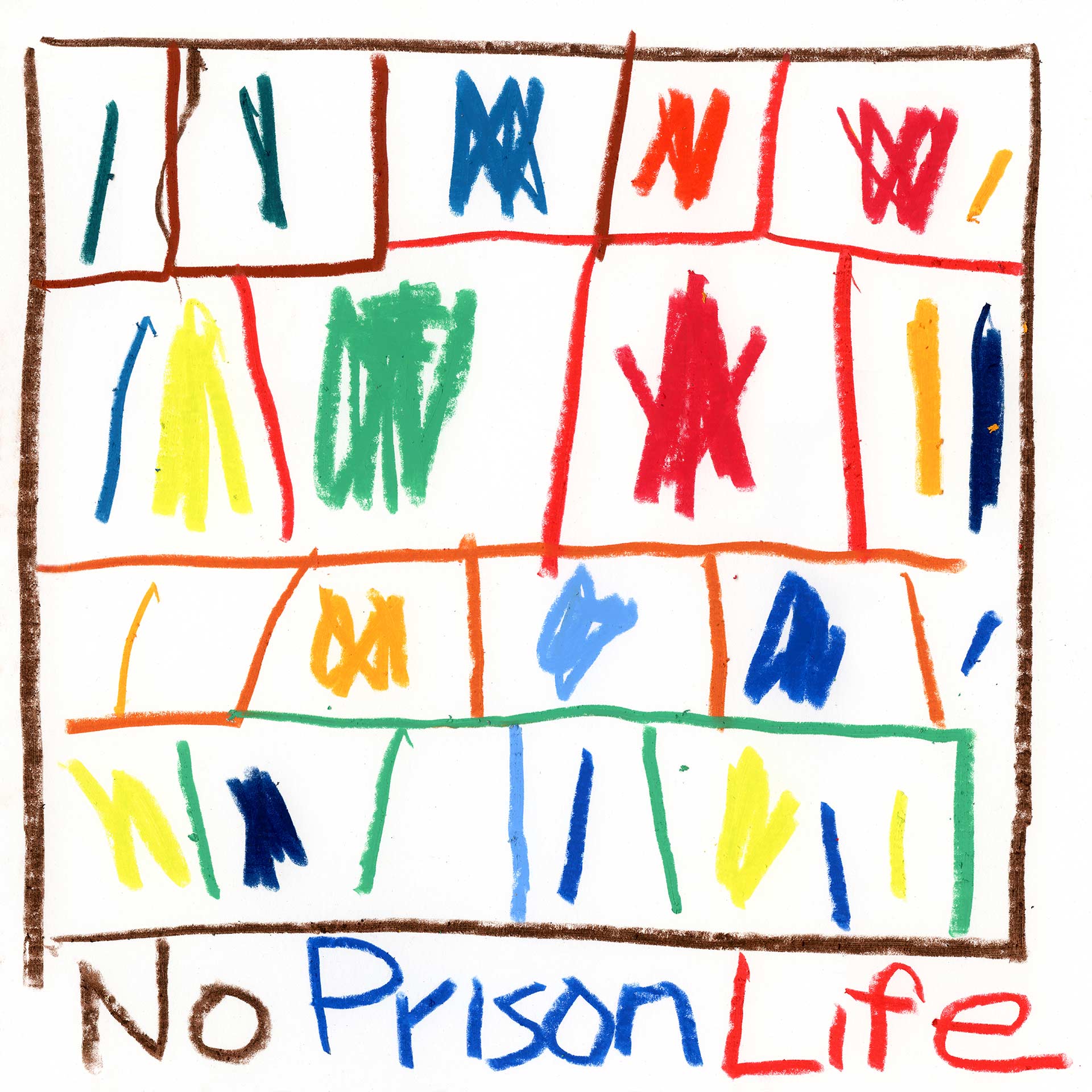 Stanley Whitney
No Prison Life, 2020
Crayon on paper
10 1/4 x 10 1/4 inches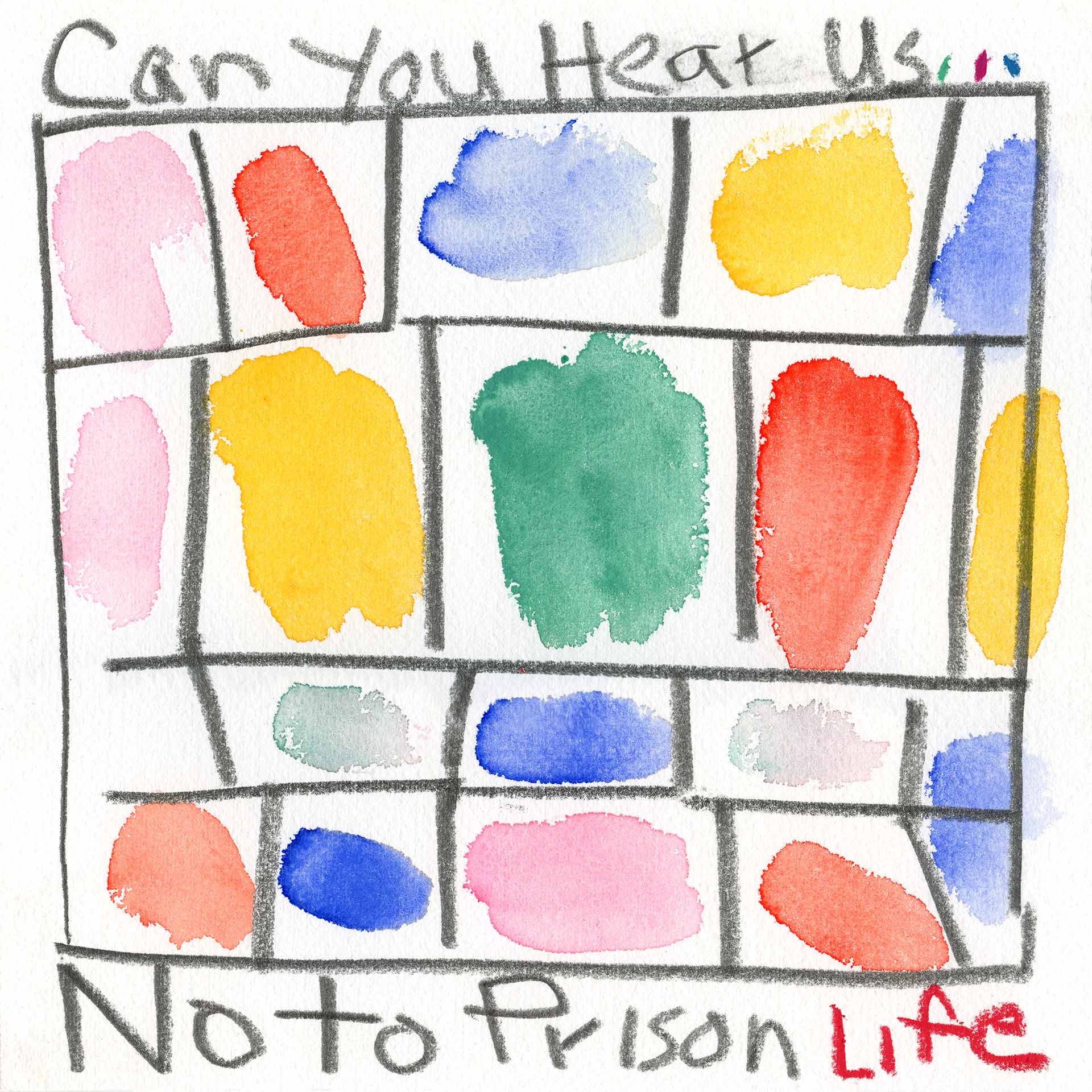 Stanley Whitney
Can You Hear Us…No to Prison Life, 2020
Watercolor and graphite on paper
10 1/4 x 10 1/4 inches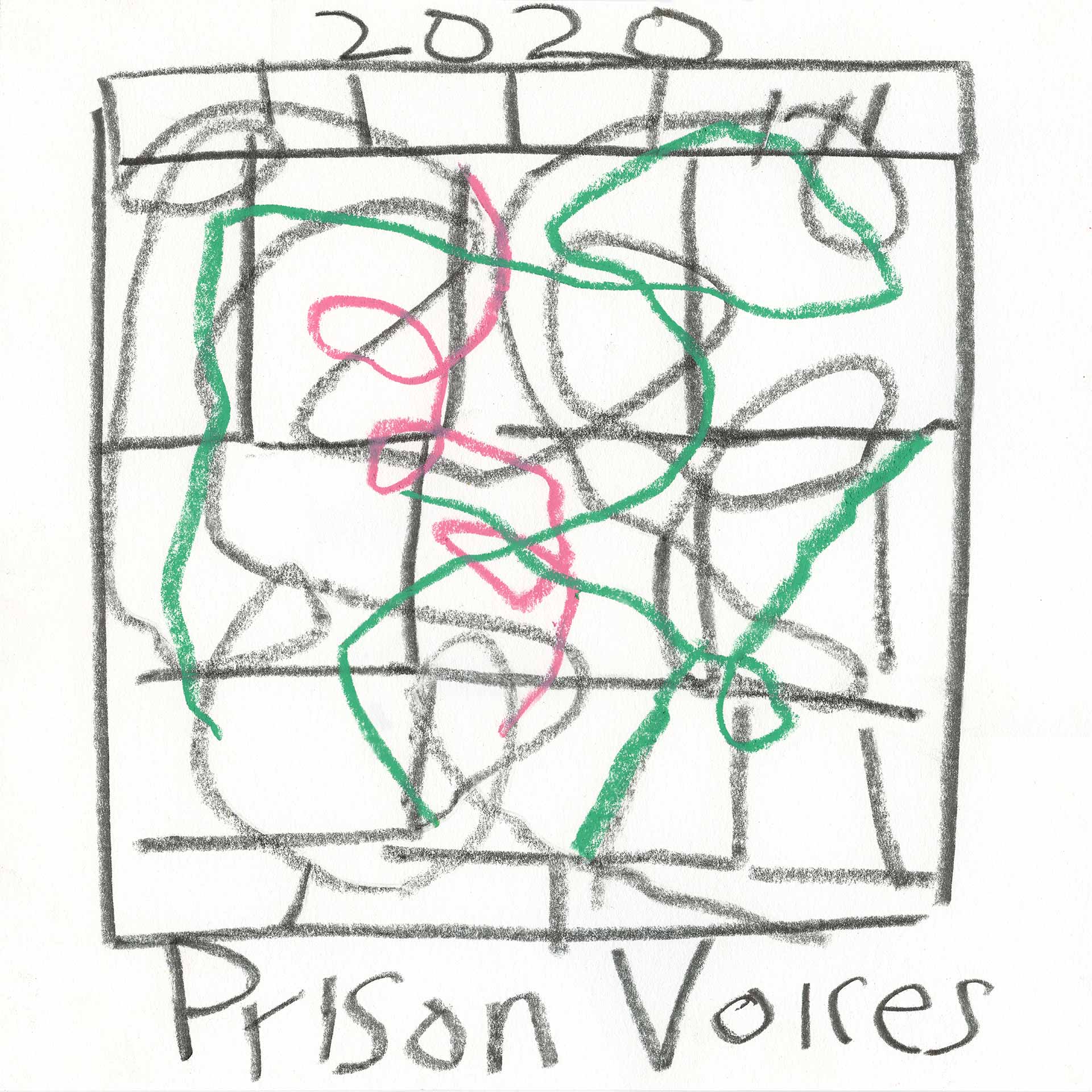 Stanley Whitney
2020 Prison Voices, 2020
Crayon and graphite on paper
10 1/4 x 10 1/4 inches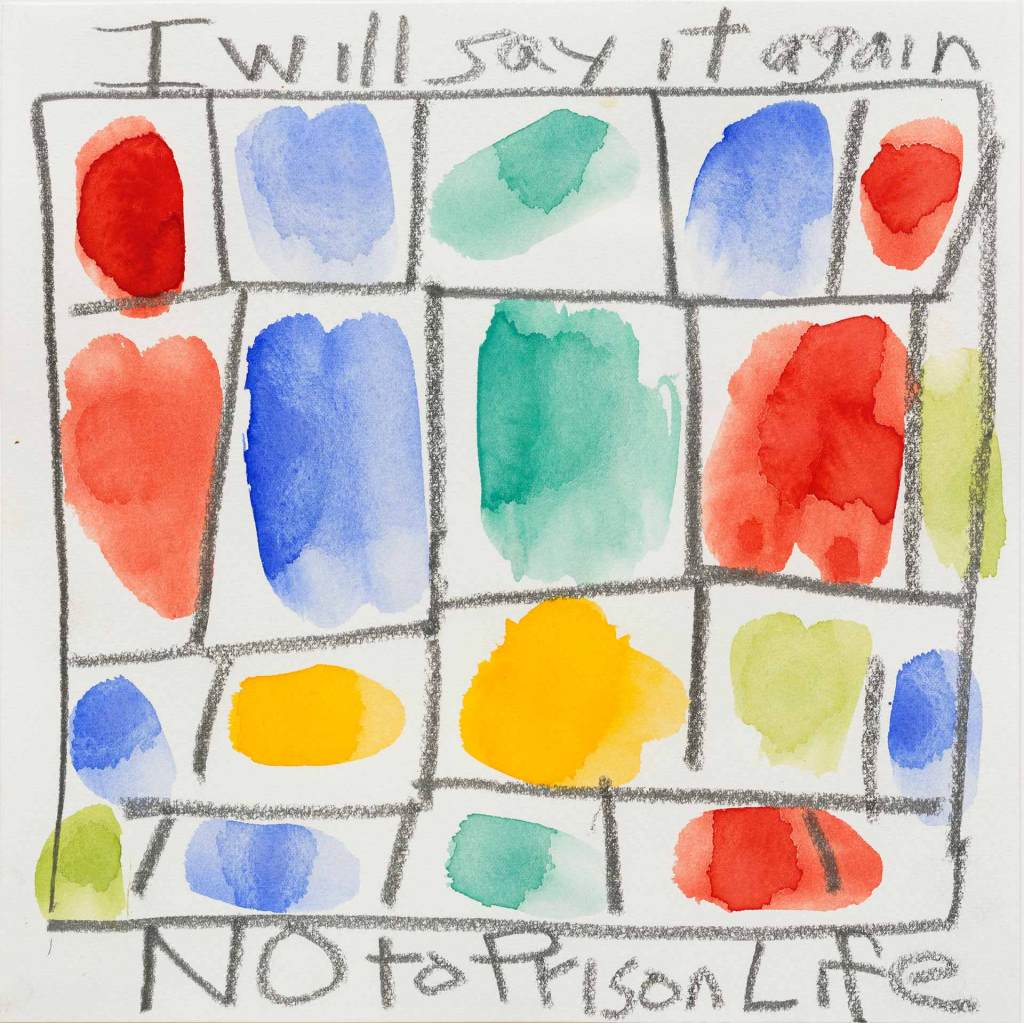 Stanley Whitney
I will say it again…NO to Prison Life, 2020
Crayon on paper
10 1/4 x 10 1/4 inches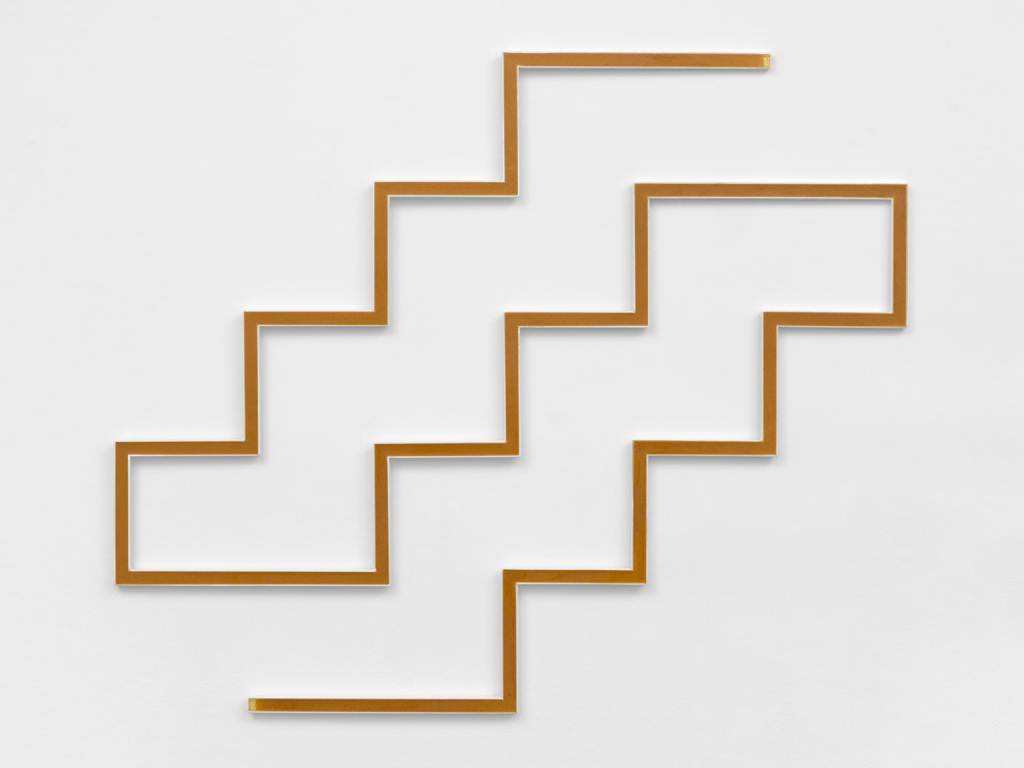 Sherrill Roland
168.803, 2021
Steel, enamel, Kool-Aid, acrylic medium, epoxy resin
41 x 49 x 1/2 inches
Courtesy of Tanya Bonakdar Gallery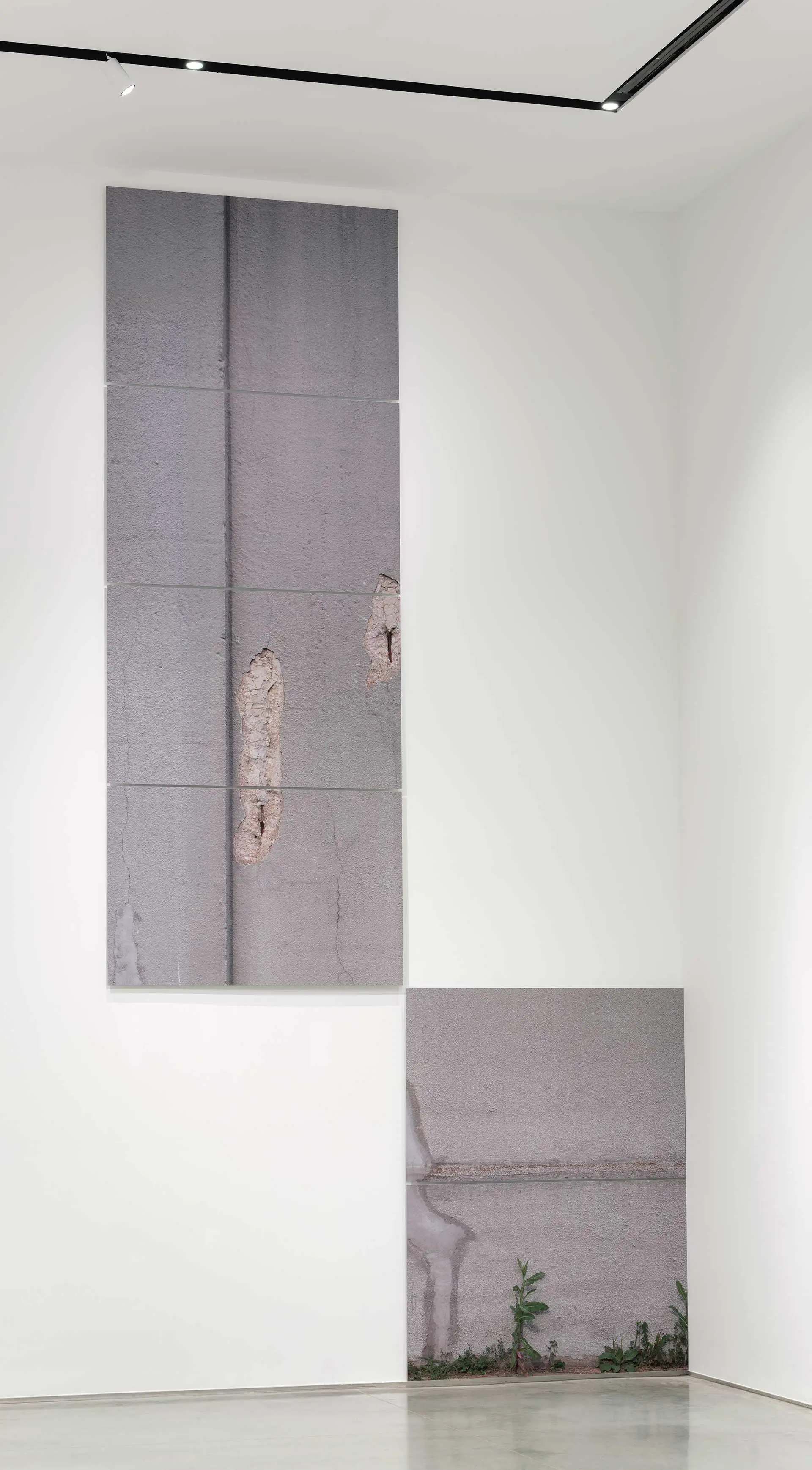 Maria Gaspar
Unblinking Eyes, Awaiting, 2023
Archival pigment prints on Dibond
Overall: 19 ft 6 in x 10 feet
Photo: Sebastian Bach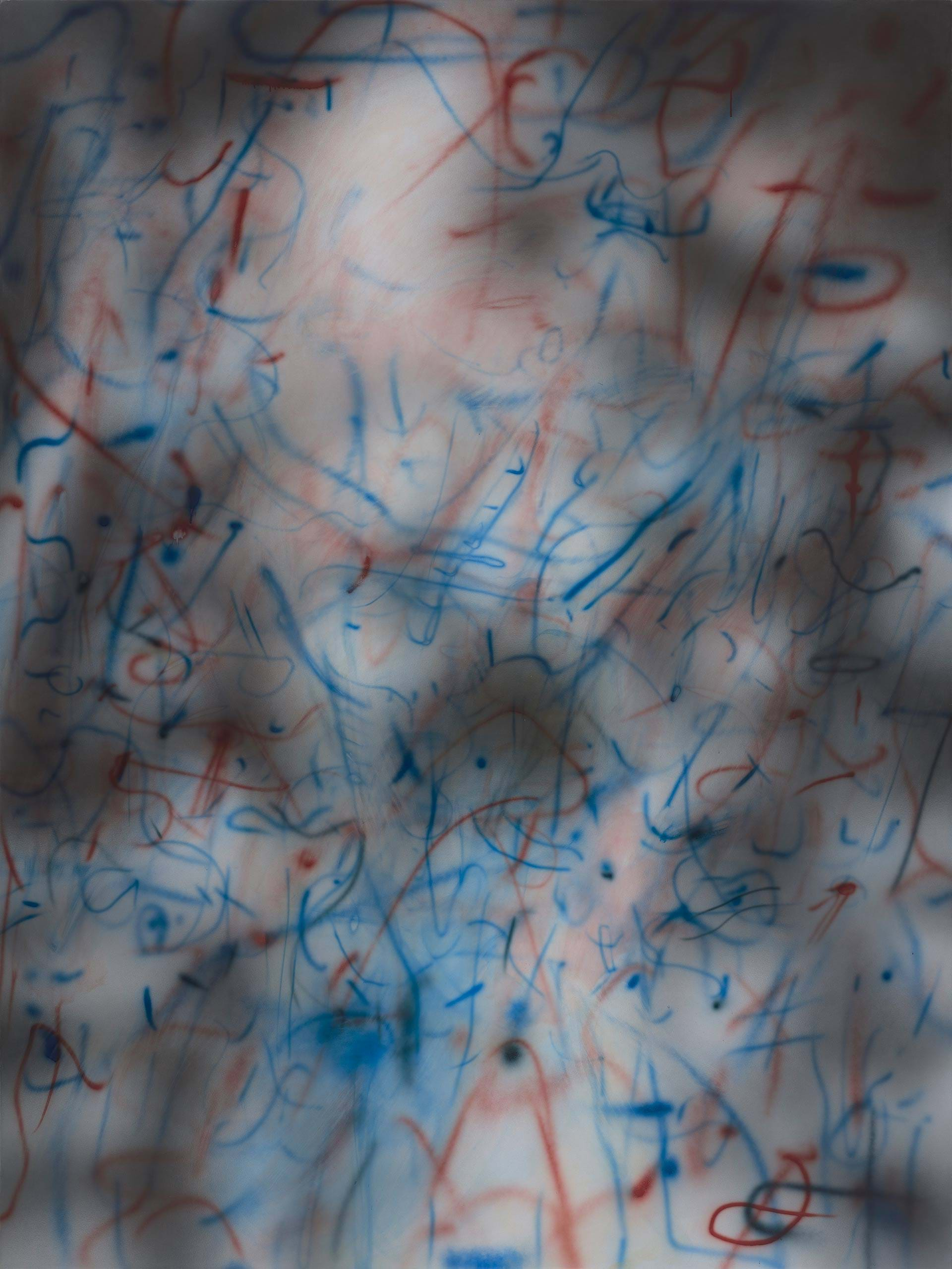 Julie Mehretu
Rubber Gloves (O.C.), 2018
Ink and acrylic on canvas
96 x 72 inches
Courtesy of the Artist and Marian Goodman Gallery, New York
Photo: Tom Powel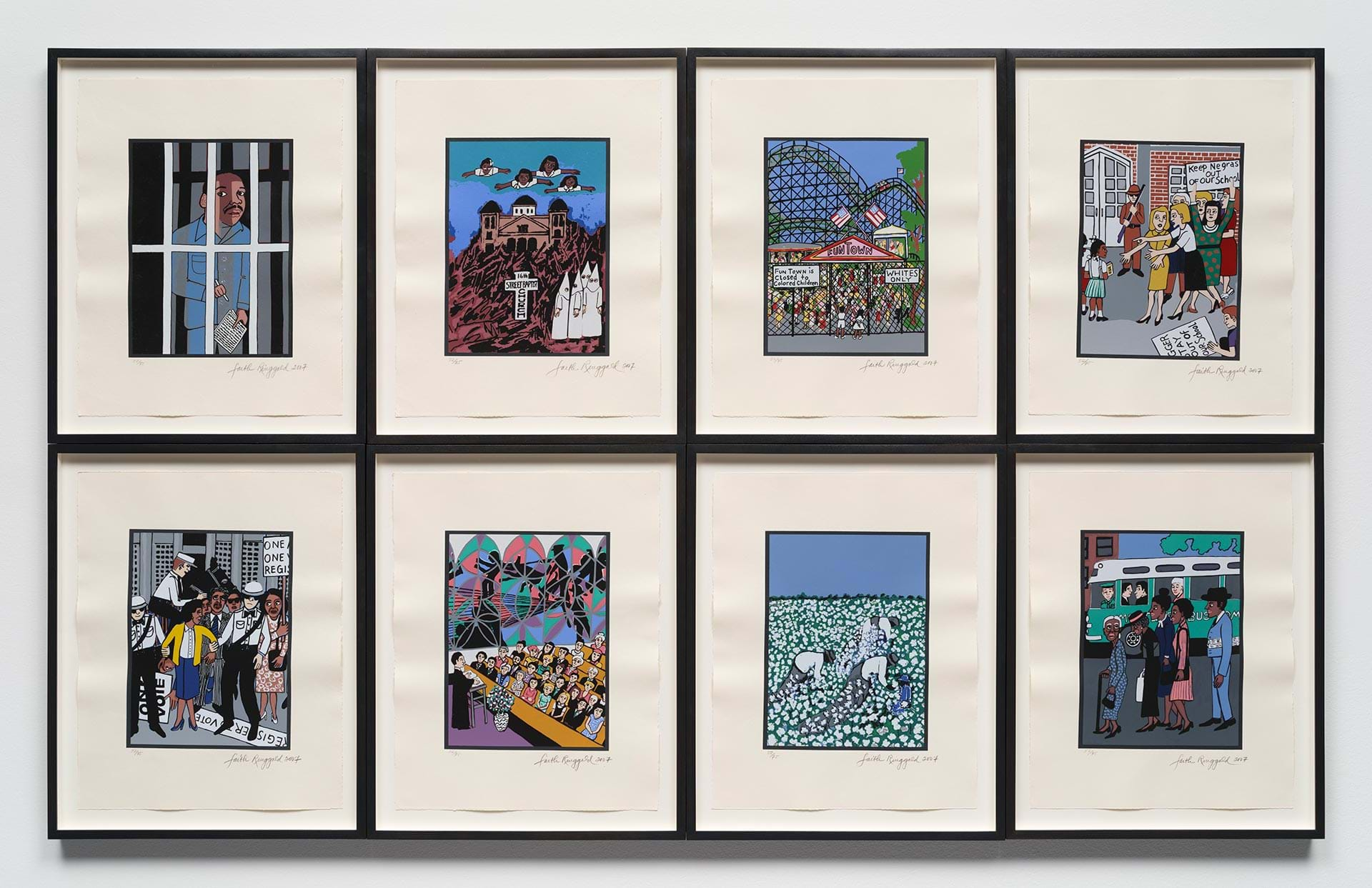 Faith Ringgold
Letter from Birmingham City Jail, 2007
Series of eight color screenprints
17 3/4 x 13 3/4 inches each
Courtesy of ACA Galleries
Photo: Sebastian Bach
A letter From Martin Luther King "While confined here in Birmingham City Jail"
Four Little Girls Bombed in a Church "I am in Birmingham because injustice is here"
For Whites Only "Funtown is closed to colored children"
Brown Versus Board of Education 1954 "White Mothers… on Television screaming Nigger, Nigger, Nigger!"
The Right to Vote "There are counties without a single Negro registered to vote"
Police Brutality Viewed Thru Stained Glass Windows "Who worships here? Who is Their God?"
Slavery "For more than two centuries our foreparents labored in this country without wages"
Montgomery Bus Boycott "My feets is tired but my soul is rested"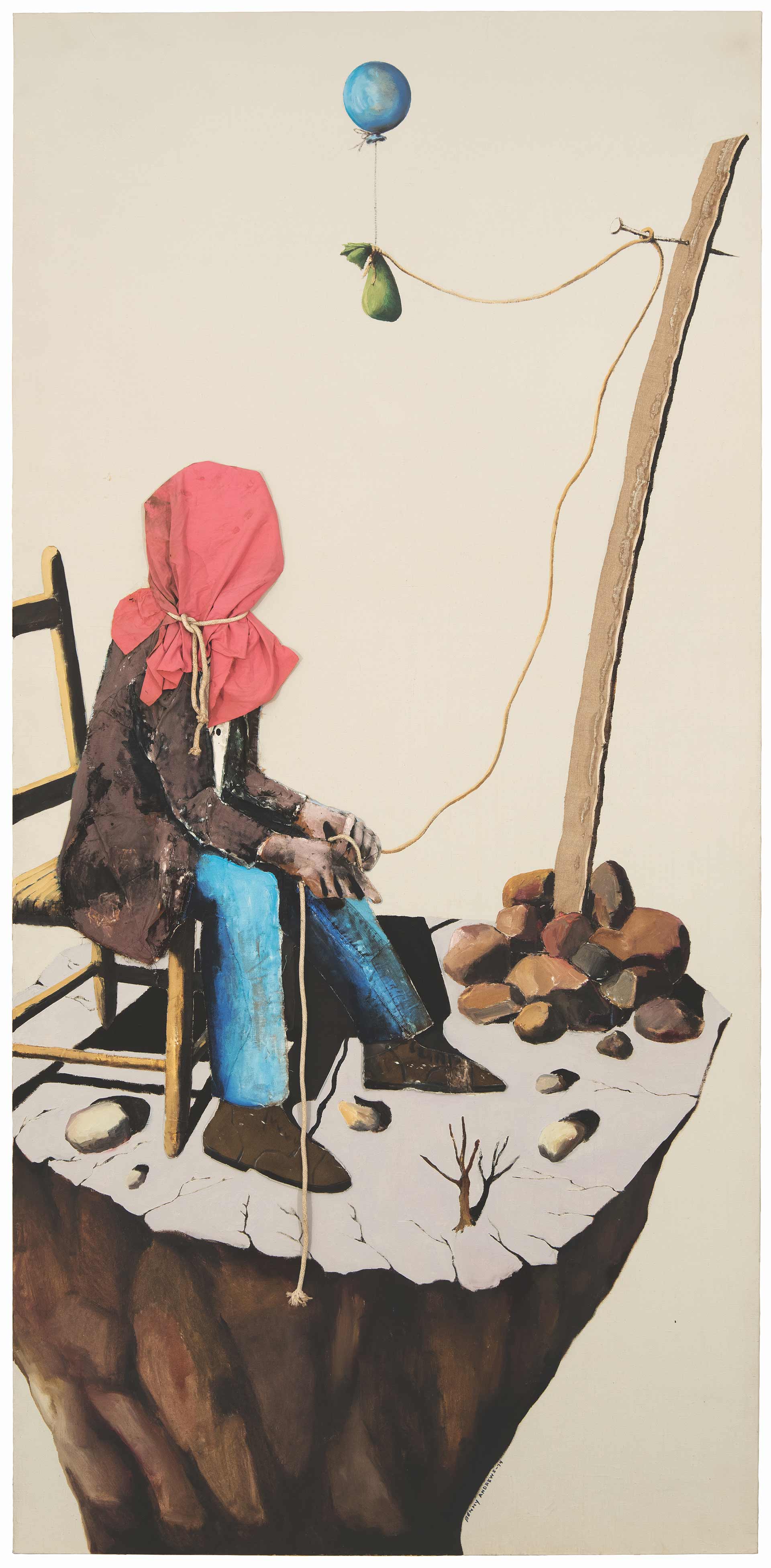 Benny Andrews
Poverty (Study #1-A for War), 1974
Oil on linen with painted fabric collage with rope
100 x 48 inches
Courtesy of Michael Rosenfeld Gallery LLC, New York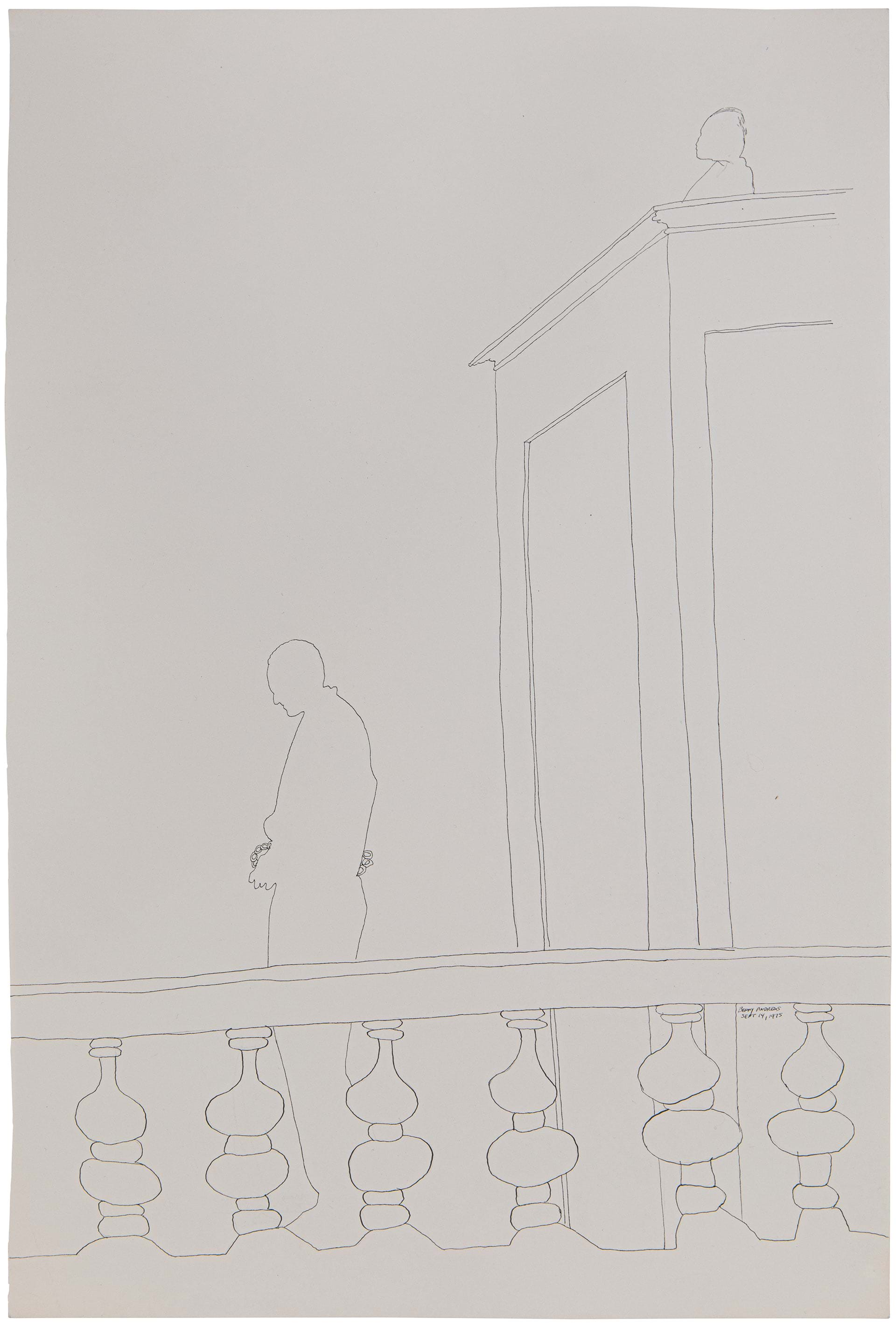 Benny Andrews
Above and Below, 1975
Pen and ink on paper
17 3/4 x 11 3/4 inches
Courtesy of Michael Rosenfeld Gallery LLC, New York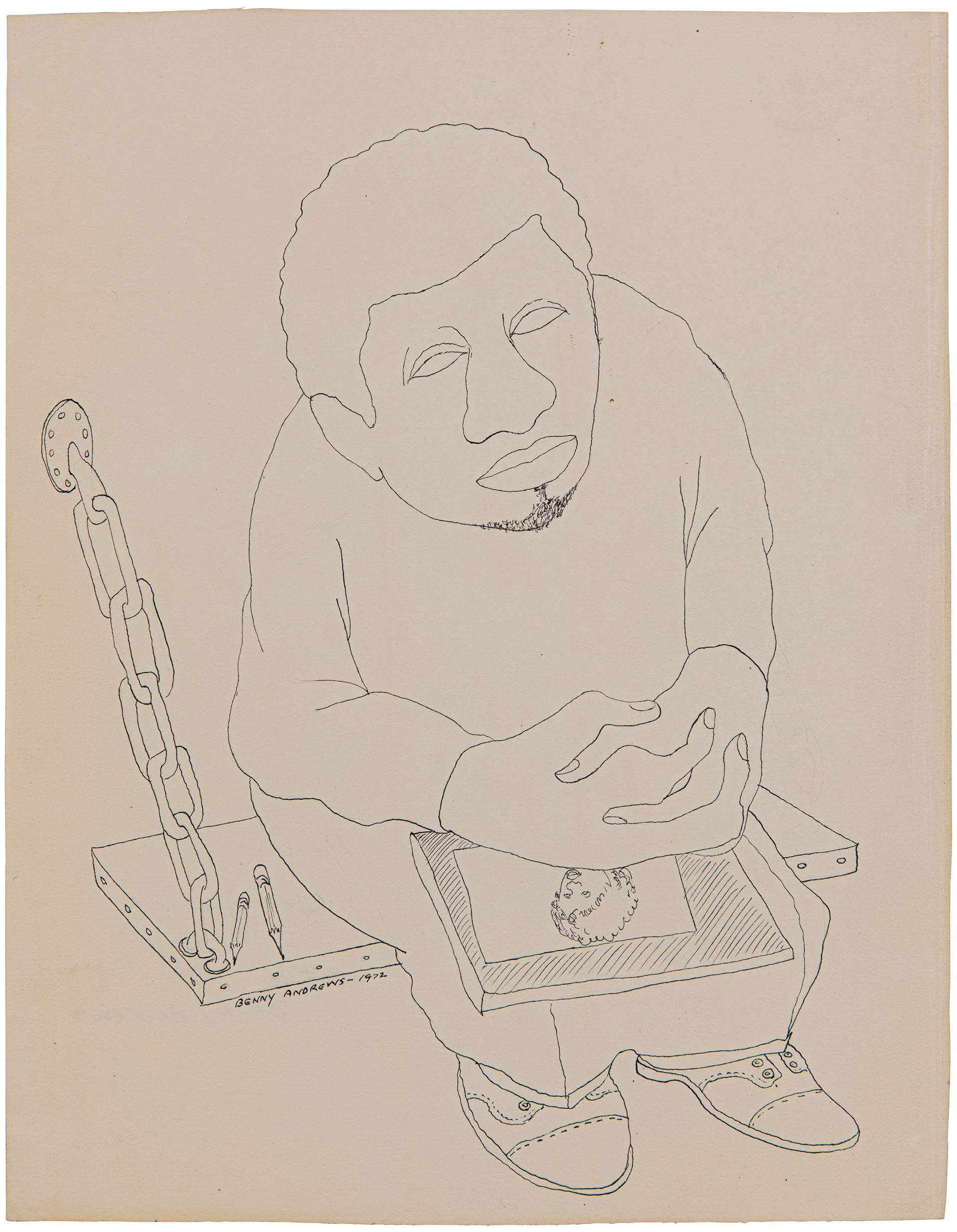 Benny Andrews
Just Thinkin', 1972
Oil on linen with painted fabric collage with rope
11 5/8 x 9 inches
Courtesy of Michael Rosenfeld Gallery LLC, New York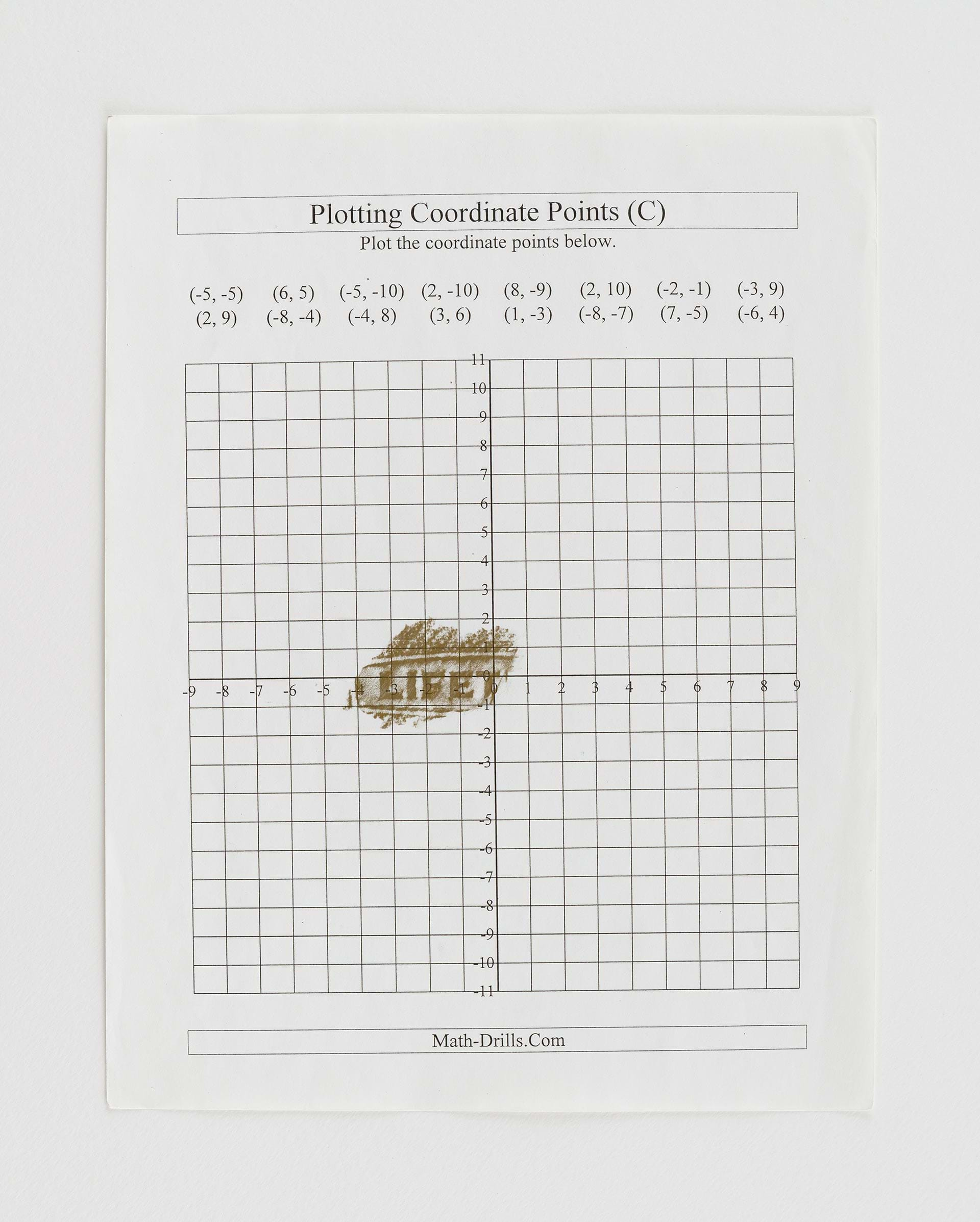 James Yaya Hough
Untitled, 2008-2016
Paper, colored pencil
11 x 8 ½ inches
Courtesy of the Artist and JTT, New York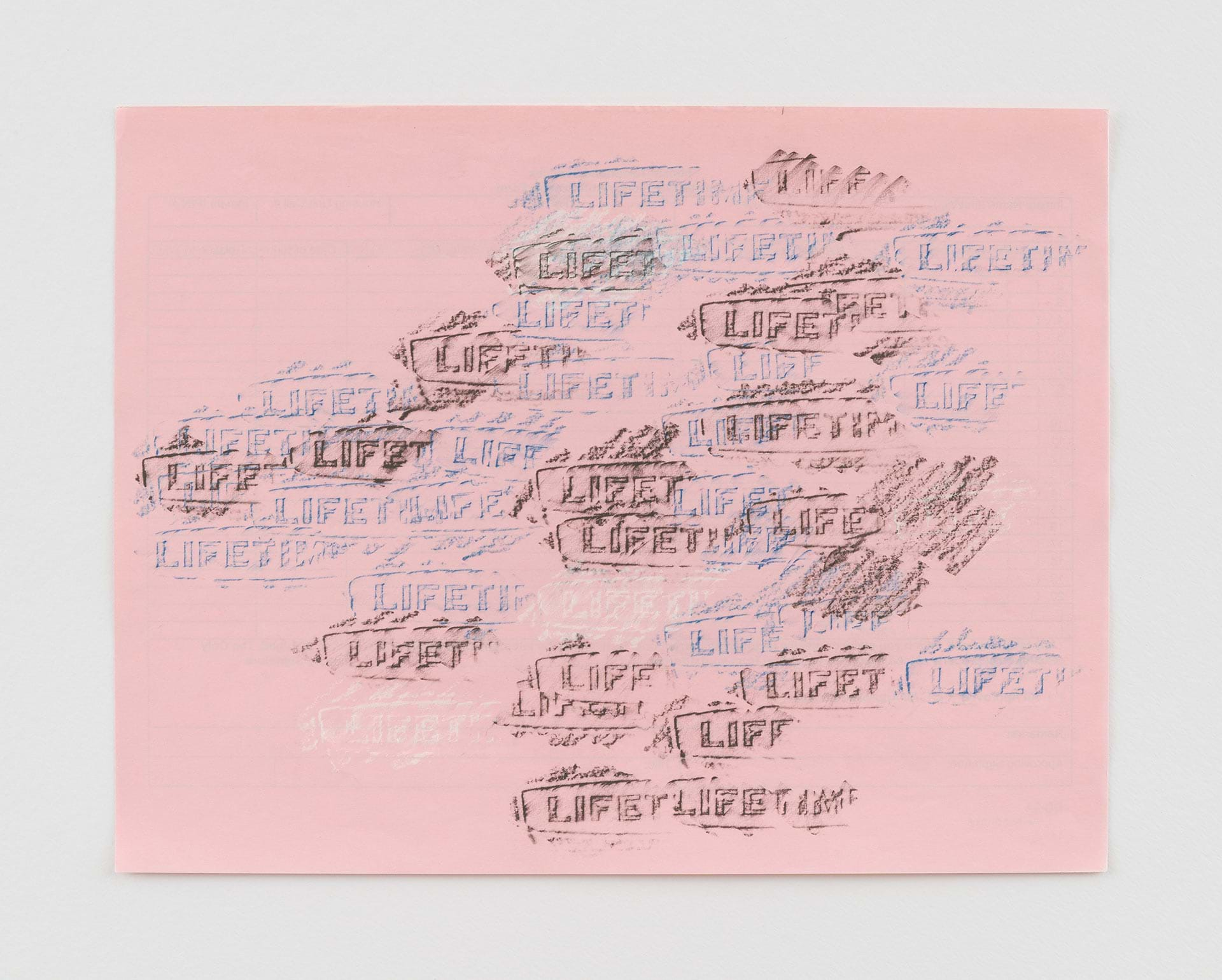 James Yaya Hough
Untitled, 2008-2016
Paper, colored pencil
8 ½ x 11 inches
Courtesy of the Artist and JTT, New York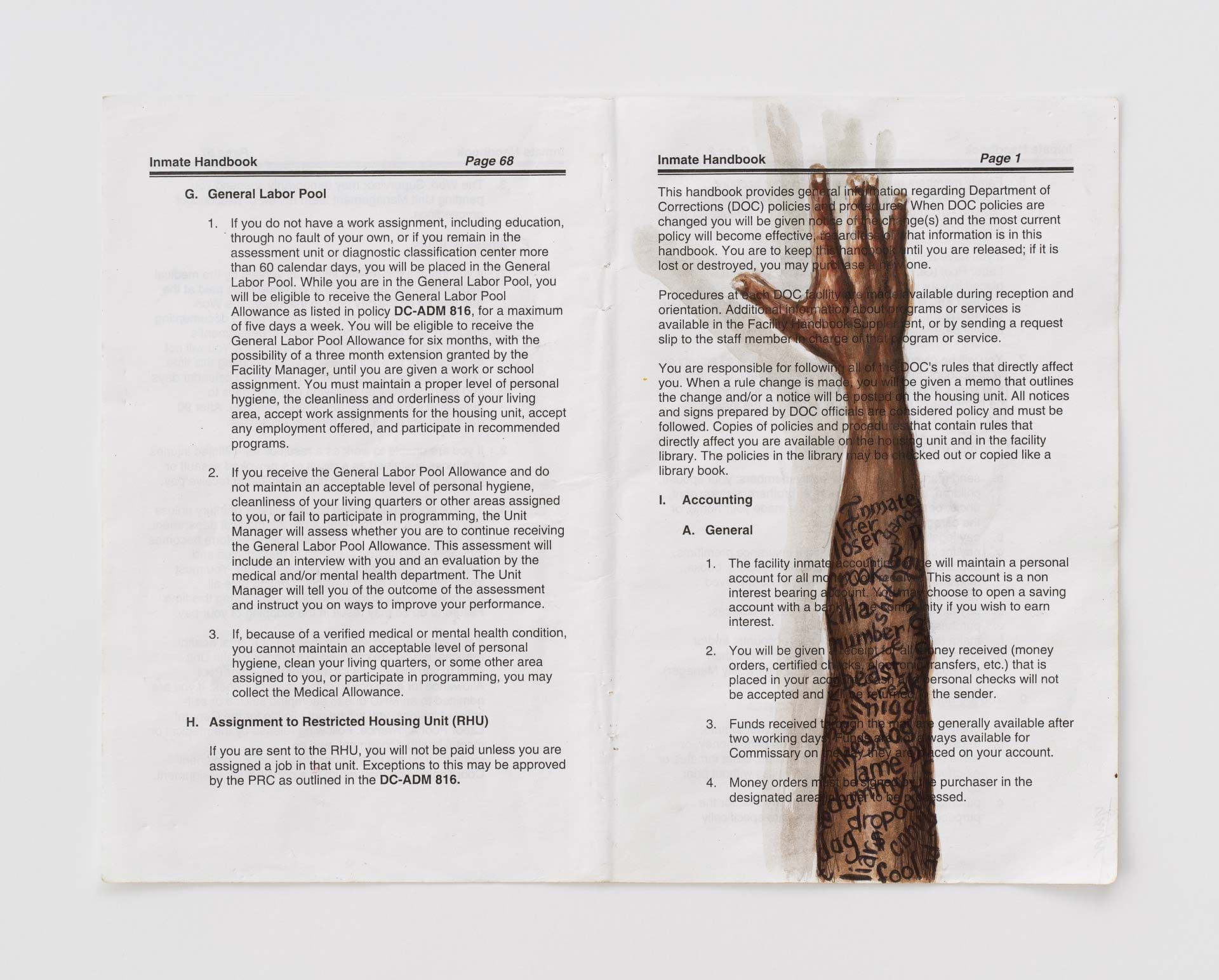 James Yaya Hough
Not Yet Titled, n.d.
Paper, ink, pencil, watercolor
8 ½ x 11 inches
Courtesy of the Artist and JTT, New York
James Yaya Hough
Untitled, 2013
Paper, ink, pencil, watercolor
8 ½ x 11 inches
Courtesy of the Artist and JTT, New York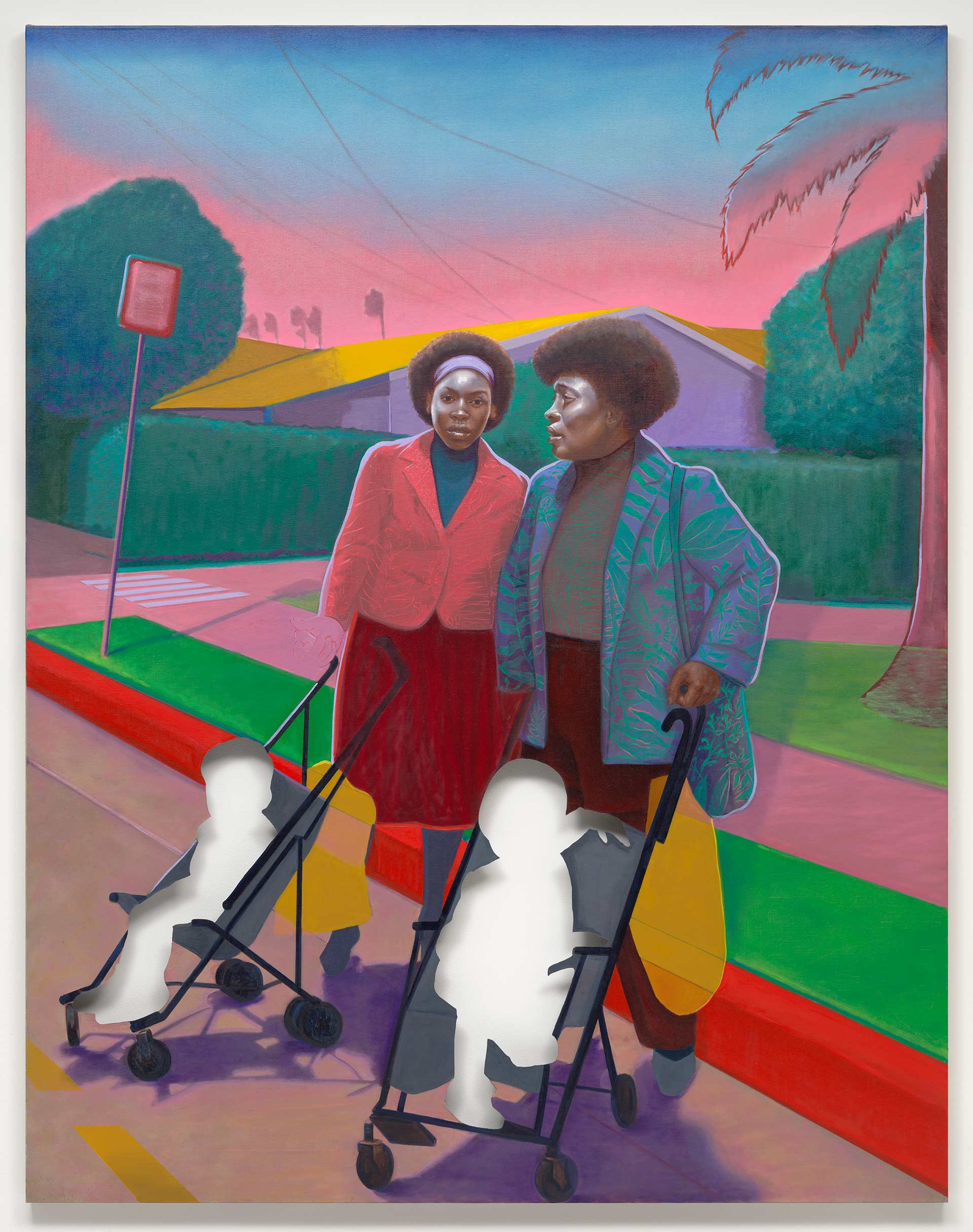 Titus Kaphar
From a Tropical Space, 2019
Oil on canvas
90 x 70 inches
Courtesy of The Museum of Modern Art, New York.
Gift of Agnes Gund in honor of Catherine Gund, 2020
Photo Credit: Digital Image © The Museum of Modern Art/Licensed by SCALA / Art Resource, NY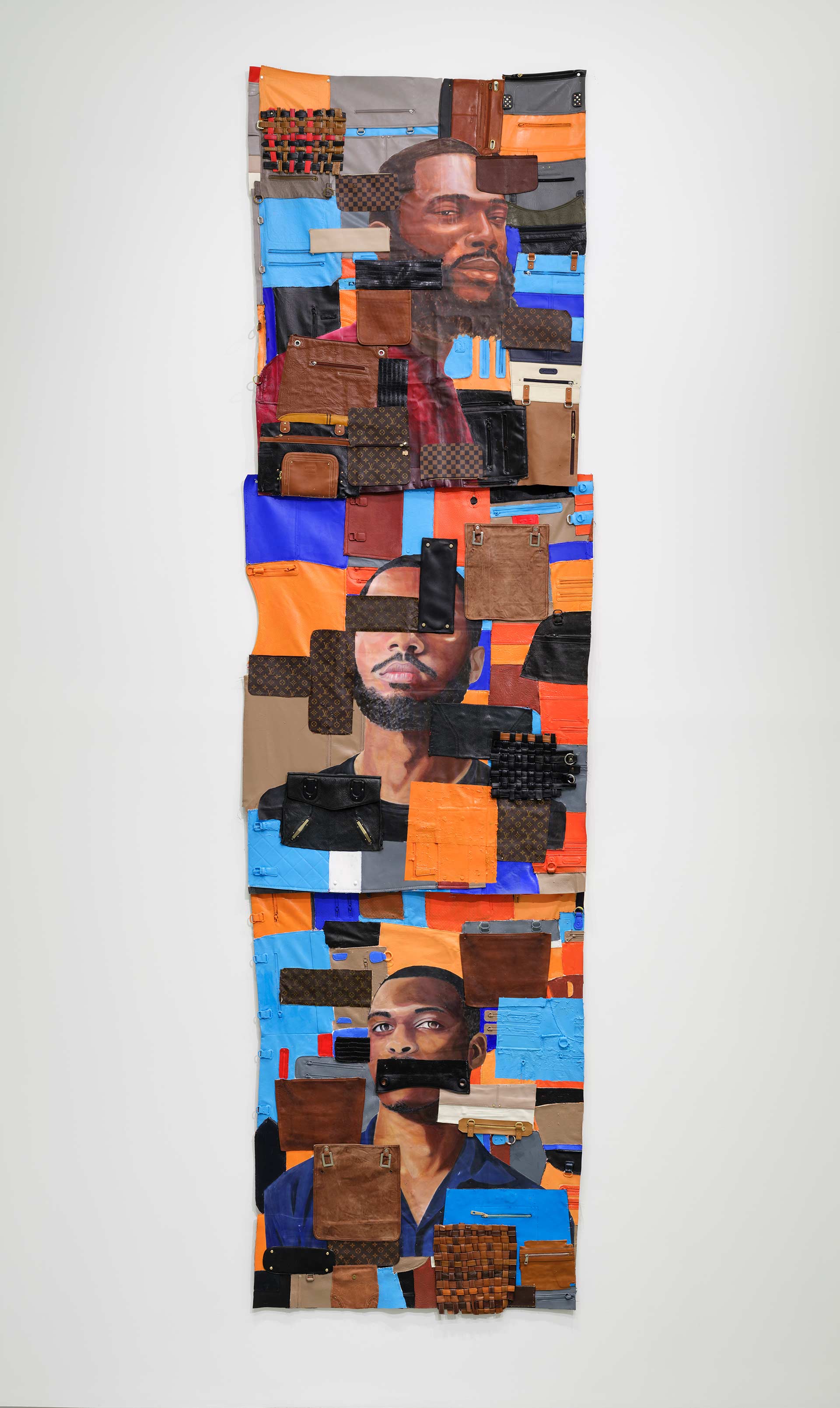 Russel Craig
Cognitive Thinking, 2023
Mixed media
15 x 5 feet
Photo: Sebastian Bach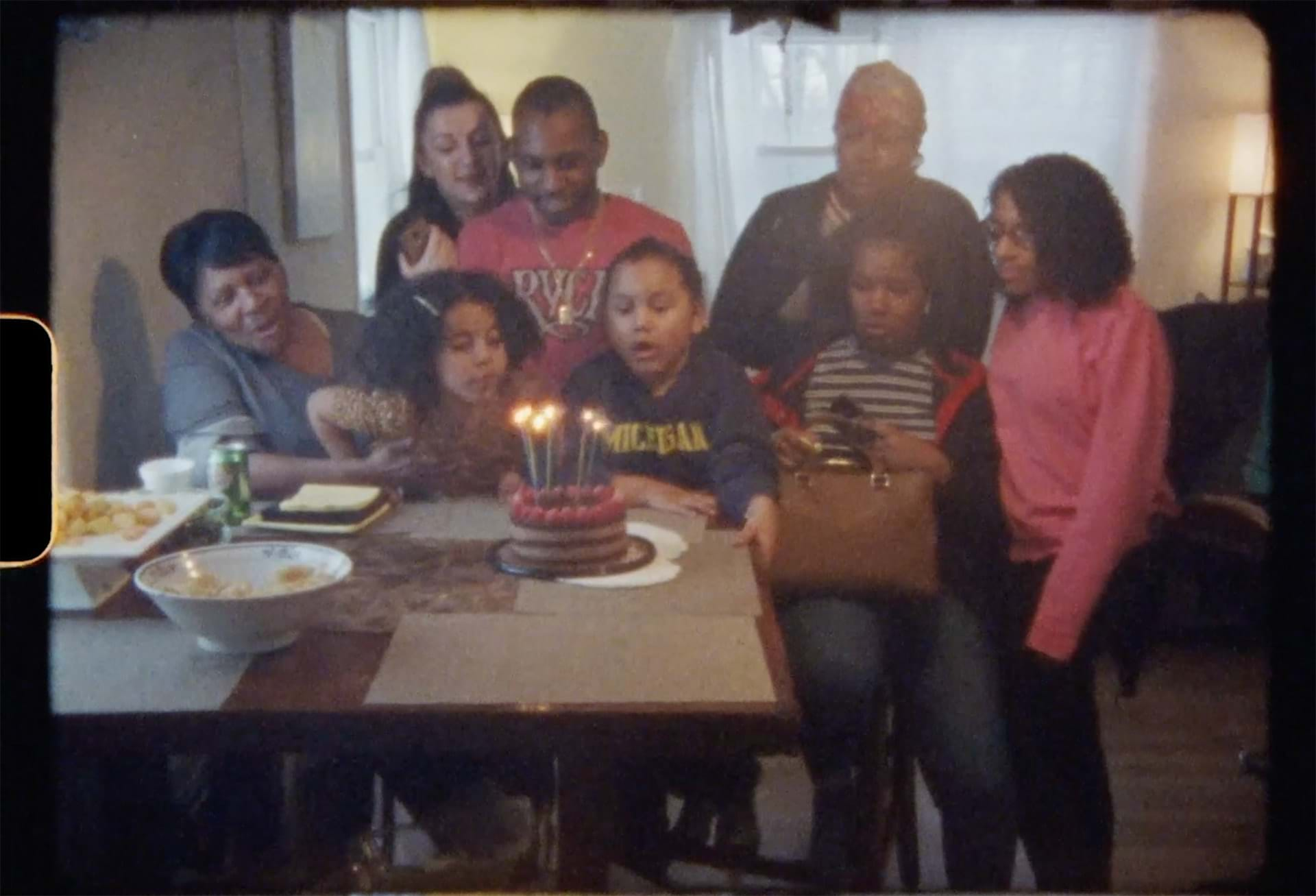 Samora Pinderhughes, Daniel Pfeffer, Lucas Monroe, Michael Barrett, and Carlos Cardona
Ithaca (Hold That Weight), 2021
Single channel digital video, 4:24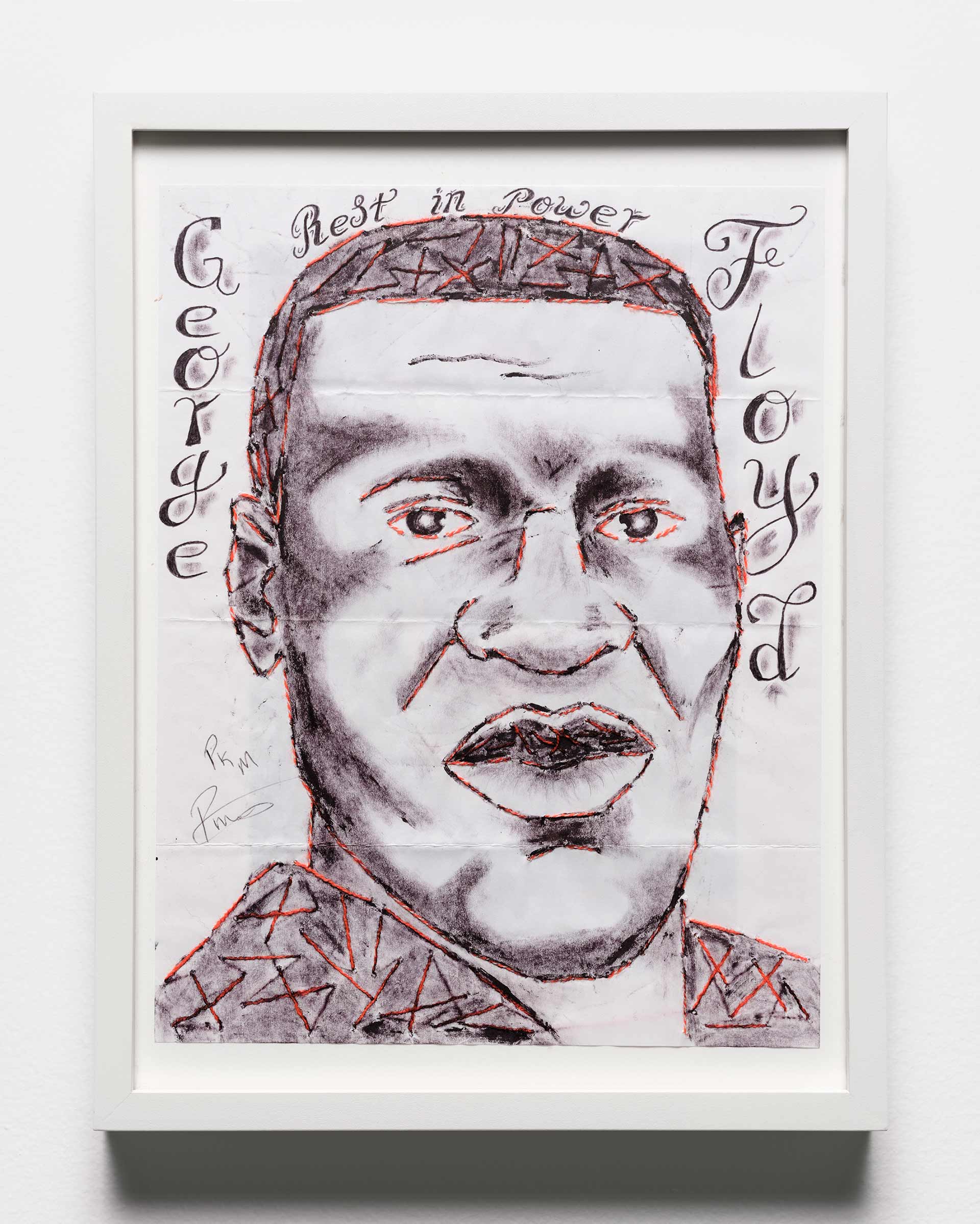 Peter Mukuria (AKA Pitt Panther)
With Love for George Floyd, 2022
Paper, pencil, string
13.25 x 10 inches
Courtesy of the Artist and Samora Pinderhughes
Photo: Sebastian Bach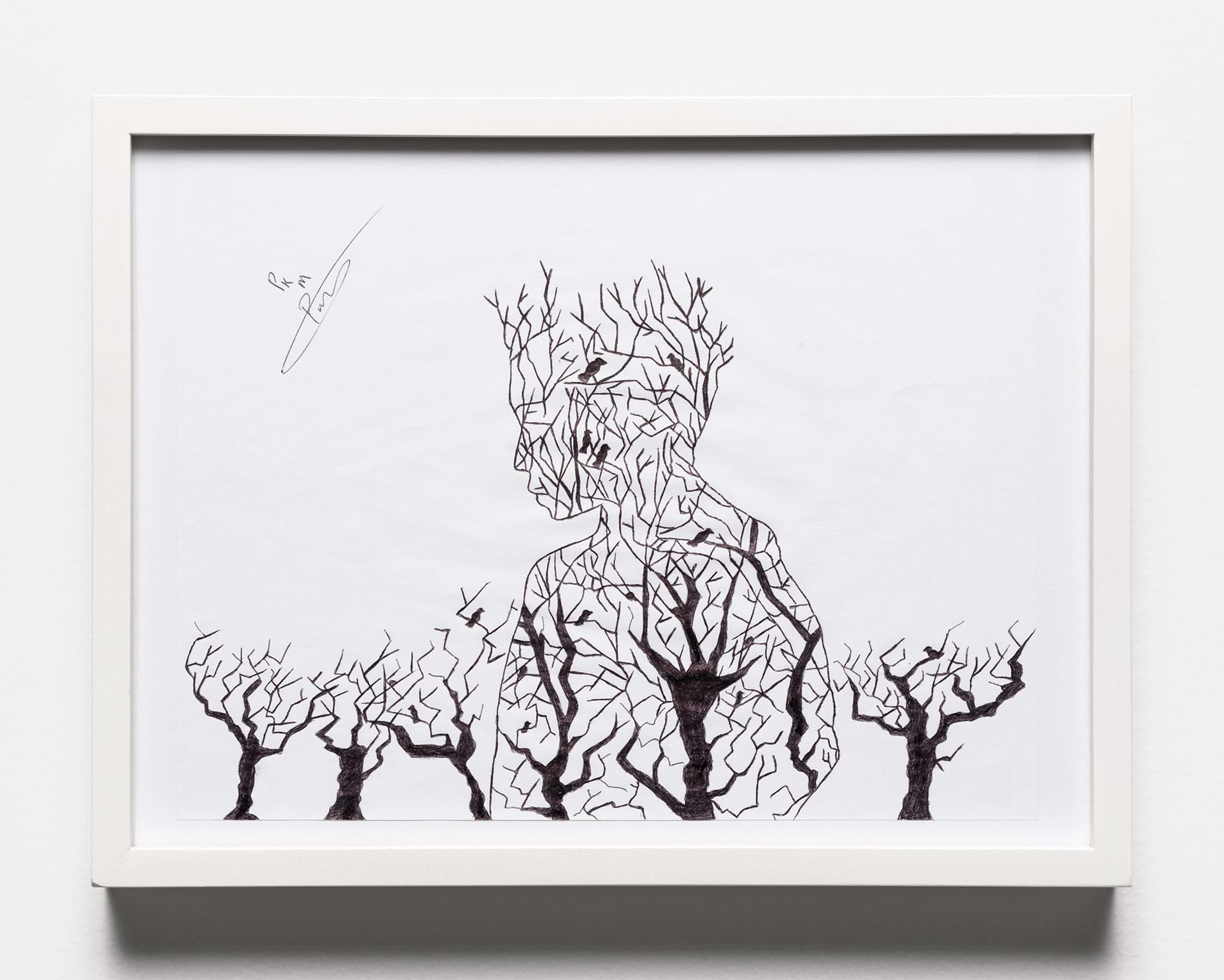 Peter Mukuria (AKA Pitt Panther)
Tree of Life in Winter, 2022
Paper, pencil, string
10 x 13.25 inches
Courtesy of the Artist and Samora Pinderhughes
Photo: Sebastian Bach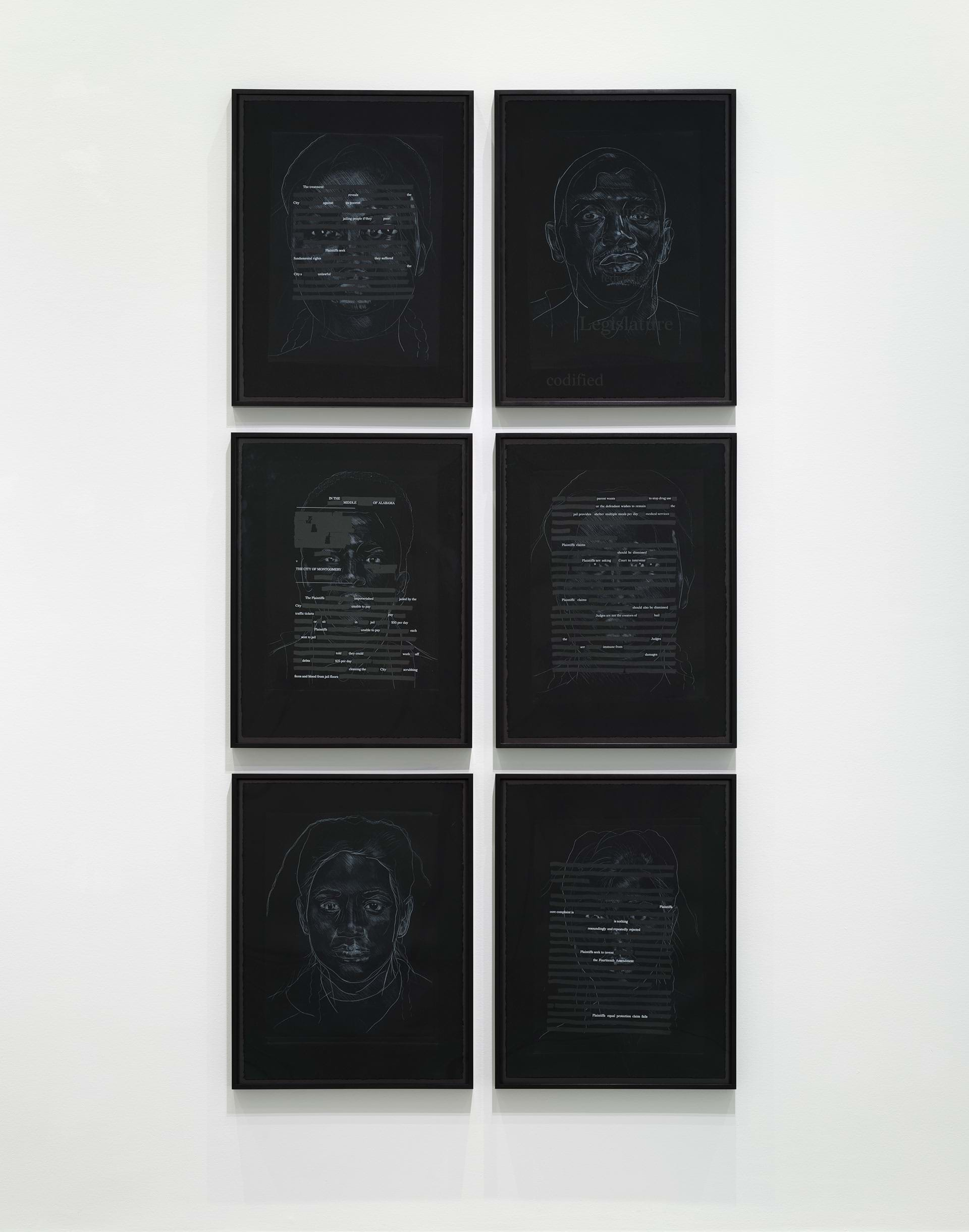 Titus Kaphar + Reginald Dwayne Betts
Untitled (Redaction), 2019
Selection of 6 from a portfolio of 50 etching and silkscreen prints on paper, in sapele, sapele pommele, and MDF box, finished with hardwax oil
30 x 22 inches each
Photo: Sebastian Bach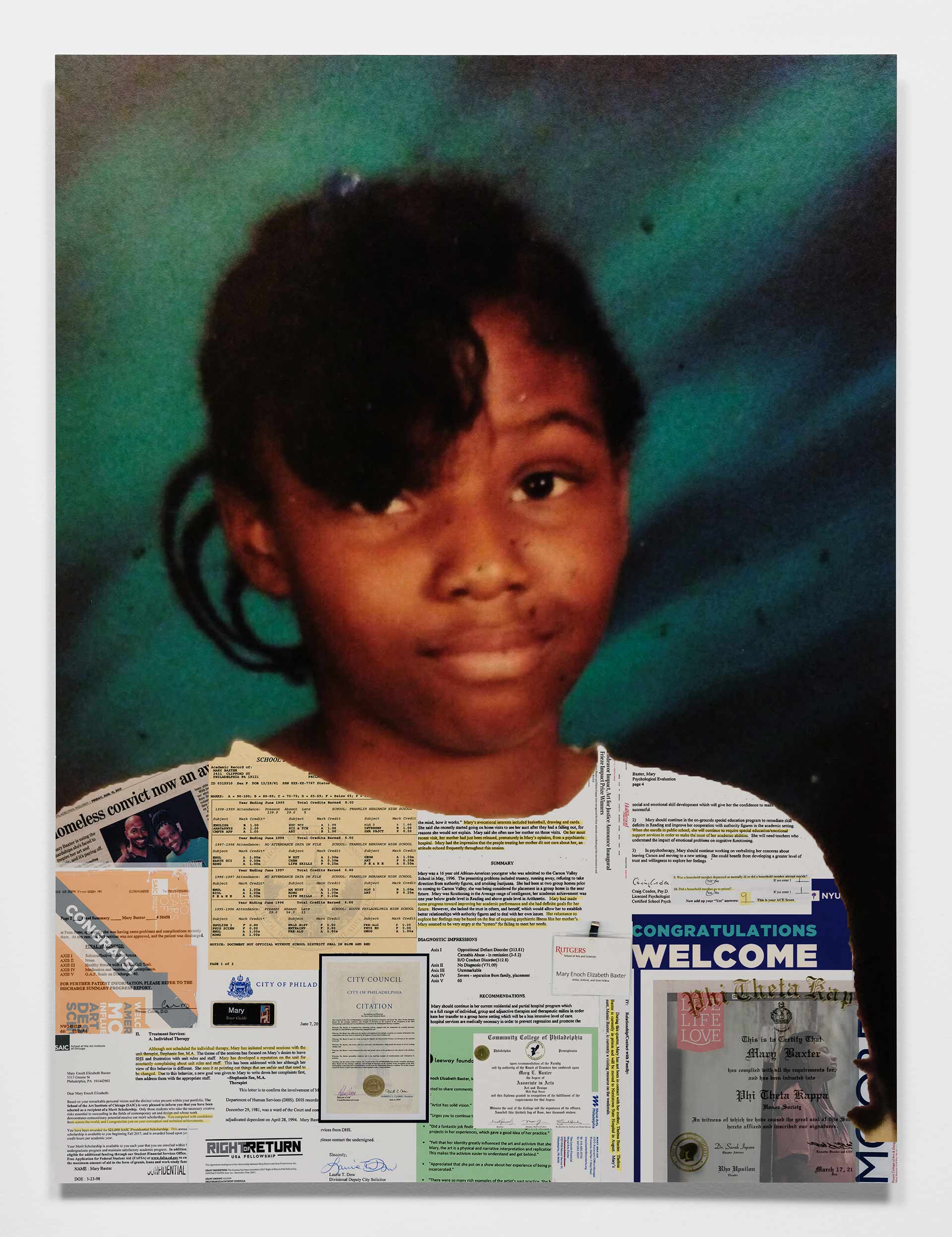 Mary Enoch Elizabeth Baxter
A Gifted Child, 2023
Metallic giclée
48 x 36 inches
Photo: Sebastian Bach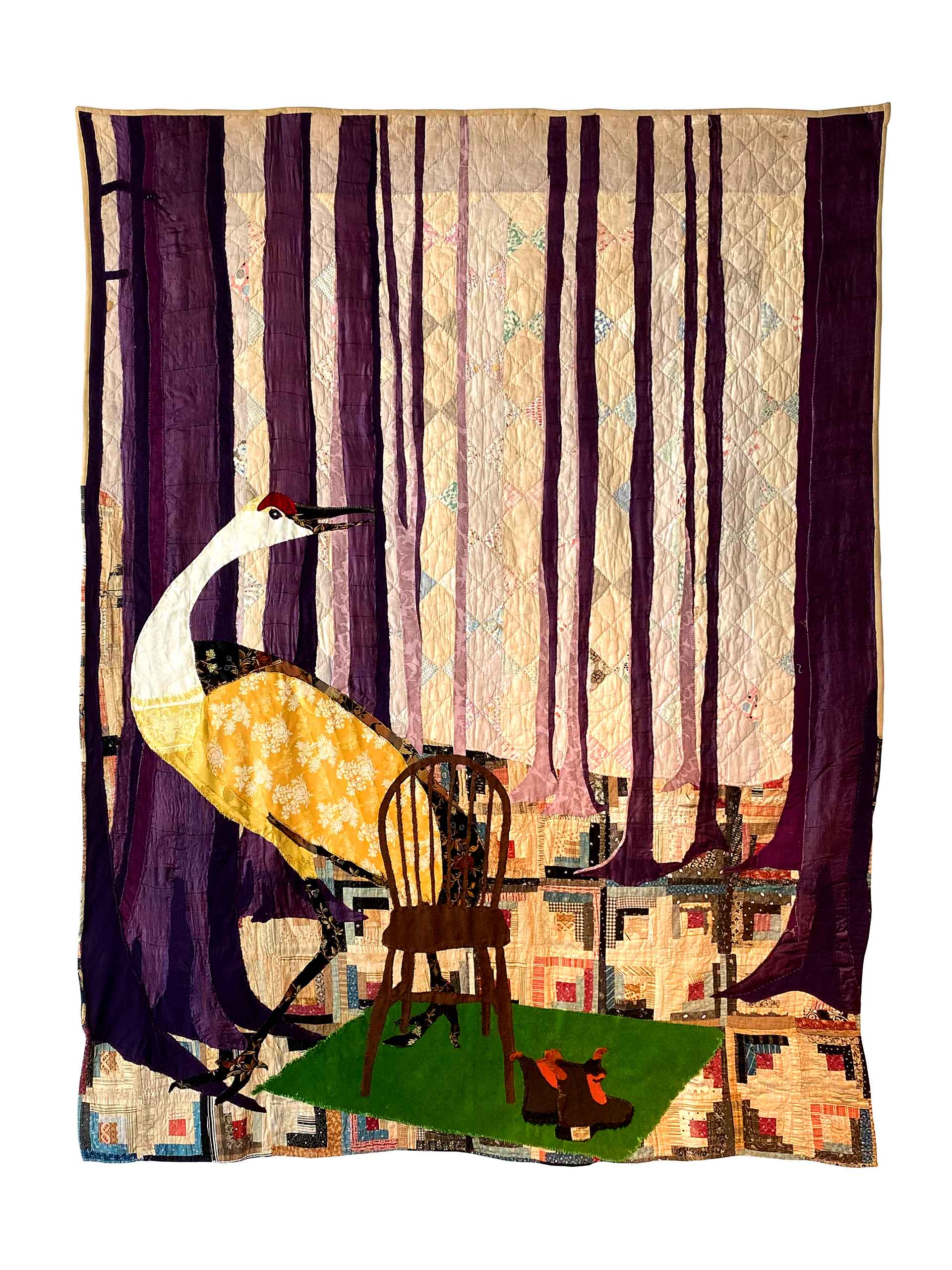 Jesse Krimes
Marion, 2021
Antique quilt, used clothing collected from incarcerated people, assorted textiles
88 x 72 inches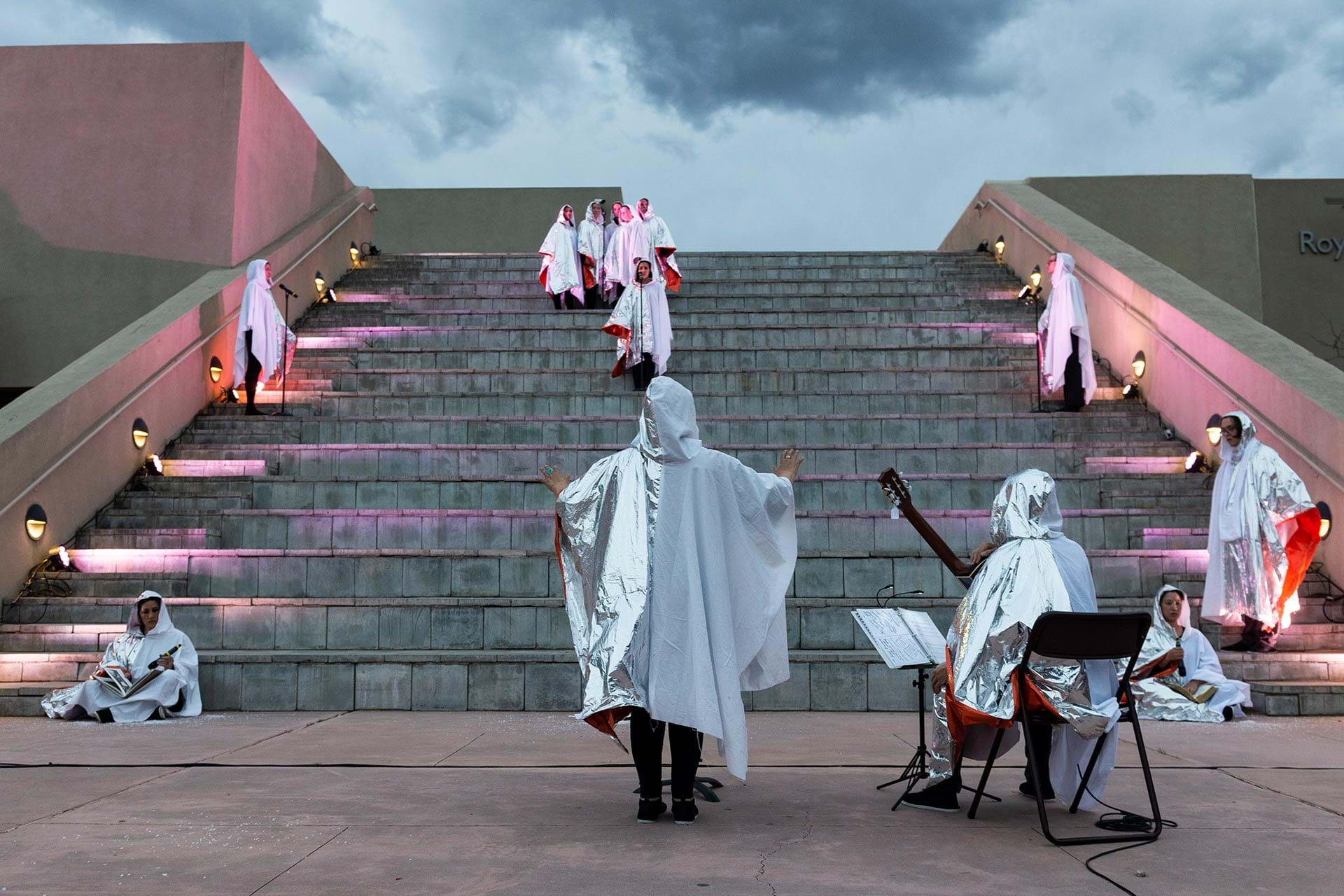 Szu-Han Ho
MIGRANT SONGS, 2019
Choral performance video, 1:02:53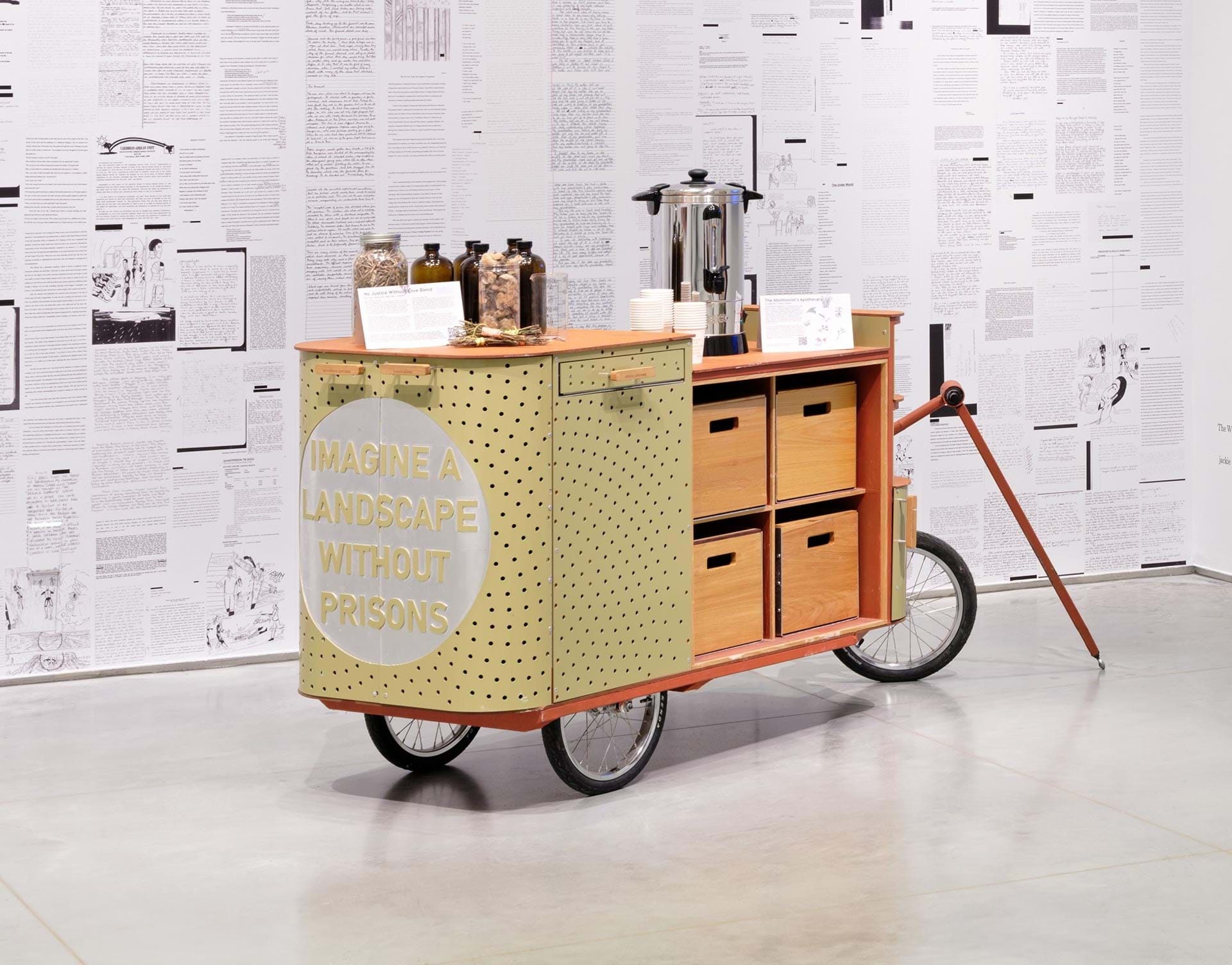 Jackie Sumell
Abolitionist's Apothecart, 2021
Social Practice
Dimensions variable
Photo: Sebastian Bach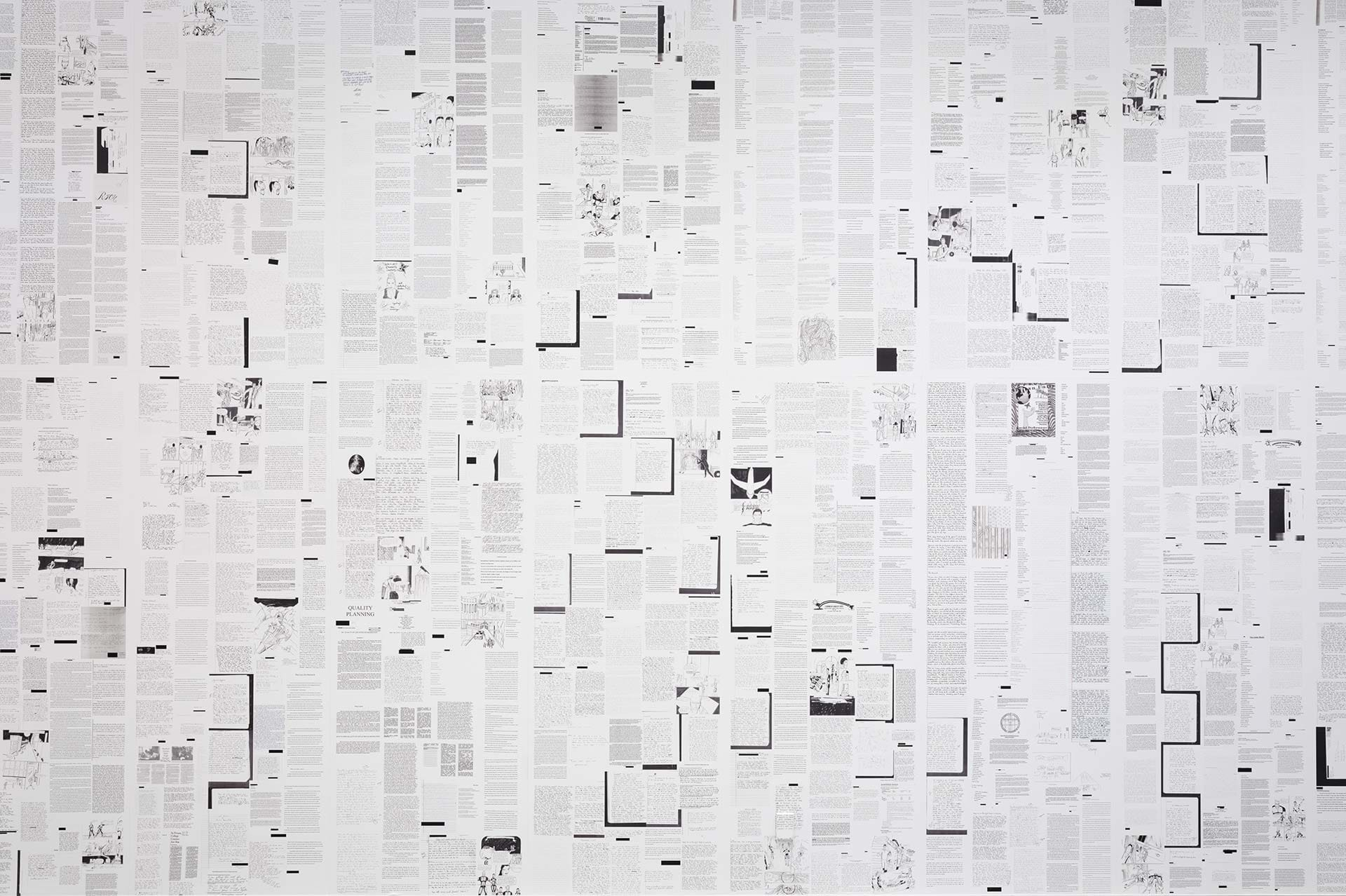 The Writing on the Wall
The Writing on the Wall, 2019 – ongoing
Site specific photo vinyl installation
Photo: Sebastian Bach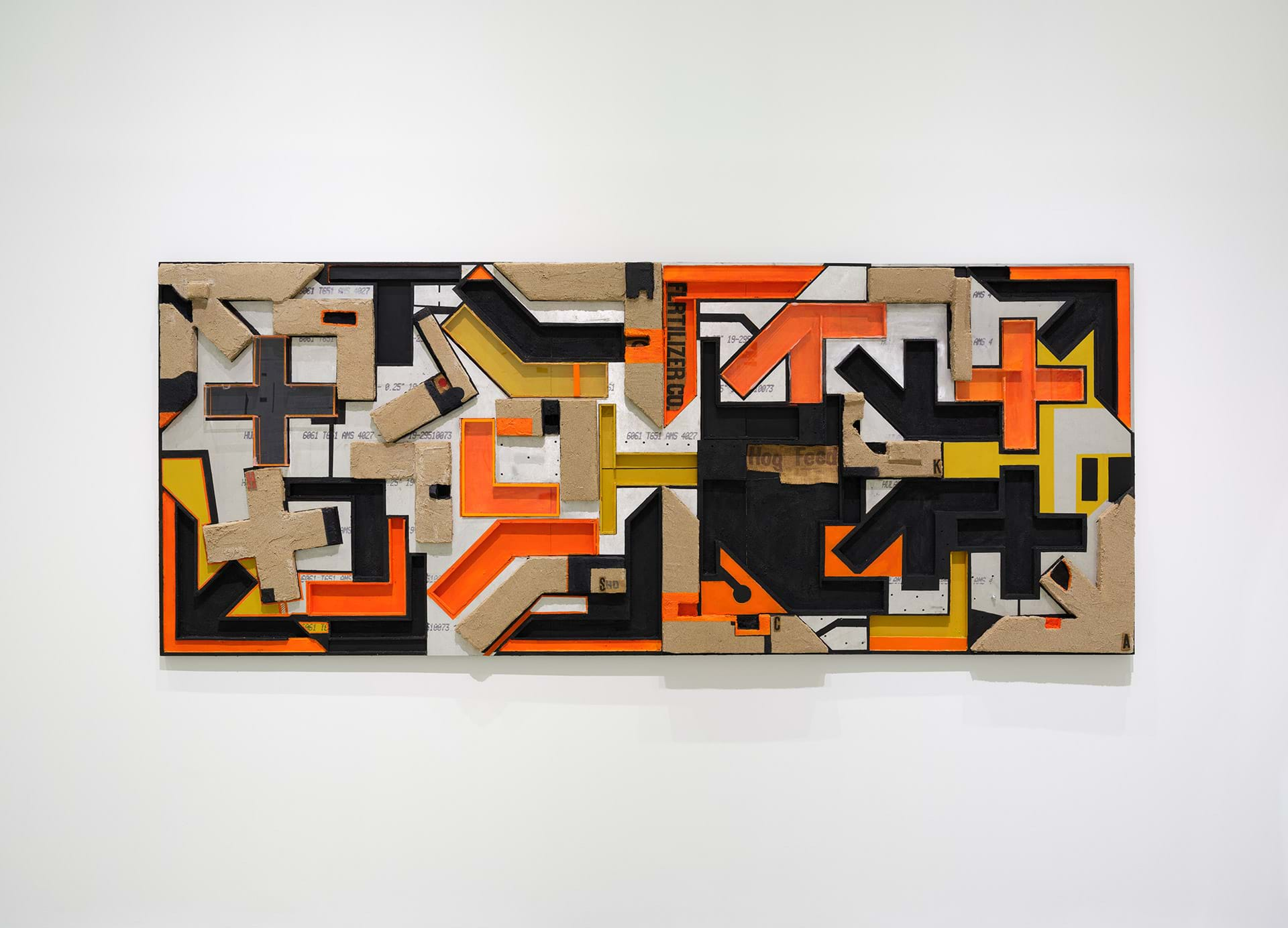 Jared Owens
FBOP (Federal Bauhaus of Prisons), 2022
Wood, aluminum, acrylic, foam, burlap pig feed sack, soil from prison yard at F.C.I. Fairton
48 x 122 x 2 ½ inches
Photo: Sebastian Bach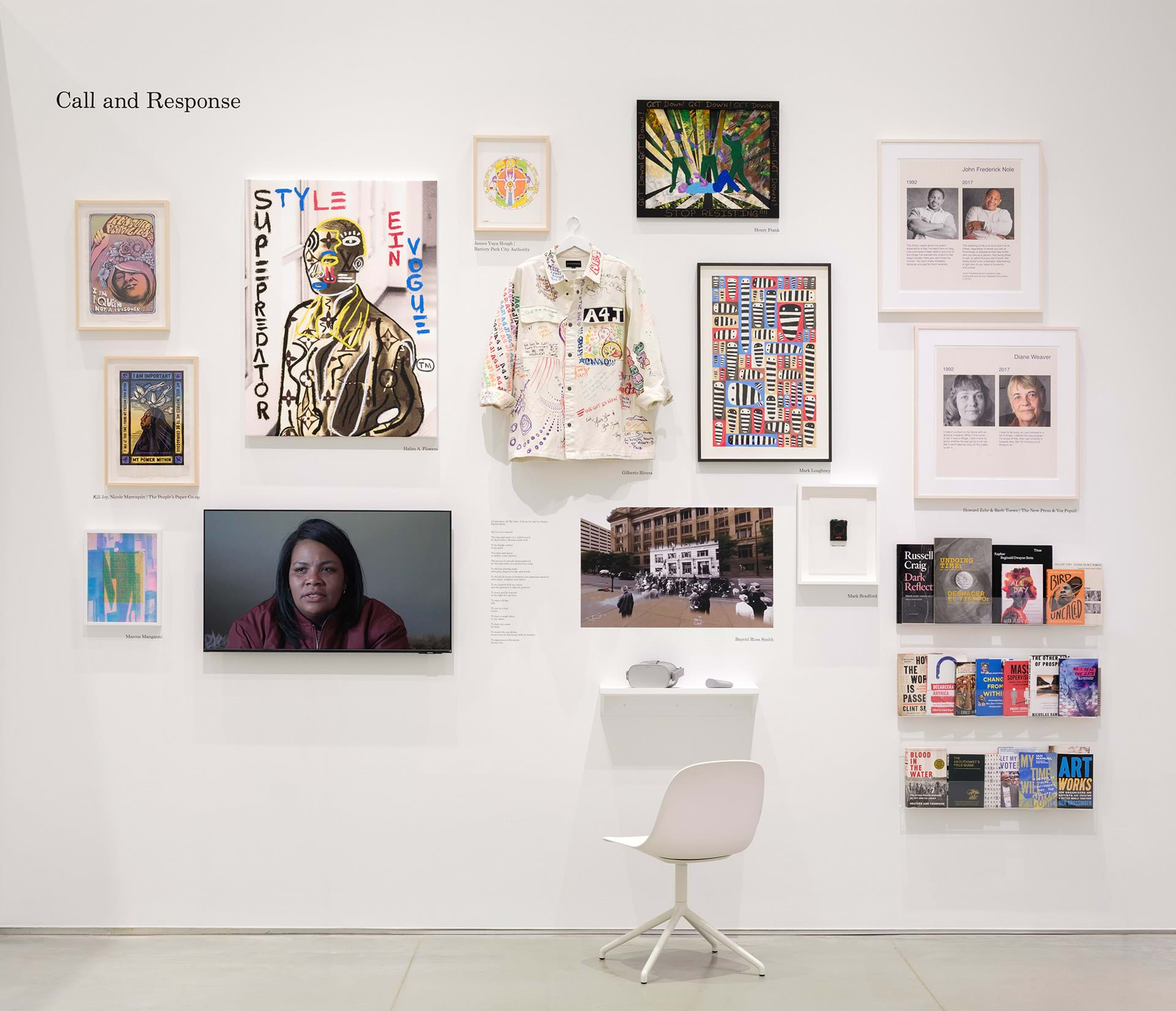 Art for Justice Fund
Call and Response, 2023
Various media
Go to the website to view the entire archive: A4J-callandresponse.com
Photo: Sebastian Bach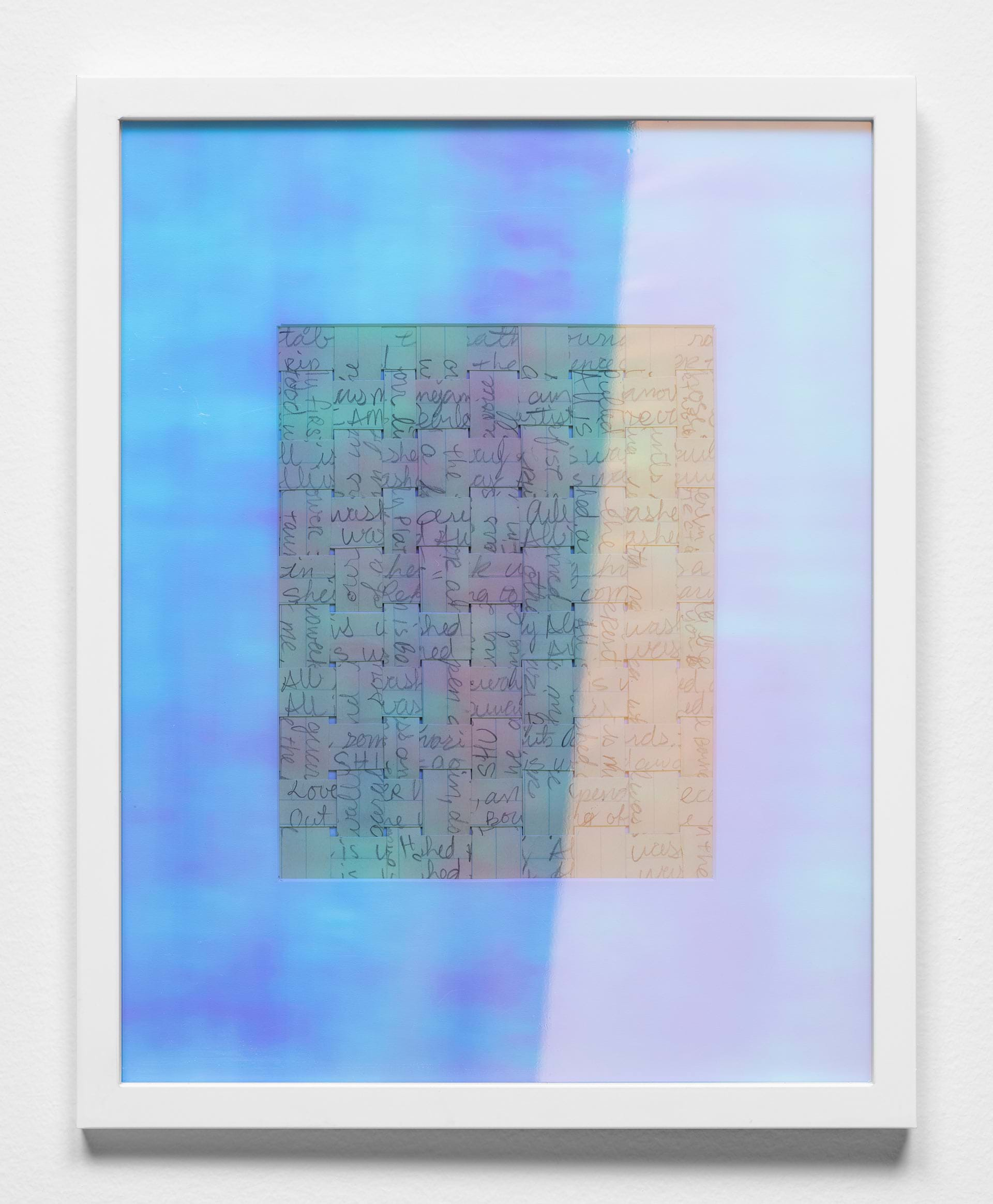 Marcus Manganni
A LOVE BELOW, 2015-2023
Dichroic vinyl, letter to self from prison
14 ½ x 11 ⅝ x 1 ½ inches
Photo: Sebastian Bach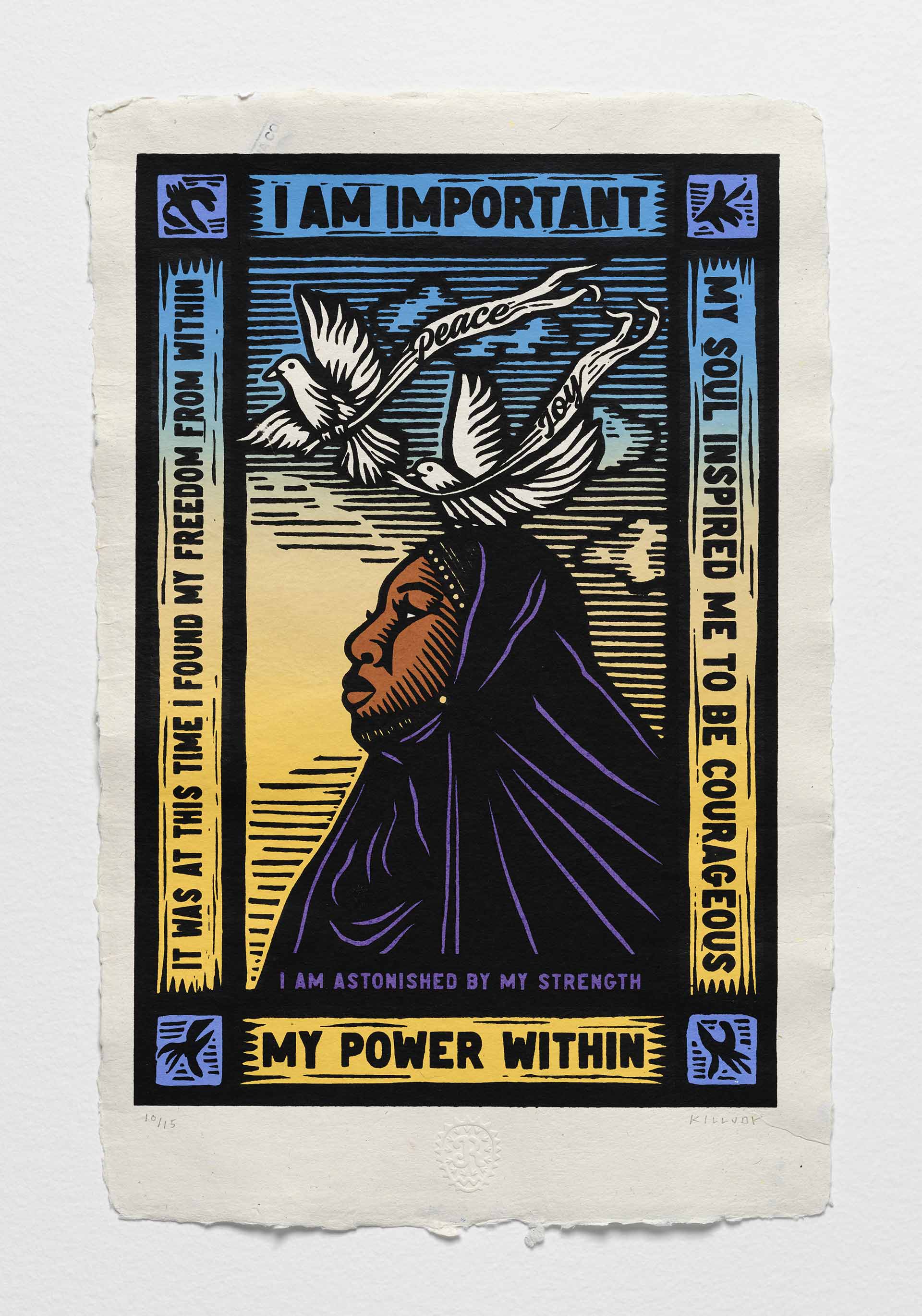 The People's Paper Co-Op in Collaboration with Kill Joy and PPC Fellows: Faith Bartley, Nashae Cooper, Tinika Hogan, Ivy Johnson, Janaya Pulliam
My Power Within, 2021
Screen print on handmade paper created from criminal records
17 x 11 inches
Courtesy of The People's Paper Co-op
Photo: Sebastian Bach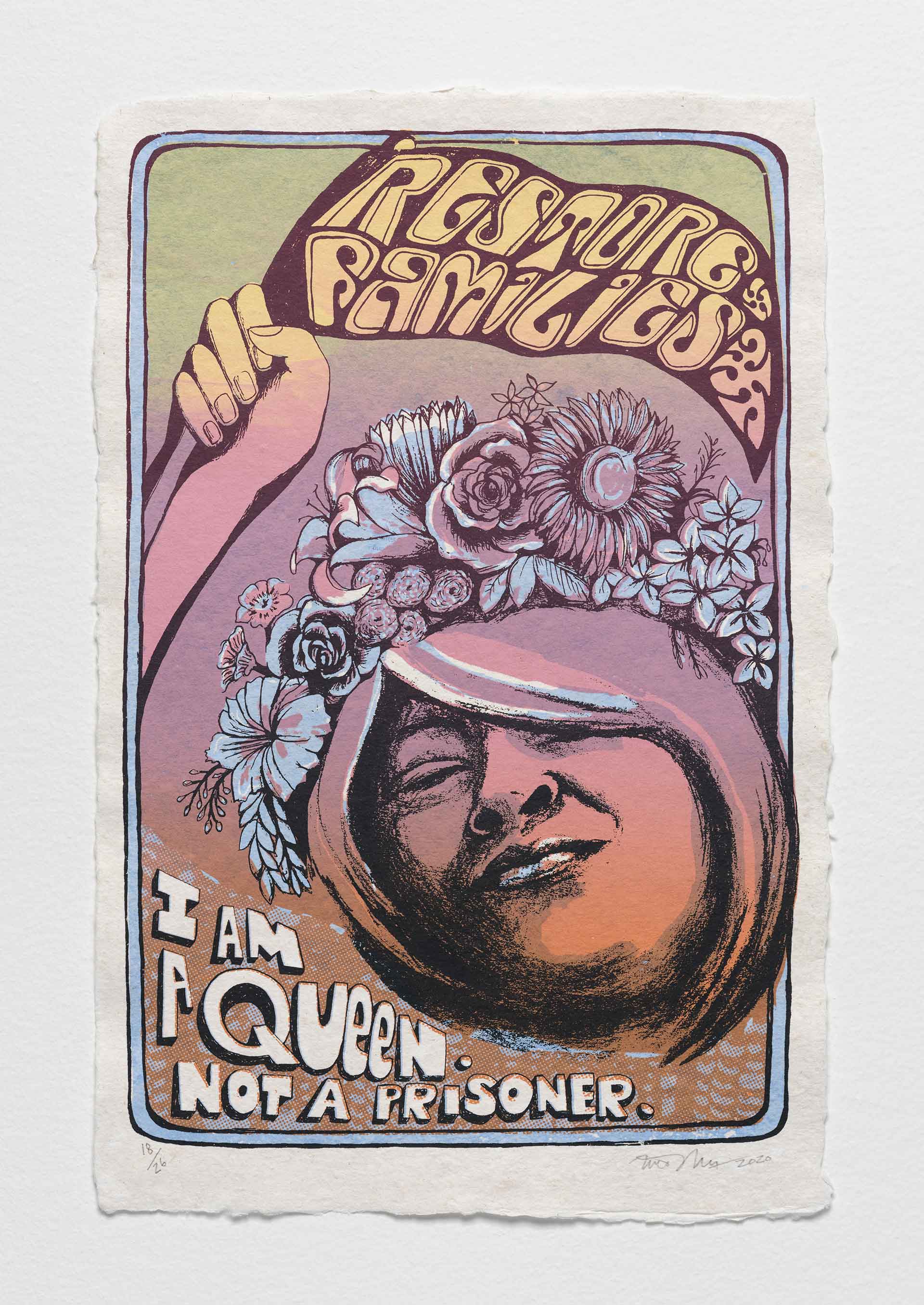 The People's Paper Co-Op in Collaboration with Nicole Marroquin and PPC Fellows: Aesha Barnett, Faith Bartley, Latyra Blake, Jamila Harris, Veronica Rex, Lisa Shorter
I Am A Queen Not A Prisoner, 2020
Screen print on handmade paper created from criminal records
17 x 11 inches
Courtesy of The People's Paper Co-op
Photo: Sebastian Bach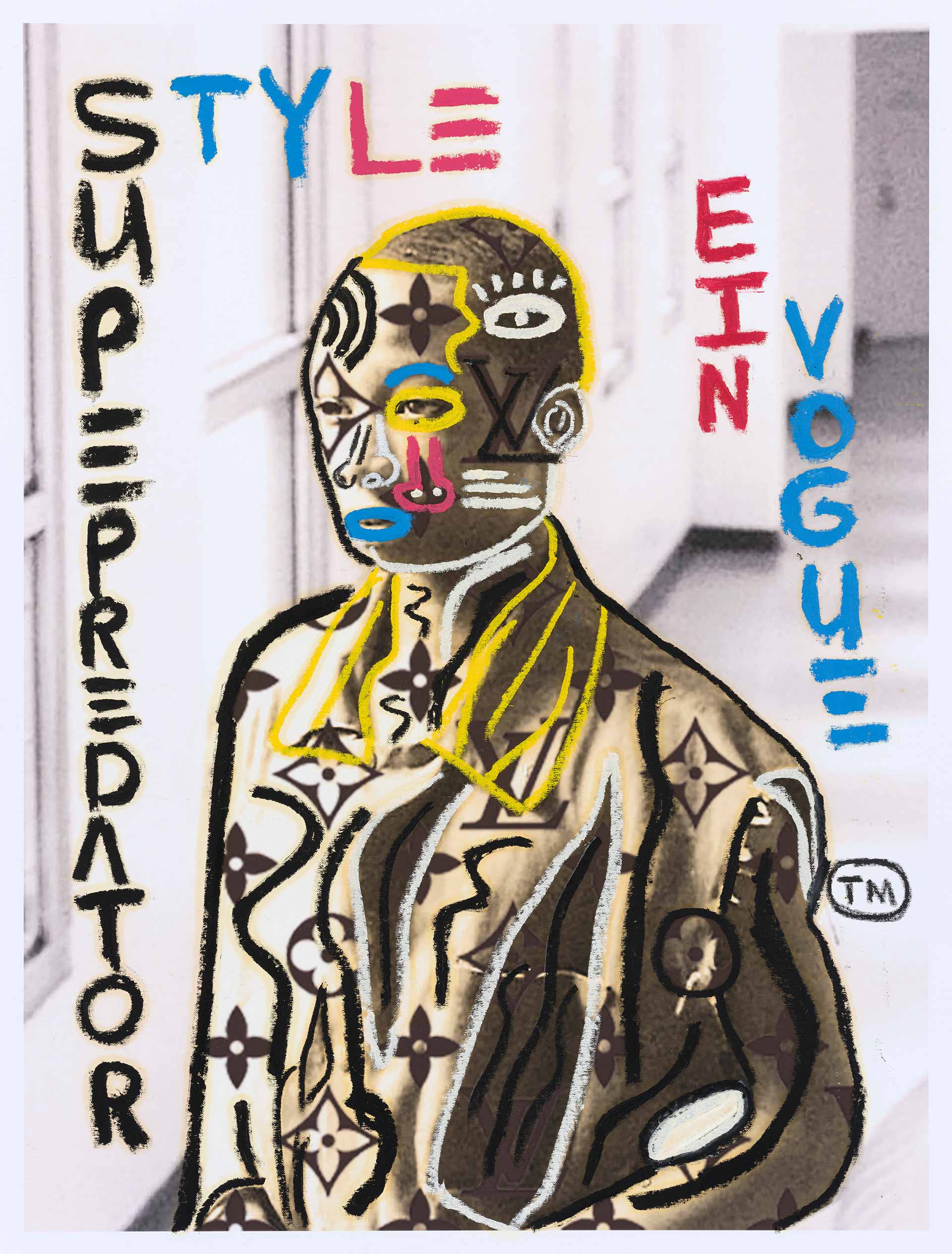 Halim A. Flowers
Fit For Punishment (4 of 7), 2021
Mixed media on canvas
39 ⅜ x 29 ½ x 1 ⅝ inches
Photo: Sebastian Bach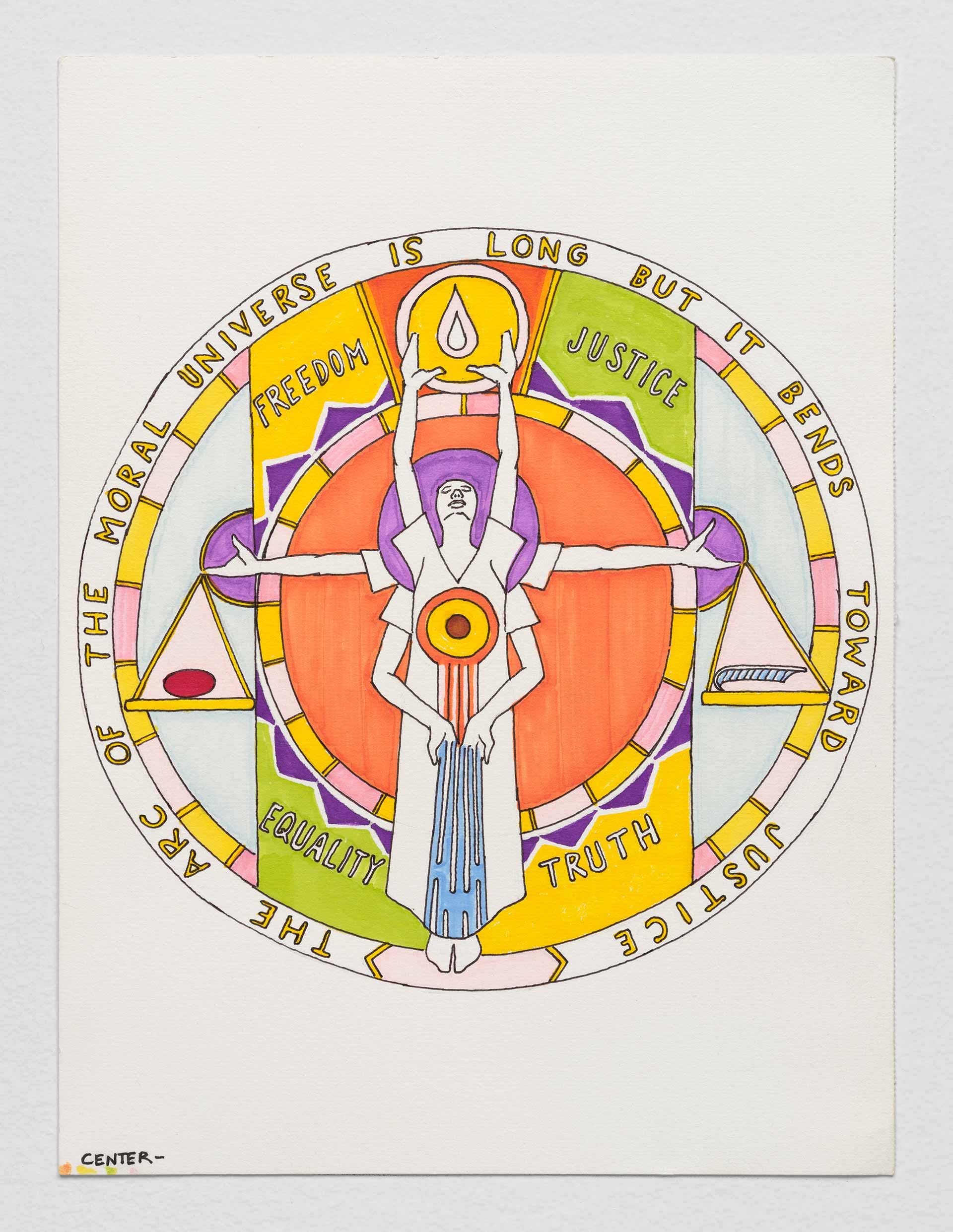 Battery Park City Authority
James Yaya Hough
Study for Justice Reflected (center panel), 2021
Ink on paper
12 x 9 inches
Courtesy of Battery Park City Authority
Photo: Sebastian Bach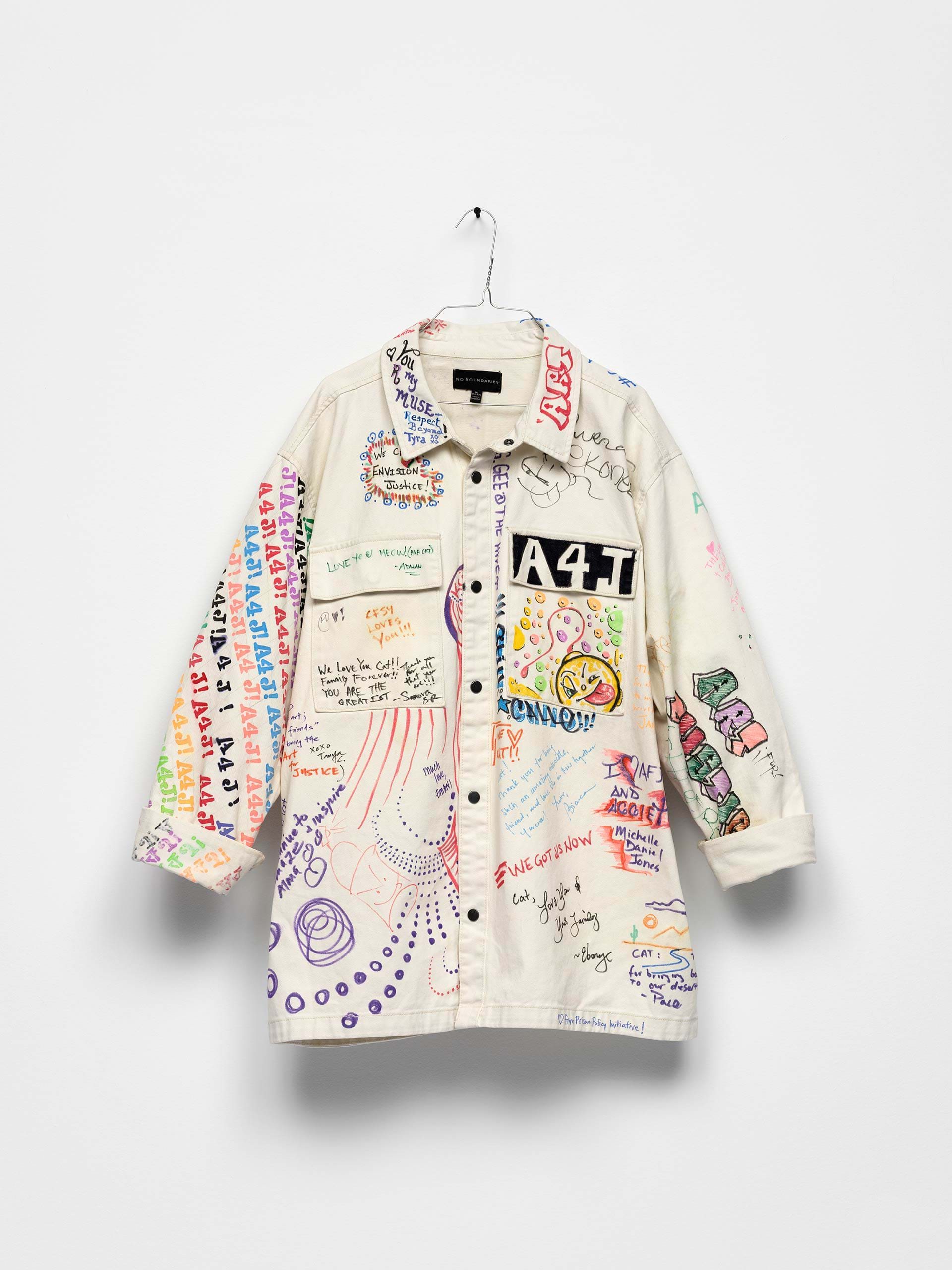 Gilberto Rivera
Untitled, 2023
Ink, marker, and paint on cotton canvas jacket
34 ½ x 30 x 4 inches
Photo: Sebastian Bach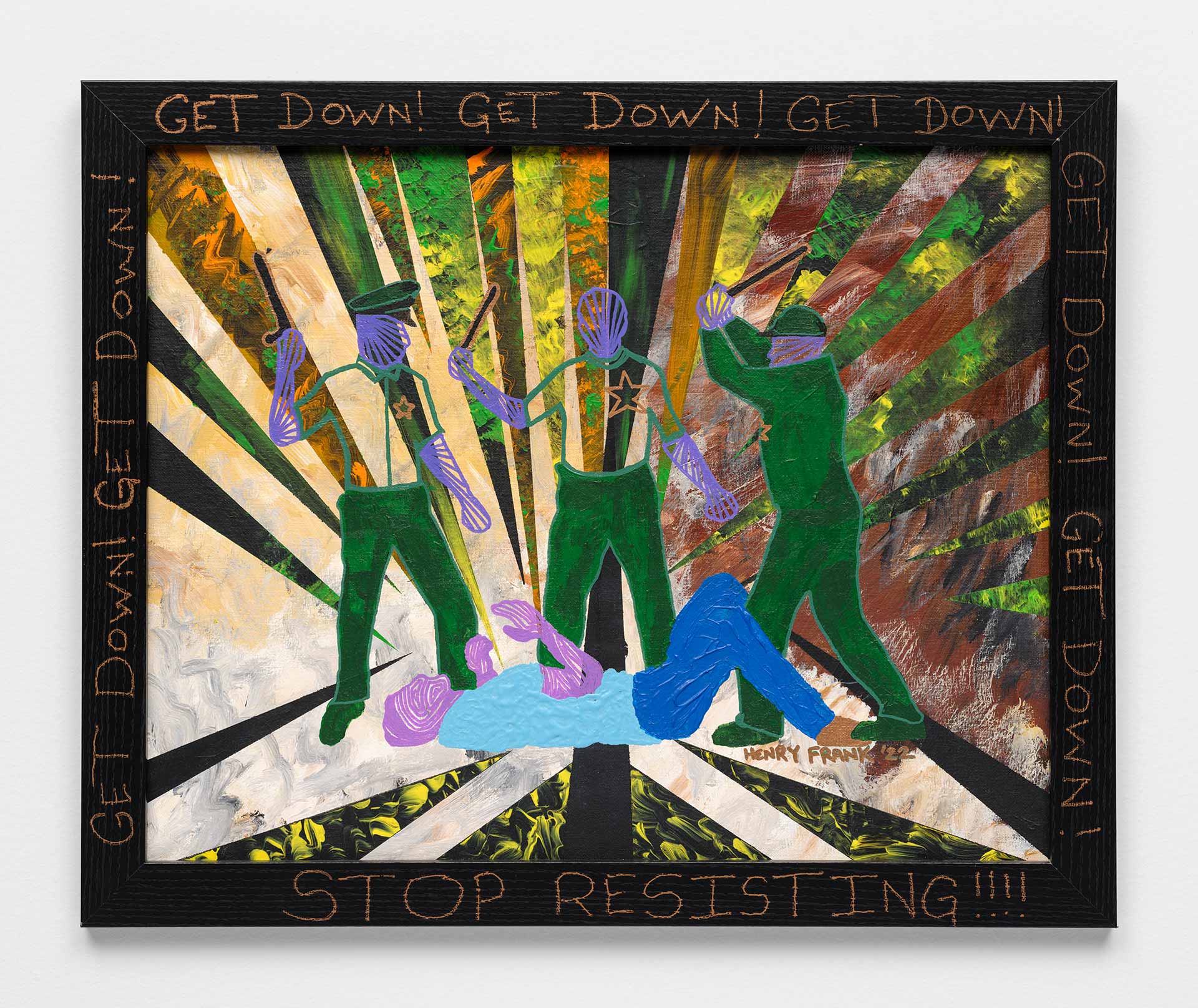 Henry Frank
Get Down, 2022
Acrylic
18 ½ x 22 x 1 inches
Photo: Sebastian Bach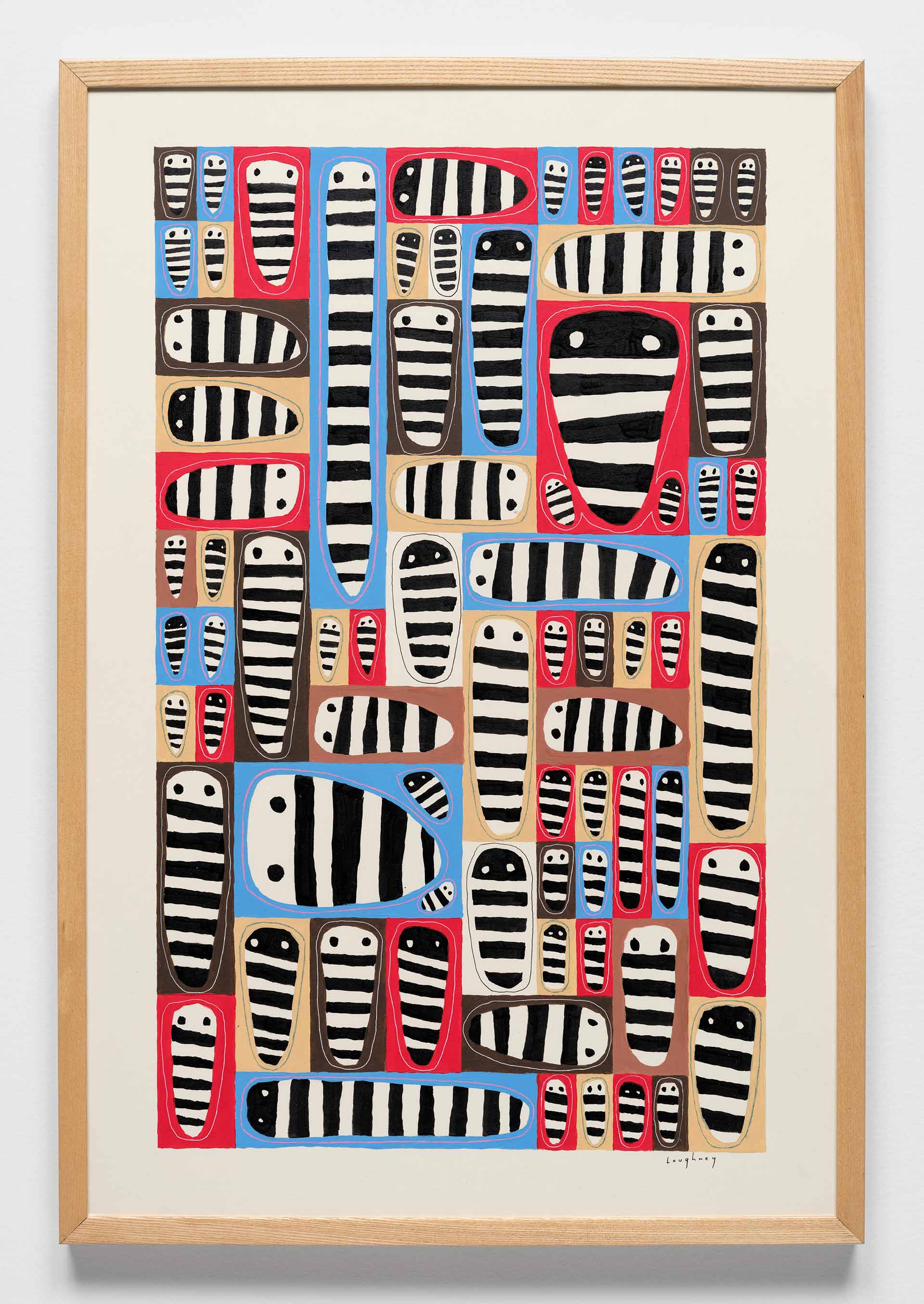 Mark Loughney
Botflies, 2022
Acrylic and ink on illustration board
32 x 22 inches
Photo: Sebastian Bach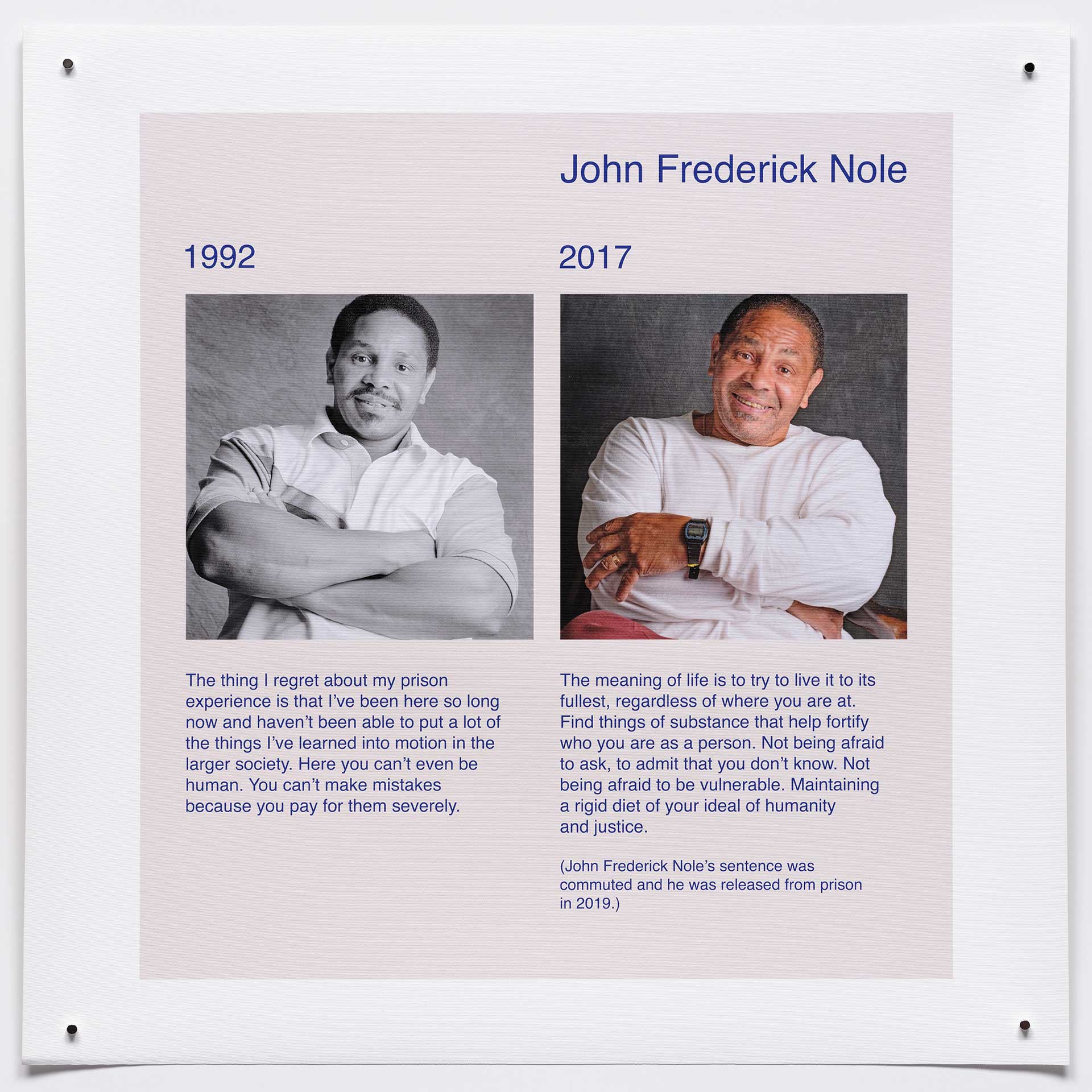 The New Press & Vox Populi
Howard Zehr and Barb Toews
Still Doing Life, 2022
John Frederick Nole
Printed canvas
22 x 20 inches each
Courtesy of Howard Zehr and Barb Toews
Photo: Sebastian Bach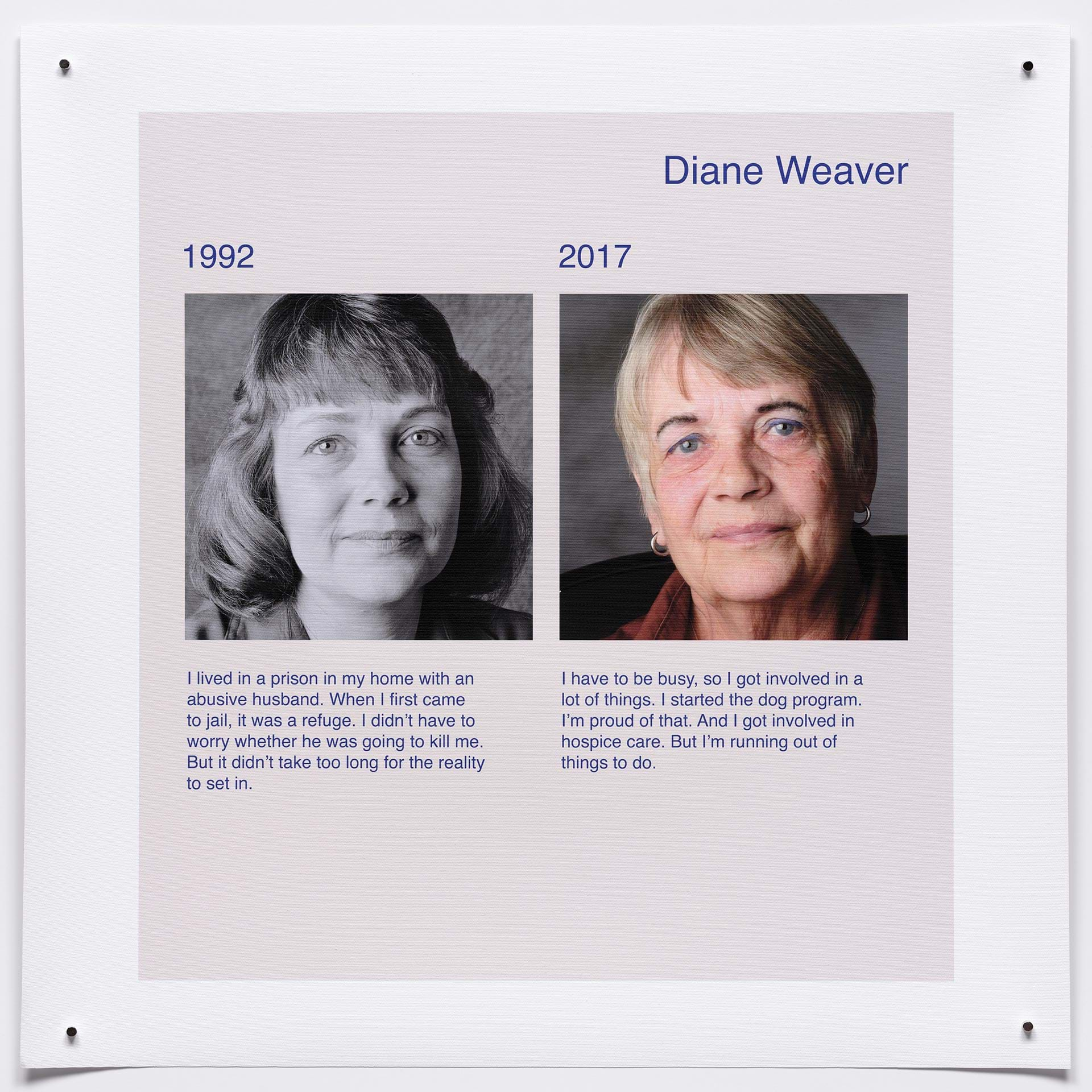 The New Press & Vox Populi
Howard Zehr and Barb Toews
Still Doing Life, 2022
Diane Weaver
Printed canvas
22 x 20 inches each
Courtesy of Howard Zehr and Barb Toews
Photo: Sebastian Bach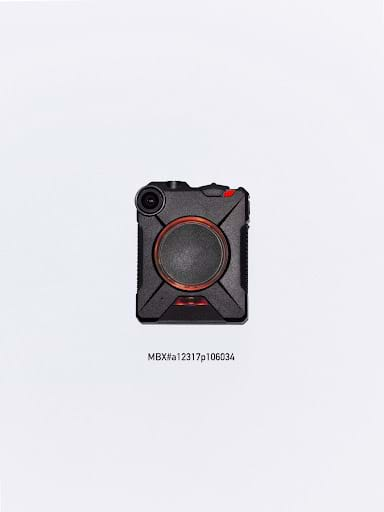 Mark Bradford
Life Size, 2019
Cast handmade cotton paper, pigment, gouache, ink, letterpress
15 ½ x 12 ½ x 2 ¼ inches
Courtesy of Agnes Gund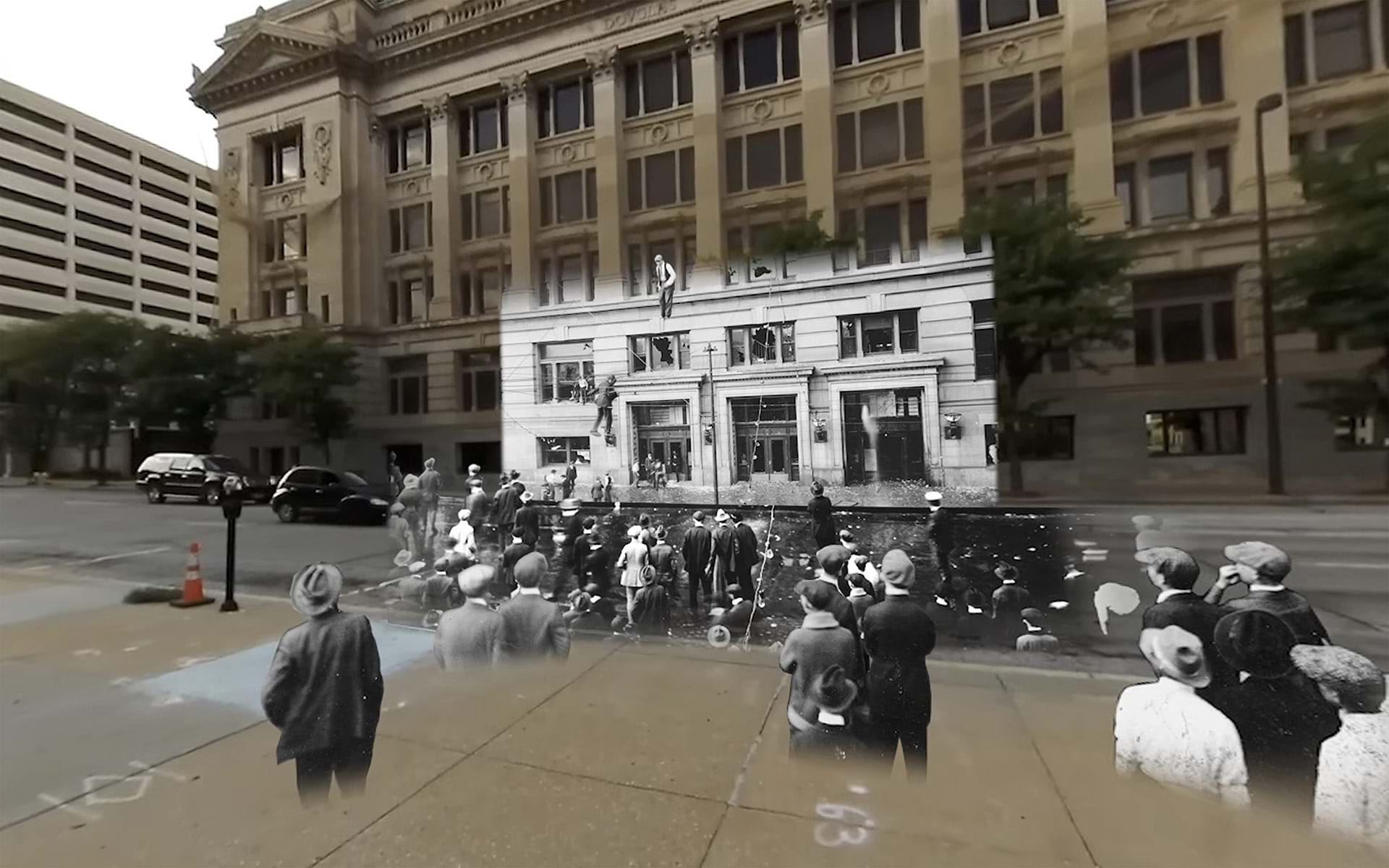 Bayeté Ross Smith
Still from How A White Mob Destroyed a City and Got Away With It, from the Red Summers VR series, 2021
How Racist Propaganda Inspired Riots in America's Biggest Cities; Chicago and Washington D.C. 1919, from the Red Summers VR series, 2021
Oculus, 360 immersive video
An Omen for Violence To Come; East St. Louis and Houston 1917, from the Red Summers VR series, 2021
Oculus, 360 immersive video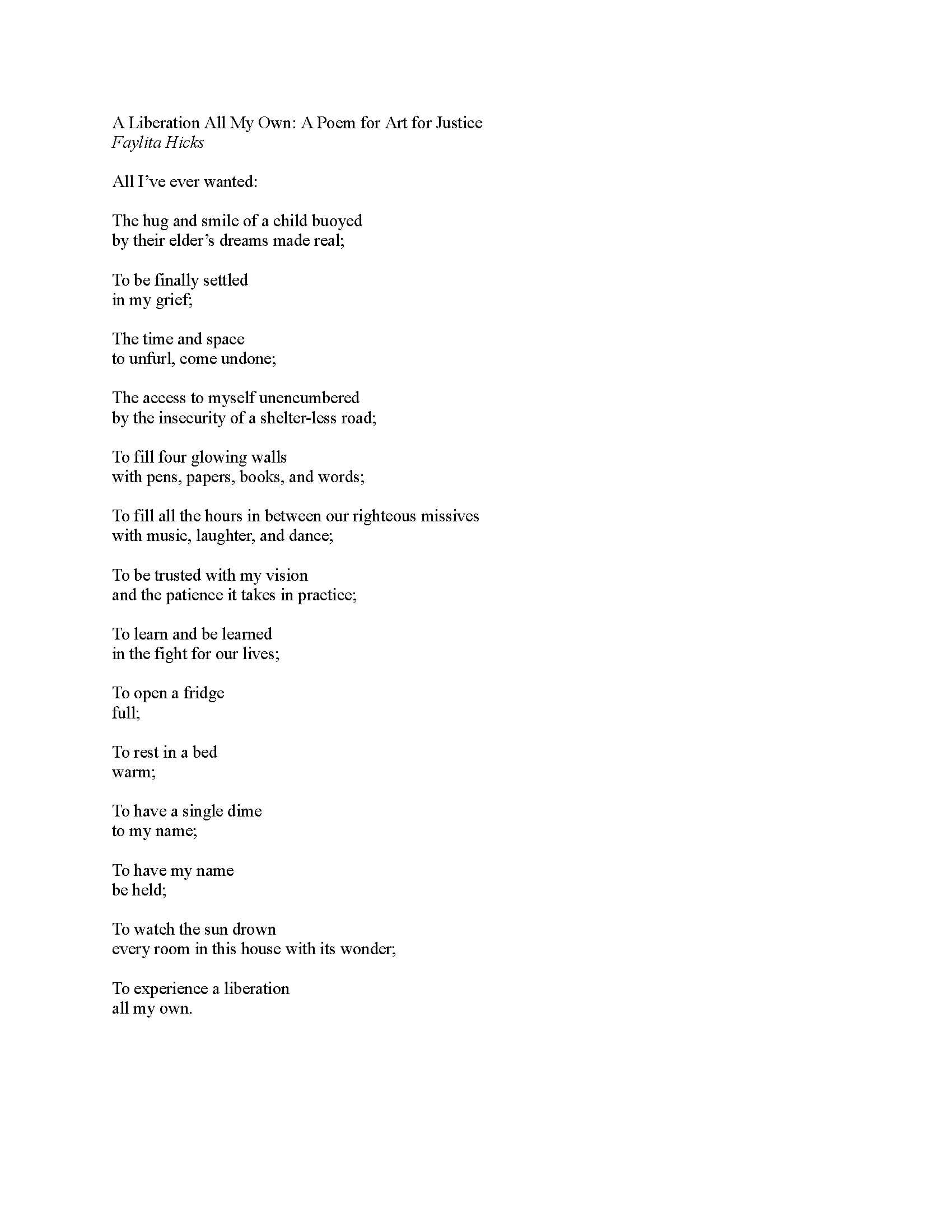 Faylita Hicks
A Liberation All My Own: A Poem for Art for Justice, 2023
Poem, adhesive vinyl on wall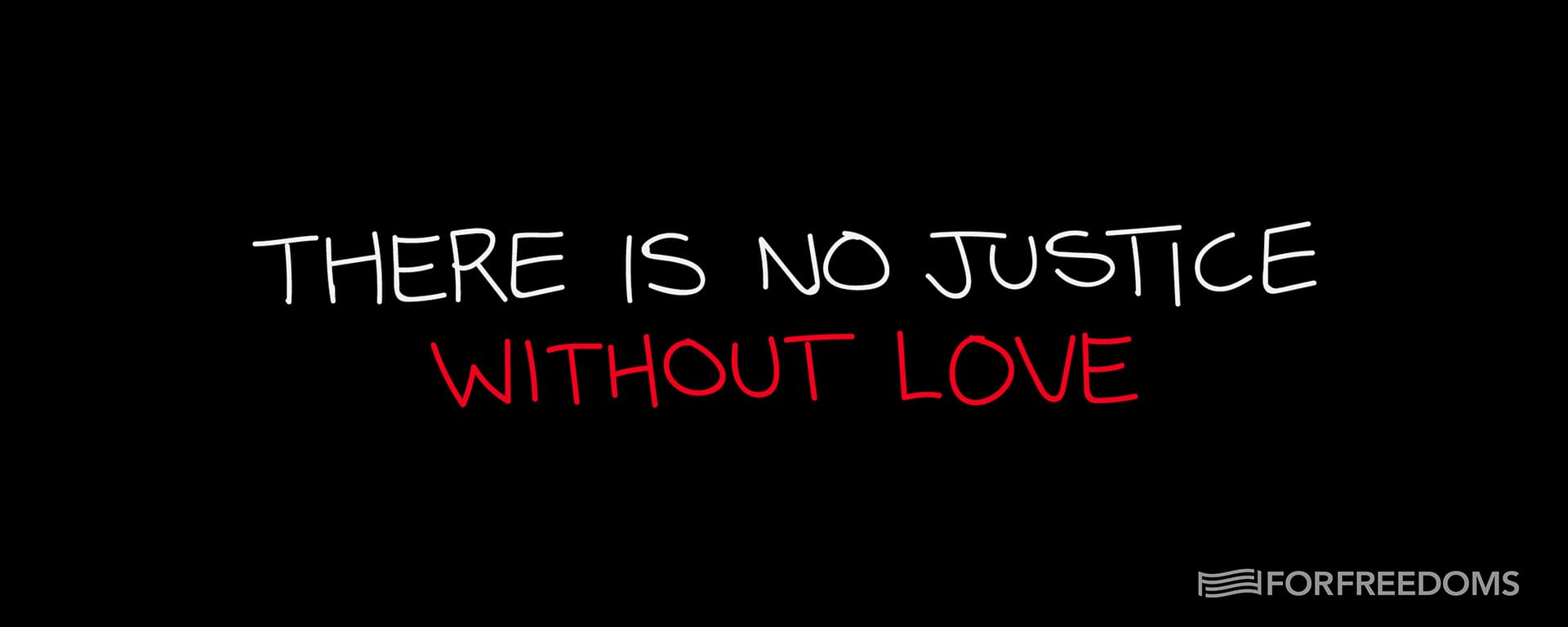 For Freedoms
Jimmy Wu
There is No Justice Without Love, 2022
In collaboration with Orange Barrel Media.
From For Freedoms Another Justice: By Any Medium Necessary Denver, CO
Courtesy of the Artist and For Freedoms

For Freedoms
Dr. KnuckleHead
Healing Justice is Love and Liberation, 2022
From For Freedoms Another Justice: By Any Medium Necessary Miami, FL
Courtesy of the Artist and For Freedoms