Utopian Imagination | Artists in Conversation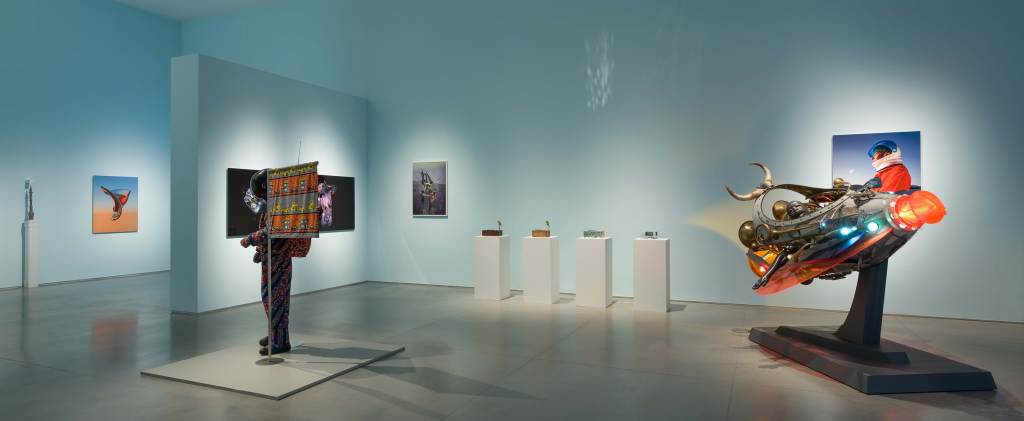 Join us for a conversation with artists Beatriz Cortez, Lola Flash, and Zak Ové about their work featured in Utopian Imagination. Utopias are increasingly hard to imagine in a world torn asunder by conflict. Using science fiction to frame this interrogation, this exhibition presents objects, bodies, vessels, and fragments created by artists over time that when pieced together, offer a vision of a future that includes all of us.

Greg Tate will moderate the conversation, followed by a Q&A.
About the artists
Beatriz Cortez (b. 1970, San Salvador, El Salvador; lives and works in Los Angeles) has lived in the United States since 1989. She received an MFA in Art from the California Institute of the Arts in 2015, and a Ph.D. in Literature and Cultural Studies from Arizona State University in 1999. Cortez's work explores simultaneity, life in different temporalities, and different versions of modernity, particularly in relation to memory and loss in the aftermath of war and the experience of migration, and in relation to imagining possible futures.
Lola Flash (b. 1959, Montclair, NJ; lives and works in New York) uses photography to challenge stereotypes and offer new ways of seeing that transcend and interrogate gender, sexual, and racial norms. She received her bachelor's degree from the Maryland Institute and her Masters from London College of Printing, in the UK. Flash works primarily in portraiture with a 4×5 film camera, engaging those who are often deemed invisible. In 2008, she was a resident at Lightwork in Syracuse, New York. Most recently, Flash was awarded an Art Matters grant, which allowed her to further two projects in Brazil and London. Flash has work included in public collections such as the Victoria and Albert Museum in London. Her work is featured in the publication Posing Beauty, edited by Deb Willis, and she is in the award winning film "Through A Lens Darkly". Flash's work welcomes audiences who are willing to not only look but see.
Zak Ové (b. 1966, London, England) is a London based multi-disciplinary artist working in film, sculpture and photography to reclaim old world mythologies in new world source materials and technologies. His fascination with the interplay between antiquity and the future is inspired by masking rituals and traditions of Trinidadian carnival that is itself rooted in a struggle for emancipation. Ové's work is in celebration of the power of play, the juxtaposition of parody and sacred ritual and the blurring of edges between reality and fantasy, flesh and spirit. His use of non-traditional materials: copper, wood, Victoriana and other found materials, situates the work in the metropoles of Europe and the Americas where they merge and mutate into endless possibilities and unexpected identities.
About the moderator
Greg Tate
Greg Tate is a writer and musician who lives in Harlem. He was a staff writer at The Village Voice from 1987-2003. His writings on culture and politics have also been published in The New York Times, The Washington Post, Artforum, Rolling Stone, VIBE, Premiere, Essence, Suede, The Wire, One World, Downbeat, and JazzTimes.
Tate has also written for the Museum of Modern Art, The Whitney Museum, ICA Boston, ICA London, Museum of Contemporary Art Houston, The Studio Museum In Harlem, The Gagosian Gallery, Deitch Projects and the Tate Museums London and Liverpool. His writing about visual art includes monographs and essays about Chris Ofili, Wangechi Mutu, Jean Michel Basquiat, Ellen Gallagher, Kehinde Wiley and Ramm Ell Zee.
A founding member of the Black Rock Coalition, Tate played guitar and co-led the BRC affiliate band Women In Love in the 1990s. In 1999 he and Jared Nickerson formed Burnt Sugar which has, to date, produced 16 albums under Tate's direction.
Ford Foundation Gallery
320 E 43rd St, New York, NY 10017
Visitor info
The event is free and open to the public, but we ask that you please RSVP.