Social justice organizations in the US and around the world are playing a very long game. Success in reducing political, economic, and social inequality is often measured, not in minutes or days, but in years or decades. Progress isn't linear—instead, it's often interrupted by setbacks and defeats. And leaders, institutions, and networks fighting inequality typically face well-funded, well-organized opposition.
Unfortunately, the way that the nonprofit sector is currently financed doesn't make the fight against inequality any easier. Too often, nonprofits find themselves dependent on short-term, highly restricted grants, which keep them tied to rigid time frames and deliverables. This can stifle investments in areas that are critical to impact, such as strategic vision, leadership, and management systems. It can keep nonprofits on a treadmill of short-term thinking, where they become reluctant to innovate, take risks, learn, and scale their efforts.
At the Ford Foundation, we believe that funders can do more to help social justice organizations become durable, resilient, effectively networked with each other, and better able to enact real change over time. And a growing number of funders share that belief.
Five lessons for funders
Over the past year, I've been honored to help advise the development of a report that's just been published by Rockefeller Philanthropy Advisors: Scaling Solutions toward Shifting Systems. The Scaling Solutions team spent a year interviewing nonprofits and social enterprises around the world about how their experiences with funders influenced their success. They found that five funder practices are key to powering nonprofit innovation and enabling organizations to scale to solve the world's pressing social and environmental challenges.
Empower. Funders can work to consciously shift power dynamics with the organizations they support, emphasizing trust and partnership. At the Ford Foundation, we call this "putting the grantee in the driver's seat."
Accelerate. To help nonprofits build resilience and pursue innovation, funders can offer strategic, flexible financial support—along with other, nonmonetary kinds of support.
Learn. Funders can commit to developing their own knowledge about what it takes to truly shift systems, and when and how to support grantee partners in that effort.
Collaborate. Funders can share information with peer funders, paving the way for aligned action.
Streamline. Grantmaking processes can always be more efficient—which means they're less time consuming for nonprofits.
These lessons might seem straightforward, but in practice, they could be transformative—leading to improvements across the entire social justice ecosystem and to greater impact on the issues that funders and the organizations they support are working so hard to address.
From theory to practice
That's why at the Ford Foundation, we are trying to take such lessons to heart. We're making more of our grants general support. We're paying a minimum of 20 percent overhead on all project grants. And we've launched the program that I direct: Building Institutions and Networks, or BUILD.
Accessibility Statement
All videos produced by the Ford Foundation since 2020 include captions and downloadable transcripts. For videos where visuals require additional understanding, we offer audio-described versions.
We are continuing to make videos produced prior to 2020 accessible.
Videos from third-party sources (those not produced by the Ford Foundation) may not have captions, accessible transcripts, or audio descriptions.
Through BUILD, the foundation will provide up to 300 of our key partner organizations around the world with a combination of general operating support and targeted support to strengthen core capabilities that are vital to their impact—for example, strategic vision and clarity, adaptability, financial sustainability, and leadership. Each BUILD grantee receives five years of funding, at levels historically higher than what they've previously received from the Ford Foundation.
Over time, we hope that deeper relationships with our grantee partners, and more flexible support for their work, will lead to meaningful and sustained transformations in society. It's a bit of a gamble, but as reports like Scaling Solutions keep reminding us, some gambles are worth taking—and learning from.
As BUILD moves forward, watch our website for news about how the program is going, where we're succeeding, and the unexpected challenges along the way. And along the way, I welcome your feedback, questions, and comments.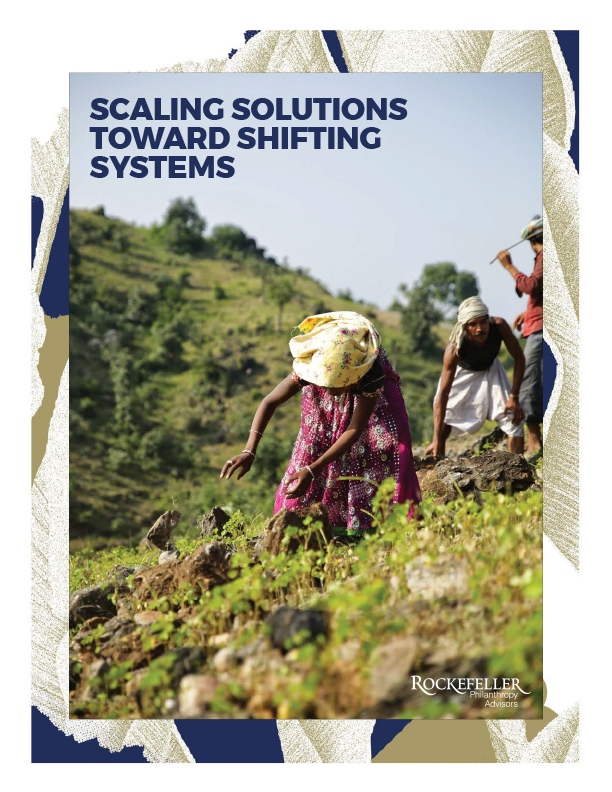 Work on Scaling Solutions was funded by the Skoll Foundation and advised by a group of global funders, including the Ford Foundation, Porticus, and the Draper Richards Kaplan Foundation.